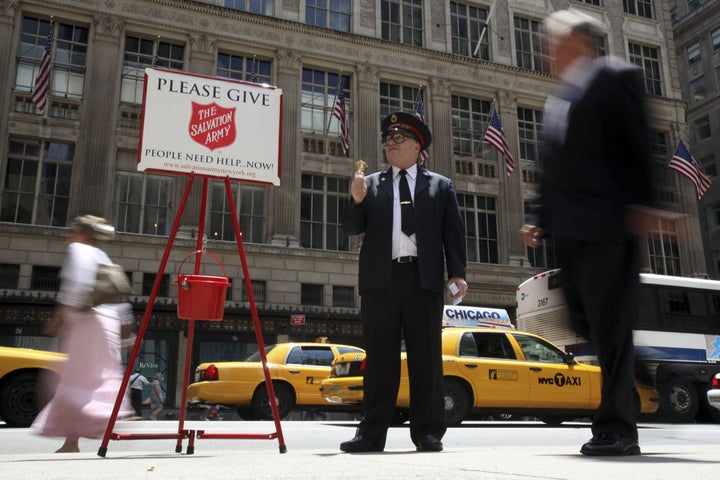 Across the Chicago area, the ubiquitous red kettles are a little lighter than they were this time last year.
The Salvation Army reports that its Chicago-area division has brought in $4.1 million thus far through its Red Kettle Campaign, down from $4.6 million by this time last year. That marks a 13 percent decrease.
Meanwhile, food requests at the Salvation Army are up somewhere between 200 and 400 percent in the Chicago area, according to a Chicago Sun-Times report. Roughly 70 percent of the Salvation Army's funding comes from the red kettles.
Dee McKinsey, a spokeswoman for the charity, told the Associated Press that recent bad weather in the area, coupled with an economic downturn, are responsible for the drop-offs.
But others suggest that greater public awareness of some of the Salvation Army's policies could be cutting into the charity's take this winter.
"You can say you are the nicest Christian organization in the world, but if you are sending a message that some people are more equal than others--that is not acceptable," activist Andy Thayer told Chicagoist in November.
Thayer, the co-founder of the Gay Liberation Network, is referring to the Salvation Army's policies toward homosexuality. "Scripture forbids sexual intimacy between members of the same sex," the Salvation Army's website reads. While the group "does not consider same-sex orientation blameworthy in itself," it suggests that gay followers "embrace celibacy as a way of life."
The message cites Leviticus 18:22, among other passages, which in the King James Bible refers to homosexuality as "abomination."
"The Salvation Army is in the closet about these policies," Thayer told Chicagoist.
A spokesperson from the organization replied to Chicagoist, saying the positions are "intended for our church members or those who are interested in our church," and that the charity provides its services to all those in need, gay and straight alike.
If the recent numbers from Chicago are any indication, grass-roots efforts like Thayer's and countless others may be having a similar impact in 2010.
Thayer suggests a holiday donation to non-discriminating organizations like the Howard Brown Health Center, one of the nation's largest LGBT healthcare centers, or the American Red Cross, which has fought for years against a ban on gay men giving blood.