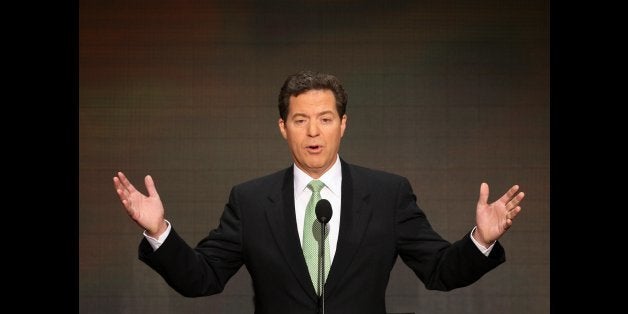 Let's review, shall we? First there was the bad news from Kansas:
TOPEKA -- Tax revenue in April dropped 45 percent from a year ago, the Kansas Department of Revenue announced Wednesday.

The state's revenue for the year is $92.9 million less than projected earlier this month....

Personal income tax revenue has decreased by $508 million compared with this point last fiscal year. That category also accounted for the discrepancy between Wednesday's numbers and estimates released earlier in the month. Income tax revenue was $89.6 million lower than expected.
This huge and escalating shortfall occurred after Kansas's right-wing Republican legislature and governor, Sam Brownback, enacted huge and foolish tax cuts, the result of which was--as Senate Minority Leader Anthony Hensley (D-Topeka) explained--to transfer the tax burden from the rich to the middle and lower classes. The revenue shortfall also led Moody's to downgrade Kansas's debt, something that will cost its citizens even more money over the coming years as they borrow to make up the lost revenue.
So, are Brownback and his fellow Republicans willing to say, "Oops, my bad!"?
"What we are seeing today is the effect of tax increases implemented by the Obama administration that resulted in lower income tax payments and a depressed business environment," Gov. Sam Brownback said in a statement.

"The failed economic policies of the Obama administration are affecting states throughout the nation. It is more important than ever that we continue our focus on growing jobs and creating a business-friendly environment that benefits Kansans," Brownback said.
Please unstick your palm from your forehead. Hey, maybe Brownback is right. Don't laugh. Maybe Obama's policies are leading to revenue shortfalls for government across the board. Maybe?

The U.S. Treasury Department booked a $114 billion surplus in April, the largest for that month since 2008, according to the latest estimates from the Congressional Budget Office released Wednesday.
That's just April, though. How about overall?

For the fifth consecutive year, the U.S. annual deficit is projected to fall as a share of the economy, and to do so more than previously forecast.

The Congressional Budget Office projected Monday that the 2014 shortfall will decline to 2.8% of GDP -- or $492 billion. That's about $23 billion below what the CBO forecast just a few months ago. And it's well below the 4.1% -- or $680 billion -- recorded last year.
Kansas cuts taxes on the rich, and its revenues fall through the floor. That's Obama's fault, according to the governor. Obama raised taxes on the rich (through income tax hikes and Obamacare-related tax hikes), but federal revenues are through the roof and the deficit is plummeting. Anybody seeing a disconnect here? I know Brownback has worked hard to weaken public education in Kansas. I guess he figures if no one in the state is educated, they won't be able to figure out he's been pulling the wool over their eyes.
Markos has already highlighted a comprehensive study showing that states that embrace a conservative approach to economic policy (as defined by right-wing group ALEC) have weaker economic growth than those that don't.
But we can even get more specific than that. The author of that study, Menzie Chinn, also looked at two states where, in 2011, a Republican governor replaced a Democratic one and ushered in a radical rightward shift in state policy (Wisconsin and the aforementioned Kansas), and compared them to two states that did the opposite in 2011, i.e. elected a Democratic governor to replace a Republican one (California and Minnesota). It's worth noting that, of the latter two, California saw the most significant shift in policy as a Democratic legislature combined with Gov. Jerry Brown to enact an even greater leftward shift starting in 2011 than Minnesota's Mark Dayton was able to accomplish with a legislature that remained Republican after he took office.
What did Chinn find? Well, in terms of job creation since 2011, it's clear: The more liberalism, the more jobs. What's that you say? That's right. "Pro-business" policies stink at creating jobs. Progressive policies, however, do the job far better.
Looking at economic activity more broadly, Chinn found very similar results:
One last thing. We can compare the revenue shortfall in Kansas with California, where huge surpluses are allowing that liberal-dominated state to pay down debt.
Evidence. Facts. Data. These are real. Conservatives can pretend they aren't. They can wax poetically (or not) about "liberty," or about unleashing the capitalist genius of "job creators" or any other nonsense they like. At some point, however, reality rears its ugly head.
The reality is this: Sam Brownback lied. His state veered hard to the right on tax policy, and as a result its economy has underperformed the rest of country, and his budget is in shambles. President Obama's economy has performed far better than Kansas's, and his budget is in far better shape, and this after moving leftward on tax policy. But Brownback says the problems of Kansas are Obama's fault. Unbelievable.
I've read that emotion plays better than facts when it comes to politics. But, by gum, it's time for us to make the case, emotionally, with the facts. We have to shout from the rooftops that our policies are not only more moral, they work better. Progressive governance makes our economy both fairer and stronger. The two go hand in hand.
There's no better place to make that message the center of our campaign than in deep red Kansas, where Paul Davis has a real chance to defeat Brownback. And while we're at it, let's do the same in Wisconsin, and help Mary Burke send Gov. Scott Walker packing.
For the people of those states, and for all 50 of our states, the question is this: When you go into the voting booth, do facts matter? Will you compare the record of conservatism and liberalism, and vote accordingly? It's up to progressives to make the case as strongly as we can. I believe that if we do, the voters will respond.
Popular in the Community