Fifteen years ago, then-Sen. Sam Brownback (R-Kan.) gave an impassioned speech in support of refugee resettlement. He called helping and taking in refugees "some of the most noble and ennobling things we can do," and said the United States should admit "substantially" more than 80,000 people, the ceiling at the time.
"I want to ensure that any refugee dealing with our system sees the best of who we are and what we represent," he said at an event ahead of World Refugee Day in 2001. "We are a better nation because of the refugees and asylees amongst us."
If refugees currently dealing with the system are going to see the best of America, though, it will be in spite of Brownback. Now governor of Kansas, he announced Tuesday that his state would no longer work with the federal government to resettle refugees, the final step in a months-long effort to keep out Syrians that now is directed toward refugees in general.
Brownback said in a statement that he made the decision to withdraw from the program because the U.S. would not provide enough information on the refugees it intended to resettle in Kansas. "Kansas remains a state that has always been welcoming to refugees, but we must take prudent and responsible actions to protect our communities," he said.
His decision won't have a major impact on refugee resettlement to Kansas -- although the governor has implied that he's effectively banning the program in the state, all his withdrawal means is that another agency will have to coordinate the services for it to function in Kansas.
But Brownback's shift was troubling for refugee resettlement groups.
"It's been definitely very unfortunate to see that kind of transition from somebody who we considered a close ally in this area and it's very disappointing that he has chosen not to be supportive any longer," said Jennifer Sime, who heads U.S. programs for International Rescue Committee.
"And it's disappointing at that level because we know what his views were before but also because the communities in Kansas have been incredibly supportive of this work," she added.
She said the committee was "delighted" to have a supportive governor when it opened an office in Kansas a few years ago. Although Brownback's support has changed, Sime said Kansans have continued to ask how they can help refugees, and International Rescue Committee will continue to resettle people in the state.
"It's sad," said Lee Williams, vice president at U.S. Committee for Refugees and Immigrants, the resettlement organization that hosted the 2001 event where Brownback called for more refugee resettlement.
"Refugees and immigrants, as you've seen, are being politically scapegoated and it's certainly increasing now that we're in the presidential election season," Williams said.
States aren't required to participate in refugee resettlement, although most do. If a state is involved, it gets funds from the federal government's Office of Refugee Resettlement -- part of the Department of Health and Human Services -- to coordinate assistance. Kansas has so far received about $670,000 in grants for the refugee program this fiscal year, and about $1.6 million in the 2015 fiscal year, an HHS spokesman said.
"We are a better nation because of the refugees and asylees amongst us.""
If a state does not participate, it must give the government 120 days notice and another agency will be tasked with coordinating assistance. New Jersey Gov. Chris Christie withdrew his state from the program this month as well, citing concerns about Syrian refugees, and other states have elected in the past to participate only partially or not at all.
But they can't keep refugees out. Governors don't have the authority to tell the federal government which refugees to admit, or to bar people from their states. They also cannot discriminate against Syrians specifically -- the Refugee Act of 1980 states assistance will be "provided to refugees without regard to race, religion, nationality, sex, or political opinion."
Brownback was one of many governors to say he would no longer admit Syrian refugees into his state in the wake of terrorist attacks in Paris, arguing they could be dangerous in spite of an extensive vetting process. Brownback issued an executive order in November to ban state assistance to Syrian refugees, and in January expanded that to all refugees.
He also called for the U.S. to drop its refugee admission numbers as it did after the Sept. 11, 2001, terrorist attacks, saying in November that he thinks "that's a prudent move for us to make at this point in time given also that the terrorist groups themselves have said they're going to penetrate these refugee groups, individuals coming in to try to radicalize them."
Brownback spokeswoman Eileen Hawley said in an email that the governor "has a long history of supporting refugees, especially those who are fleeing persecution because of religious beliefs or ethnicity," but that the federal government had done too little to show refugees were being adequately vetted.
"The federal government's refusal to provide assurances on the vetting process or address gaps in critical information for refugees from nations identified as state sponsors of terrorism left no choice other than terminating participation in the program," she said.
As a senator in 2003, Brownback told The Topeka Capital-Journal that he had encouraged the federal government to increase refugee admission numbers to the same level as before 9/11. He was particularly outspoken about Sudanese refugees, visiting the Darfur region in 2004 and authoring resolutions calling for help for its people. He also spoke out about North Korean refugees in 2007.
Those countries, of course, are not the same as Syria in all ways; most importantly, the self-described Islamic State, or ISIS, is headquartered in Syria. But the U.S. State Department has also designated Sudan as a state sponsor of terrorism, which has been the case since before Brownback advocated for refugee resettlement.
Administration officials have argued that refugee-vetting process has improved over time, and that vetting Syrian refugees is possible. Opponents of resettling Syrian refugees often cite FBI Director James Comey as saying the U.S. cannot vet them. However, Politifact called that claim false, and noted that Comey said there were challenges and that no program is risk-free, but that the government has "dramatically" improved its screening system. Vetting Syrian refugees has more steps than the standard procedure, according to the administration.
Only a small proportion of refugees resettled in the U.S. are from Syria. Most of those placed in Kansas in the 2015 fiscal year were from the Democratic Republic of the Congo, Burma and Iraq, according to HHS. Kansas served about 740 refugees in the 2015 fiscal year, and 165 more arrived to the state between Oct. 1, 2015, and the end of January.
That will continue, and they will continue to get services from the state. The four staffers in the Kansas Department for Children and Families currently working on refugee resettlement will be reassigned to other roles, but the overall work of the agency won't change, department spokeswoman Theresa Freed said.
"It won't affect the mission," she said. "This agency will continue to uphold its mission of protecting children and promoting healthy families and encouraging personal responsibility. ... There are still refugees in Kansas and they can still access services, they would just be like any other client who met the eligibility requirements."
John Rieger contributed reporting.
Before You Go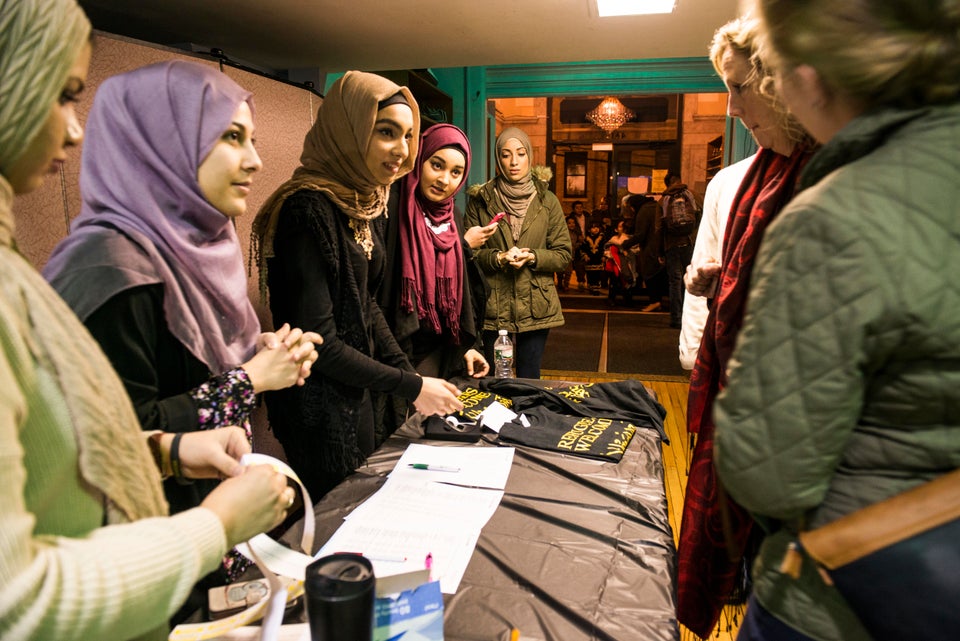 Syrian Refugees Welcomed To U.S.
Popular in the Community