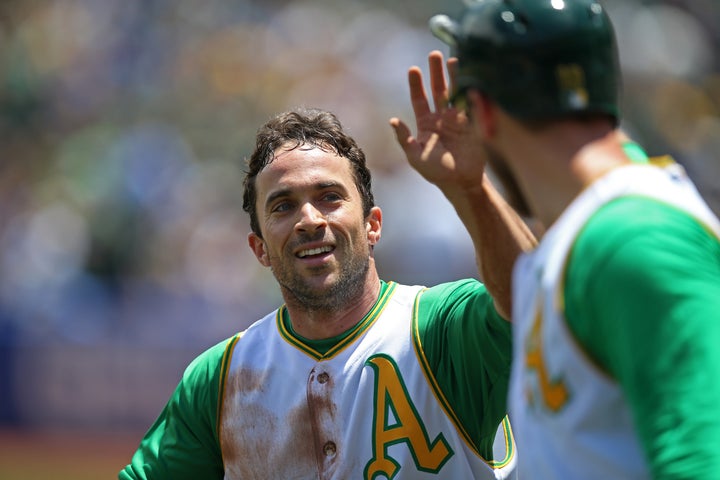 There were 868 players on the 2015 MLB Opening Day rosters. One of them was the Oakland Athletics' Sam Fuld. As the outfielder enters his eighth season in the big leagues with a career .228 average and nearly as many strikeouts as hits, Fuld doesn't have numbers that will take him to Cooperstown. Nor will they earn him the glitz and glamour of All-Star games and premium endorsements. But what Fuld lacks in Hall of Fame talent, he makes up for in perseverance and grit. In fact, for him to reach the zenith of his sport -- and then to stay there for nearly a decade --  may actually be his most impressive accomplishment.
Diagnosed with Type 1 diabetes at 10 years old, Fuld, now 33, hardly seemed destined to become a professional athlete. People with diabetes rarely become pro baseball players, let alone Major Leaguers, in large part because the stress of the game can aggravate health problems. Moreover, Fuld's upbringing put a lot more emphasis on academics than sports. His father is the dean of the College of Liberal Arts at the University of New Hampshire, and his mother was a state senator and legislator. For Sam, developing his baseball talent was surely important, but so was developing his intellect.
"I couldn't help but be aware of the importance they placed on education," Fuld told The Huffington Post of his parents.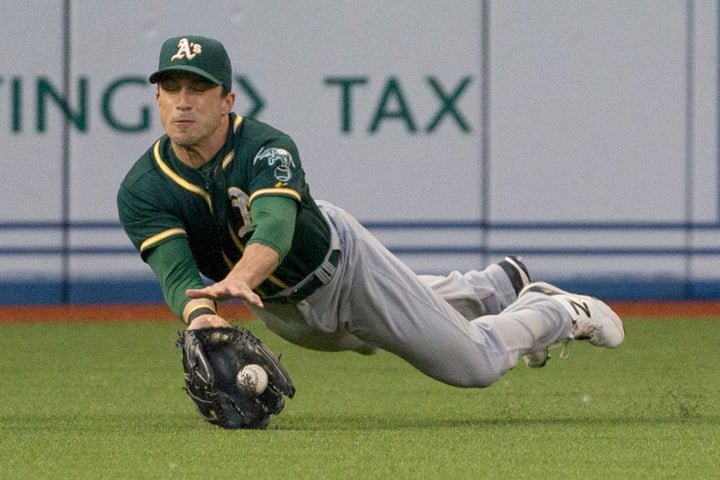 With that in mind, he attended Stanford University to advance his career both on and off the diamond. Fuld twice earned All-American honors while setting the College World Series all-time hits record, cementing him as one of the great players in the program's esteemed history. But his success was accompanied by a fair share of challenges.
"I remember talking to a scout," Fuld said. "This was my senior year at Stanford, so I had been drafted the year before. This guy said, 'Yeah, we were going to take you, but we had some concerns about your diabetes.' I just remember doing whatever I could to keep it inside of me. I was immediately furious."
In 2007, though, Fuld's dream of the majors became a reality. At 5 feet 10 inches and 175 pounds, he didn't have the sheer size of many other players. But he was a strong defensive outfielder and hit well enough in the minors for the Chicago Cubs to bring him up, albeit for a mere six at-bats. Fuld was ecstatic, but he also wanted more opportunities. Instead of letting the diabetes get the best of him, he turned it into an advantage the only way he could.
"No single day is like the other," he said. "Every day has its new challenge, and it's easy to get worn down by it and just give up... Having [diabetes] has forced me to be disciplined and develop a really strong work ethic."
The truth of the matter is that Fuld -- even during his best stretches as a pro -- has never been a true everyday player. He's never had more than 351 at-bats during the regular season, and his 12 career home runs are as much as some guys hit in two months. Moreover, he has played for four organizations and is enduring the most frustrating year of his career, hitting under the dreaded Mendoza line of .200 in a bit role for a wretched Oakland team. And at 33 years old, he's surely on the back nine of his career.
But Fuld has a wonderfully refreshing outlook on his condition, one that has drawn effusive praise from many former teammates and coaches. One of them, Tampa Bay third baseman Evan Longoria -- a three-time All-Star and the 2008 Rookie of the Year -- remembers fondly the time he and Fuld spent with the Rays, believing that Fuld left an indelible mark. "He's one of the best teammates I've ever had," Longoria told HuffPost. "And he's a playmaker."
The reality of living with diabetes means that Fuld has to manage a set of pressures and imperatives entirely separate from the ones that come with being a professional athlete. Because his body does not naturally generate the necessary insulin, he must give himself injections with a pen throughout the day. It gets harder during games. Instead of focusing entirely on baseball, he has to monitor his insulin, often while on the bench or from the clubhouse. He realized the seriousness of his situation early on in his career.
"When I was 18, in American Legion ball, I had already committed to go play at Stanford," Fuld said. "I remember taking my blood sugar during a game and it was really high -- like up around 300 -- and taking my [kit] and throwing it across the dugout. I had a mini-panic attack."
Fuld doesn't want others to have to experience the same thing. He says he'd like to raise as much awareness of the disease as possible to help create more opportunities for young people with diabetes who may feel stuck or without inspiration. And he hopes to do so while maintaining his sense of humor along the way.
"Luckily, I'm not the biggest guy in the world," Fuld joked. "So nobody is going to accuse me of taking steroids when I'm injecting myself."
REAL LIFE. REAL NEWS. REAL VOICES.
Help us tell more of the stories that matter from voices that too often remain unheard.