Football phenom Sam Gordon has been in the spotlight since she was 9 years old, soon after her dad posted a highlight reel of her out-of-this world football skills. The video (and plenty of others) quickly went viral because she's not only the smallest player on the field -- she's the only girl.
Sam's original highlight reel:
But Gordon is not just about football. She's an accomplished soccer player and dreams of winning a World Cup. Abby Wambach was her first follower on Twitter and Gordon has become pretty buddy-buddy with the whole U.S. women's soccer team after being invited to visit them for practice and a game.
Gordon has been crushing it at football for so long that she's taken a year off to focus on soccer, but has already come back to the gridiron guns blazing since then.
Last week, Gordon took the stage with three other young star athletes -- Victoria Duval, Jaden Newman and Claressa Shields -- on a panel at the espnW Women + Sports Summit in Dana Point, California to talk about being at the top of their games.
When asked how Gordon plans on competing on the tackle football field with middle school boys, she stated simply and with a grin: "As they get bigger, I try and get faster."
Gordon's dad Brent is usually right by her side for interviews, but now that she's 12, Gordon took a seat (on the ground, cross-legged) with The Huffington Post at the espnW Summit to talk about why sports matter to her.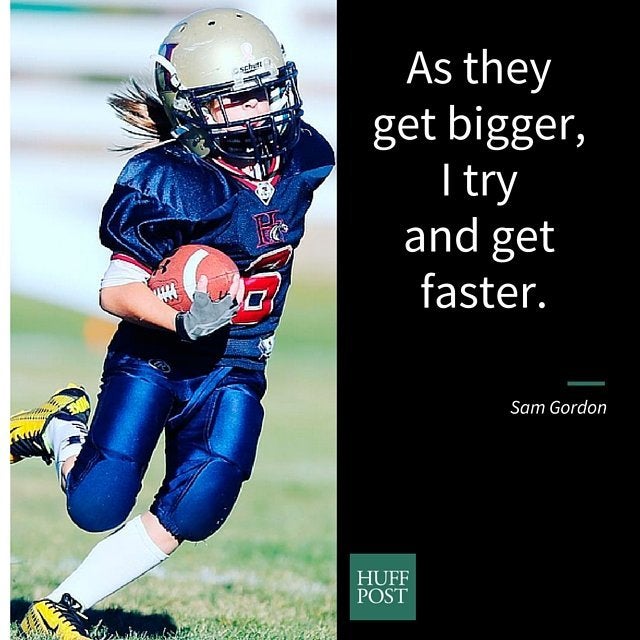 "Sports give you so many opportunities," she told HuffPost. "They boost your confidence and they help you with friendship and leadership. I saw an ad that said if you play sports, you're less likely to get pregnant as a teen. And that 90 percent of women CEOs played sports. I bet if parents [knew] that, they would put their daughters into sports."
Gordon hopes to stay on the football field for as long as she can and relies on her dad for a little help. Brent Gordon told HuffPost that he signed up to be one of her soccer coaches this year primarily so that he could work out her sports schedules so she could play football and soccer in the same season.
Instead of being teased for being the only girl on the football field, Gordon has become a literal threat. On stage at the espnW Summit, she recalled overhearing the coach from an opposing team tell his players, "If you don't tackle Sam Gordon, you're going to be running sprints!"
"I want to play with the boys," Gordon said to HuffPost. "My teammates are really supportive and have a good attitude. As they get bigger, hopefully I'll grow too. I want to play with them until they get too big or soccer gets too competitive."
Gordon has always wanted to play sports (she often gives her little sister any free makeup or hair products she gets at events). But the most fulfilling part of suiting up for Gordon isn't the prospect of winning.
"I love being on a team. If you get the right friends on your team, you get an awesome coach and it's a sport you enjoy, it's just the best experience ever. I love working together and celebrating," she said.
When she was 10, she tried gymnastics and was certainly athletic enough for it, but says something was missing. "I went to three dance competitions where they had you put makeup and wigs on [laughs]. Gymnastics were weird for me because it wasn't so much of a team thing. You didn't know the girls at all. I really like playing football and soccer where you can have fun and do drills together at practices. Teammates are just the best," she said.
Gordon fit right in with the team when she met the U.S. women's soccer team players. "I got to get a piggy-back ride from Alex Morgan when I visited the Nike campus and when I went to the practice and game, the girls were all teaching me a bunch of stuff. They were all awesome."
Despite her prowess on the tackle football field, becoming a professional soccer player is one of Gordon's deepest dreams.
"My goal, even when I was younger, is to play soccer for the U.S. women's national team," she said. "I want to win a World Cup and an Olympic gold medal. That's always been my dream."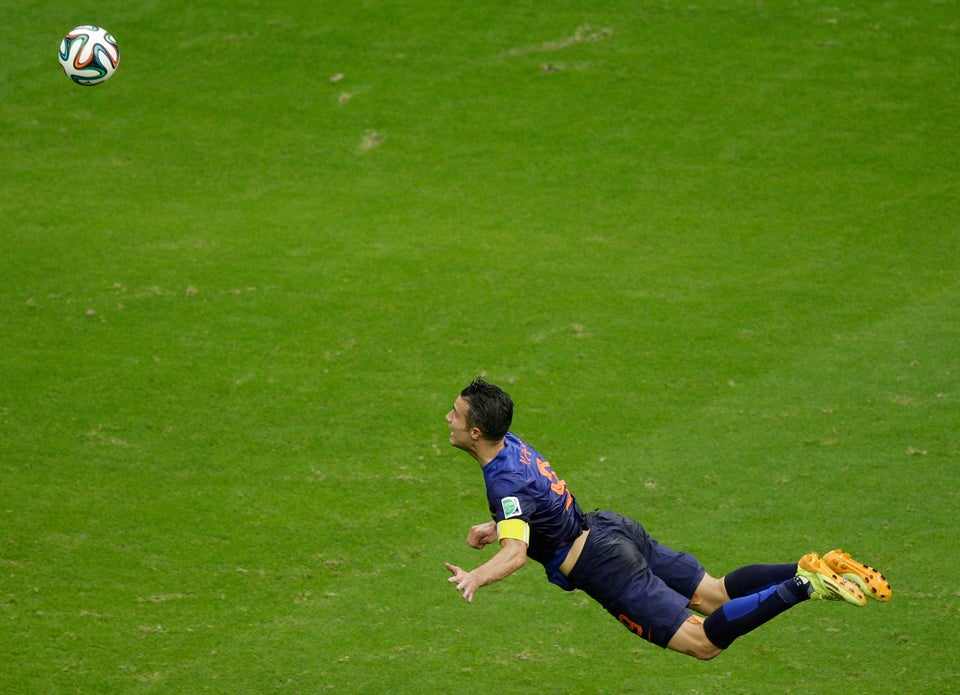 Amazing Sports Photos