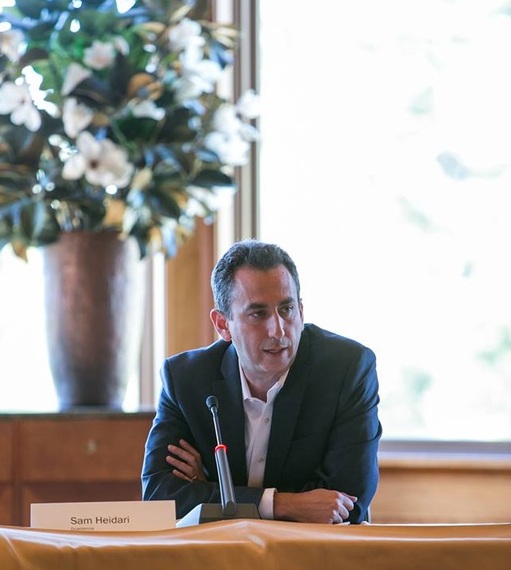 With the goal of harnessing the untapped potential of Iranian-Americans, and to build the capacity of the Iranian diaspora in effecting positive change in the U.S. and around the world, the West Asia Council has launched a series of interviews that explore the personal and professional backgrounds of prominent Iranian-Americans who have made seminal contributions to their fields of endeavor. Our latest interviewee is Sam Heidari.
Dr. Sam Heidari serves as the Chief Executive Officer of Quantenna Communications, Inc., chairman of the board of directors of SiTune Corporation, board member of Global Semiconductor Alliance and member of advisory board to the Department of Electrical Engineering at the University of Southern California. Previously, Dr. Heidari served as the Chief Technology Officer of Ikanos Communications, Inc. Dr. Heidari has authored and published over a dozen refereed journals and conference papers. For more details, please click (here).
Tell our readers where you grew up and walk us through your background. How did your family and surroundings influence you in your formative years?
I was born in Northern Iran, in the green province of Gilan by the Caspian Sea. I moved to the US when I was 17 and finished my high school here in Menlo Park. I think that there were two main factors that have influenced me till today:
First, the value of education was ingrained in me (like many Iranians) since an early age. I grew up in a learned family surrounded by like-minded friends. Growing up, the value of education was way above anything else such as wealth and luxury.
The second factor was the drive to make a positive difference in the lives of others, which was also ingrained in me since an early age, a combination of what my parents emphasized and the idealized version of our cultural background, which stresses, in its classical literary texts of prose and poetry, that care for humanity is a main purpose of life.
What has been your personal key to success? What were the biggest inspirations for your career?
It is a strange question for me since "success" can be defined in different ways. I think of life as a journey, and material success is very relative with an expiration date associated with it. If you look at it financially, given the poverty and the hardship in the world, the majority of professionals living in this country are doing very well. Now, the question is am I the top single digit percent or fraction of percent, etc., but who cares.
But the sources of my inspiration have evolved through time. In all candor, as a young man, my inspiration and ambition was to make a name for myself. I wanted to leave a legacy behind (in a good way). But I have come to realize that I enjoy the process of building, nurturing and enhancing things. Things being products, companies or my fruit trees in my backyard. Planting and harvesting it. Being part of the team to build the fastest DSL modem in the world, or being part of the team to build a unique innovative company with a set of values and culture that is to become an innovation and creation engine, give me similar satisfaction. So does putting our homegrown fruits on the table. The satisfaction of creating and building. That is what drives me. The process of building and looking at the end product, and feeling growth, inspire me.
Under your leadership, Quantenna has been raising the bar on users' experience by delivering the most advanced Wi-Fi hardware and software solutions and enabling new applications. Can you describe its significance?
Wireless connectivity is an essential part of our lives today. And within that Wi-Fi is the dominant interface in the world. There are billions of Wi-Fi devices in operation today, more than any other kind of connectivity (wired or wireless) in history. Meanwhile, by pushing the performance bar on Wi-Fi, Quantenna is enabling applications that were not possible before through wireless technology. Our technology not only enables a new consumer experience but also ends up saving operating costs and equipment costs for service providers. For example, TV service providers such as your typical Cable or Satellite companies can bring programming into every room of your house (or as matter of fact into your back yard) without spending a lot of money on cabling your house. Or you don't have to worry about no-access areas in your home, or spend a lot of money on new equipment or service to fix it. Meeting the demands of seamless connectivity is only going to get more challenging with time, as more devices are connected to the Wi-Fi network, with bandwidth requirements per device increasing and with interference from other Wi-Fi networks increasing. Quantenna is working to make sure that success of Wi-Fi continues for years to come and new applications are more and more enabled on those Wi-Fi networks.
Since you have a PhD in electrical engineering, can you address the relationship between academia and industry in your field? How can their relationship be optimized?
University is obliviously where it all starts both in terms of talent development and ideas creation. Industry is in continuous need of well-trained and educated talent, and a continuous supply of engineering and science talent is a core requirement of our economy. But it is also certain that many of the great ideas of our time were created in academia away from the pressure of quarterly financial reporting. From the other end of the spectrum, a main contribution of industry to academia, besides providing financial support through grants, is to provide the feedback required to close the loop on intended use of academic research. No system ever evolves for better without a feedback mechanism. Industry must be the feedback mechanism to academia and the builder of bridges to bring ideas to practice and enabling the "commercialization" of ideas, to see if and how ideas work in practice.
You have spent almost all of your career in startups. How is that different from working for large companies?
First, I must say that startups are not for everyone, just as large companies are not for everyone. To use an analogy, being in a large company is like a bus ride. In general, it is safe and predictable. But you are only a passenger with little input of where it goes and when it goes. But the safety could go away when a crazy or drunk bus driver takes over, and you have zero say in the driver's selection. Small companies start like a bike ride. It takes more energy, but the ride could be fun and you are in control. On rainy days, especially when you have a flat tire, you regret being there, but the ride on the nice days makes up for everything. It is the challenge that you cannot let go of, and the journey itself (independent of the destination) makes you a better person. You are in charge so you can take the short cut in the woods to be way ahead of the bus. The excitement of the dealing with first taken paths, the excitement of the unknown and chaos in front of you and defining it, these make up for a lot. It is up to you to grow the bicycle to a motorcycle or graduate to an eventual sports car or even a bus. You are in charge of the ride.
On the team level in a startup, there is a huge camaraderie and there should be a huge "care factor". Everyone in a startup should realize that while everyone has an influence on the direction, they are all rowing together for a common goal; they will all succeed together or sink together. There is little "office politics."
Furthermore, in today's economy, where Wall Street quarterly reporting is dictating much of your business, the most innovative work happens in the startups. If you like to work on the latest and greatest with faster impact, startups are probably for you.
How do you see Silicon Valley's innovation ecosystem. Can it be replicated?
The short answer is, no you cannot and here is why. Technology startups are impacted in general by five factors: 1) access to capital, 2) government regulations, and 3) access to experienced management and technical talent, 4) local culture of innovation and entrepreneurship, and 5) a supportive eco-system of customers and partners. While, one can argue that most of these could be provided in other geographies, Silicon Valley is unique in most or all of these factors.
1) Access to capital. No jurisdiction in the world is as rich in venture capital as Silicon-Valley. While we see that governments are financing startups and technology innovation in many jurisdictions, essentially to imitate Silicon Valley, but it is not the same. Silicon Valley is financially driven and is riding on decades of investment and entrepreneurship experience. The fact that they have no other motivation than building great standalone businesses does manifest itself in the great companies, technologies, and outcomes that we have seen coming from this area.
2) Government regulations: I must say that while government does provide little or no financial incentives to start a business in California, it has not overly regulated the process of starting a business, and the flexible labor laws do enable the risk taking nature of the startup.
3) Access to experienced management and cutting-edge technical talent. Some of the greatest universities in the world are located in California and some within miles of Silicon Valley, which supply graduates to area's economic and technological engine. You seldom see these graduates leaving the area for work elsewhere. The historically entrenched culture of migration and the ease of movement from overseas to the U.S. - and the reverse - provides access to the best and brightest talent in the world. The open immigration policies of the US for talented and motivated individuals enables access to a global pool of technology talent. The multicultural environment of the Valley encourages many to move here from the four corners of the earth and feel at home.
4) Local culture of innovation and entrepreneurship. Put simply, there is nowhere like it in the world. The conversations in the restaurants, bars, parks and bus stops is about the latest and greatest companies, as well as innovation and entrepreneurship. It does not take long to convince your spouse that you are letting go of your well paid job to join a group of young kids with great ideas. The historical record of success provides a very unique environment. The model of building a growing company is well understood and is common knowledge.
5) Eco-system. Many of your present and future customers and partners are close by. It makes it easier to validate ideas, develop winning designs and have access to complementary technology when needed. There are thousands of companies and businesses that can complement you within miles from your business is based.
You hold more than 40 US and international patents. Can you tell us which ones have been your greatest achievement? What is the first thing new inventors should consider? What should they avoid?
I am not sure if I have a favorite, there were a couple that have a level of excitement associated with them and some took a long time to become reality in products; they were a bit too much ahead of their time.
The first thing that an inventor (new or old) should consider is the problem statement, what is the problem that he/she is trying to solve? They say that need is the mother of invitation. You cannot innovate for the sake of innovation; the problem comes ahead of the solution. There are too many times when I see that we have a solution that is looking for a problem. That is not the most productive approach to innovation.
This short children's book is about three friends: Mr. Hour, Mrs. Minute and Miss Second, and it is meant as a fun educational means to teach the concept of time and the operation of a clock to kids. I first got the idea during my English class when I had just moved here, where I was asked to describe the concept of machinery, and I thought that by giving life and character to the building blocks of a clock, we could make it fun for kids to learn. It took me many years, but it was a personal desire to take the class story to the next stage by getting it published. The second motivation or what gave me energy to work on it, were my kids. It was a great opportunity for me to interact with my kids in the process. I did appreciate their thoughts and feedback all along, and in the end, we committed to give our proceedings to children's charities. I hope it thought them (and me) about the most important things in life.
Related
Popular in the Community