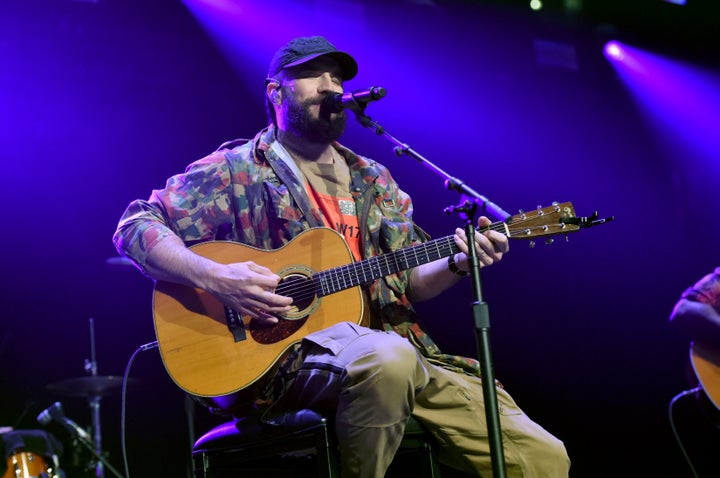 "Body Like a Back Road" ― Sam Hunt's bro-country banger that was nominated this week for two Grammy Awards ― is a horrific number that feels less like a song than an experiment to determine how little effort is required to top the charts.
It seems to have been written by an algorithm, the repetition of "curves" in the chorus and second verse just a glitch that a programmer will surely smooth out in beta. Only this is a real song, getting real airplay, with real people listening with real ears.
"We're out here in the boondocks," Hunt sings in a tour de force of screensaver-level-bland imagery, "with the breeze and the birds, tangled up in the tall grass, with my lips on hers."
You've heard those lines before. You're just not sure where. Which is precisely the point.
"Back Road" spent 34 weeks at No. 1 on Billboard's Hot Country charts, making it the biggest country music hit of 2017. It earned crossover status when it reached No. 6 on Billboard's Hot 100 chart, and is now a solid bet to bring home the Grammy for best country song (it also received a nomination for best country solo performance).
These are distressing developments. Pop music is, of course, an exercise in pandering to one degree or another; the trick, at least with good pop music, is to pander better, pander smarter, pander in a way that doesn't reduce listeners to the sum of their dopamine receptors.
Country music exists in the tension between the radio status quo and the outlaw avatars of Real Country — between pander and pander better.
"Back Road" isn't just a witless pander; it's a witless pander by an artist who should know better. Hunt, a former college football quarterback, broke onto the country scene when his debut album, "Montevallo," arrived in 2014 to critical and commercial acclaim. He won two CMT Music Awards the following year, including one for country's new artist of the year.
Hunt is always going to be a little too bro (and too little country) to please purists. But "Montevallo" was intriguing in how it fused country with the sounds and styles of other popular genres, nudging the boundaries of what country, bro or otherwise, could sound like. Hunt's casual deployment of spoken word and his nods to hip-hop ― in songs like "Break Up In A Small Town" and "Make You Miss Me" ― were sharper, more natural and more technically competent than most of the earlier forays that mainstream country artists had attempted to make into alien genres.
He was Drake gone country, people loved to point out, particularly after he started covering Drake:
And although he's not an outstanding vocalist, Hunt can write and execute a song. The vivid storytelling and emotions he laced into tunes like "Cop Car" or "Break Up" ― "She was over me before the grass grew back where she used to park her car, she's leaving those same marks in some else's yard" ― lent his music a lyrical and symbolic heft that many artists, especially those dismissed as purveyors of simplistic bro-country, have failed to reach. Even his bro-ier fare, like "House Party," were perfectly fun, if nothing else.
"Body Like A Back Road" has none of that. The song is drastically overwritten in some places and comically trite throughout ― an impressive two-fer given that it isn't even three minutes long.
Read the lyrics, listen to the chorus:
drivin' with my eyes closed,
I know every curve like the back of my hand.
Doin' 15 in a 30, I ain't in no hurry,
I'ma take it slow just as fast as I can.
You're almost sad to hear the acclaimed team of songwriters responsible for these lines say that they went through multiple, painstaking drafts, as they told The Washington Post. These are things you shouldn't admit. Not about something so unimaginative and synthetic. Even the hip-hop touch here is uninspired and merely dutiful: a DJ Mustard-ish "Hey!" ringing in the background.
There's a chance that "Back Road" won't win the Grammy for best country song. Over the last decade, the award has largely honored substantive tracks that try to accomplish something beyond chart supremacy, even when they've achieved that, too.
Look at the winners of the last five years. Carrie Underwood won in 2013 for "Blown Away," a stirring narrative, told through her booming vocals, about escaping from an alcoholic father; Kacey Musgraves won the next year for "Merry Go 'Round," her breakthrough song about the grim realities of small-town America. Legend Glen Campbell's "I'm Not Gonna Miss You" peaked at No. 21 on the Billboard country chart. Little Big Town's "Girl Crush" (which relies on a melody almost identical to Rihanna's "Love On The Brain") coupled gorgeous vocals with mysterious lyrics, and last year's "Humble and Kind" felt like a perfect last note from a mature, 48-year-old Tim McGraw, even if he isn't quite finished yet.
The best country song category is where the industry pretends it's something other than the frat house suggested by the preferences of mainstream radio. That bodes well for 2018 nominees like "Tin Man," Miranda Lambert's emotionally daring headliner from "Weight of These Wings" ― a full-throated double album that is joyously devoid of chart-bait but was somehow snubbed for country album of the year ― or Chris Stapleton's stunning and beautiful "Broken Halos."
But the nomination of "Back Road" alone is a bad sign. It makes it clear which side is winning in the great Bro Country v. Real Country fracas. Despite the occasional offering from Stapleton or someone similar, mindless dude hits still dominate the country charts.
And now, the bros have finally stormed the last citadel of Real Country, too.
Popular in the Community