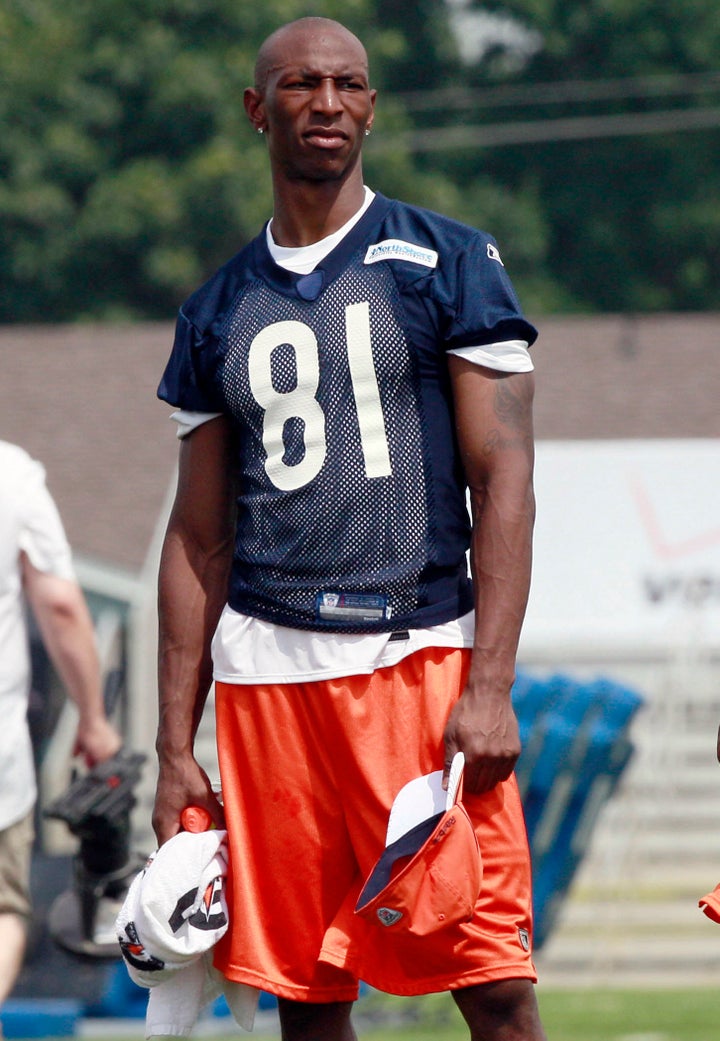 A criminal complaint was filed yesterday against Sam Hurd, the now-former wide receiver of the Chicago Bears. It is a shocking account of a pattern of activity from a player well-respected and seen as nothing like the one depicted in the complaint. An official at the Bears told me "He seemed like a great guy, quoting the Bible and always friendly." Most con men are.
The complaint includes an affidavit attached to it, required to show probable cause to arrest, wherein the federal agent swears under oath that this story is true.
Days before signing with Bears
On July 27, T.L. (a Hurd co-conspirator) attempted to purchase 4 kgs of cocaine on behalf of Hurd from a Homeland Security confidential informant.
They set up a meeting in Dallas and federal agents intervened, stopping T.L. for a routine traffic stop where they discovered marijuana and $88,000. T.L. said both the money and car belonged to Hurd. A vehicle registration check showed that the car did belong to Hurd. T.L. said that he routinely performed maintenance on Hurd's cars. The authorities seized the money and released T.L.
On July 28 Hurd contacted and met with federal agents, stating that he was a Dallas Cowboy and that the $88,000 was his. He claimed he withdrew the money from a certain bank account and packed the money in his car prior to leaving it with T.L. for "maintenance and detailing." The agents reviewed the bank statement, which didn't corroborate Hurd's story as the transactions and amounts differed.
On July 29, Hurd signed a three-year contract with the Bears that provided a $1.35 million signing bonus and a 2011 salary of $685,000.
On Aug. 14, T.L. again tried to broker a deal for Hurd with the informant, this for purchasing 5 kgs of cocaine.
On Aug. 15, federal agents learned of Hurd's association with four California men arrested on July 25th possessing money, drugs, and weapons. Hurd's cell phone number appeared in texts describing drug dealing and money laundering.
Season starts, drug activity continues
On Sept. 9, T.L. again tried to broker a deal for Hurd with the informant for 5 kgs of cocaine.
On Dec. 6, T.L. met the informant at a Firestone store in Texas where he contacted Hurd and passed the phone to the informant. Hurd expressed his desire to purchase 5 kgs of cocaine and said T.L. would give him Hurd's phone number in case the informant was ever in the Chicago area.
On Dec. 14, Hurd met the informant and an undercover agent at Morton's Steakhouse in Chicago. Hurd was interested in purchasing 5-10 kgs of cocaine and 1,000 lbs of marijuana per week. They negotiated a price of $25,000 per kg of cocaine and $450 per lb of marijuana. Hurd acknowledged that he currently distributed about 4 kgs of cocaine per week in the Chicago area and that while his partner did smaller deals, Hurd focused on "higher-end" ones.
Hurd also inquired as to Mexican cell phones -- believing them to be safe from law enforcement hearing conversations -- while also disclosing that he had money seized in Dallas months earlier.
The undercover agent provided Hurd with 1 kg of cocaine. Hurd left the restaurant, placed the bag in his vehicle, and was subsequently arrested by authorities.
Hurd is officially charged with "knowingly, intentionally and unlawfully combine, conspire, confederate, and agree together, and with other persons known and unknown, to possess with the intent to distribute 500 grams... of cocaine, a controlled substance." He faces the possibility of up to 40 years in prison
A federal judge in Chicago ruled that Hurd must stand trial in Texas because the criminal charges were filed there.
Hurd is represented by Los Angeles attorney David Kenner, whose past clients include Snoop Dogg.
More worrisome for the NFL -- other than the disturbing facts of the story itself -- is that the authorities claim to have a list (possibly in the double digits) of NFL clients that Hurd served.
Unfortunately for the Bears and perhaps the Cowboys and the NFL, this story is only the beginning.
As with many criminals, people who thought they knew Hurd are shocked. Stay tuned.
Popular in the Community