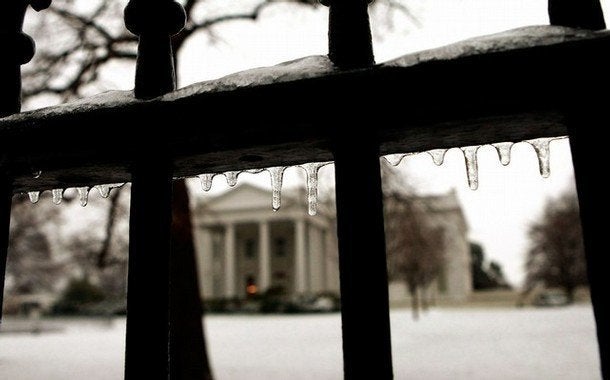 Sam Kass, the Obamas' personal chef from Chicago, will continue his culinary services for the First Family in the White House. However, Kass will not fill this role exclusively and will work alongside former-President Bush's chef Cristeta Comerford, presumably begging the question of whether there could be "too many cooks in the kitchen." But as the New York Times reported today, there won't likely be any Iron Chef-style drama:
A spokeswoman for Michelle Obama, Katie McCormick Lelyveld, said Mr. Kass will not be the only cook preparing the family's meals, but "he knows what they like and he happens to have a particular interest in healthy food and local food." He will work alongside the White House executive chef, Cristeta Comerford, who was promoted to that job by the Bushes and is being kept on in that role by the Obamas.

...

Mr. Kass's appointment signals changes at the White House that should please chefs like Alice Waters, who have lobbied the Obamas to set an example for the rest of the country by emphasizing food that is healthy, local and sustainable. It further suggests that a vegetable garden on the White House grounds, another of Ms. Waters' dreams, could be on the horizon.
Like many of Obama's appointments and decisions thus far, Kass carries a degree of symbolic weight that meshes well with the approach of the new administration: pragmatic change.
Chicagoist has compiled a nice background for the Obamas' favorite cook here. Here's an excerpt:
Kass graduated from the University of Chicago before studying in the kitchen of a Michelin-starred restaurant in Europe. He then went to work for Avec (according to the New York Times) or Blackbird (according to Time Out Chicago). He has been serving as executive chef for the Jane Addams Hull House in an effort to re-invent the soup kitchen by using quality produce and shunning empty calories. He founded Inevitable Table, a private chef service that prepares meals with the following in mind:

We aim to promote a healthy lifestyle that focuses on the quality and flavor of food to encourage good eating habits. This philosophy provides consistency and balance to ensure you thoroughly enjoy your food experience. We believe that people have a stake in each other's health. This link is what binds us together as families, communities and a nation. Nowhere are we more powerfully bound together than in the daily cultivation and preparation of food.
Popular in the Community