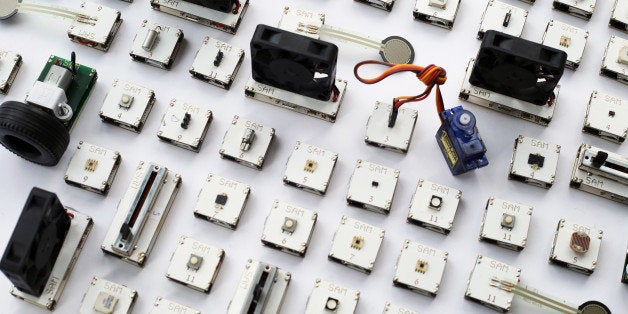 NEW YORK -- Joachim Horn's refrigerator is probably smarter than yours. Sensors inside of it tell him how much remains of particular foods, so he knows what recipes he can make with what he has at home.
Horn was able to upgrade his fridge thanks to SAM Labs, the company he founded in 2013. The six-person London-based startup makes a variety of "blocks" -- small buttons, lights, buzzers or sensors -- which link wirelessly together via your computer. People can use the blocks to connect everyday objects with a network, making their stuff more intelligent and, in theory, more useful.
"We're the Lego for the Internet generation," Horn told The Huffington Post.
SAM was one of dozens of startups featured at a Wednesday event in New York City organized by the city of London to promote technology investment in the U.K. capital. Arianna Huffington, the founder and editor-in-chief of The Huffington Post, spoke at the event and tried out some of the SAM creations.
"You can pretty much do anything you want with it," Horn said of the SAM blocks.
Here's how SAM blocks work: When you turn on a block, an image of it appears in the SAM app. You can then drag and drop these images onto a virtual canvas and arrange and connect them according to how you want them to work with one another.
Horn showed us a simple creation: a Sam Labs button that connected to a computer's camera and then to the Twitter app. Each time you pressed the button, it took a picture and sent that picture to Twitter.
This is what the virtual canvas looked like during that demonstration: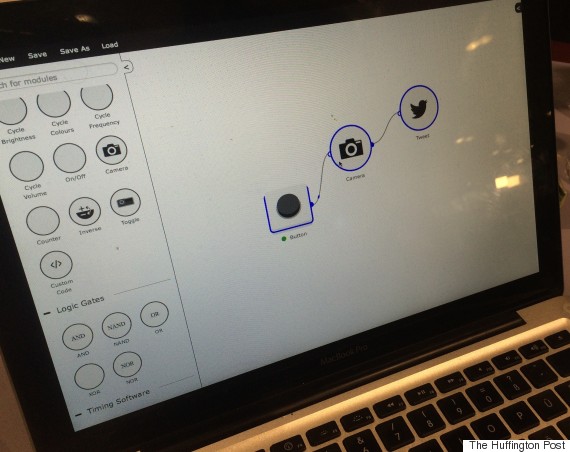 The SAM app shows the connection from the button to the camera, the camera to Twitter.
During a separate demonstration at Wednesday's event, the company also showed off remote-controlled cars made from 3D-printed models and powered by SAM's connected motors. Another set of motors controlled the drawbridge on a toy model of London's Tower Bridge, so that a push of a button would raise the bridge.
London Mayor Boris Johnson and Arianna raced the cars -- one a replica of a London taxi and the other an NYC taxi -- at the event.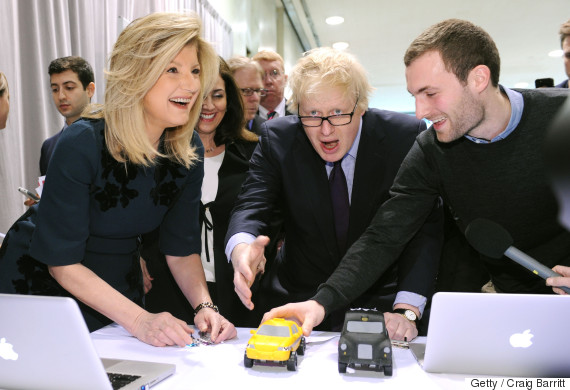 From left to right: Arianna Huffington, founder and editor-in-chief of The Huffington Post, Boris Johnson, mayor of London and SAM Labs founder Joachim Horn race models of taxi cabs in New York City on Wednesday, Feb. 11 2015.
Each time you do something inside the SAM app, a line of the programming language Javascript appears on the right of the screen. If you delete that line of code, it deletes the corresponding action. The idea, Horn said, is to show how computer code actually affects what you're able to do with the blocks. This makes the app an educational tool as well as a building tool, and the company wants to sell it to schools and universities for engineering education, Horn said.
Horn is currently in the U.S. to try to raise about $3 million from investors.
Mayor Johnson is on a trade mission to the United States until Friday.
"We think that London is going absolutely gangbusters now as far as tech of all kinds is concerned," Johnson said at a panel during the event. U.S. investors poured nearly $800 million into tech companies in London last year, up from $296 million in 2012, according to London Partners, the city's official promotional company.
The mayor said there are more people working in tech in London than who work in all of financial services there. "It's the biggest change in the London economy since the Industrial Revolution," he said.
Calling all HuffPost superfans!
Sign up for membership to become a founding member and help shape HuffPost's next chapter