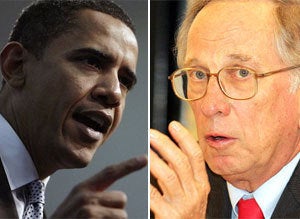 "Two major stars of the Democratic foreign policy establishment -- former Sens. Sam Nunn and David Boren -- have just endorsed Barack Obama and have agreed to serve on his national security team," Marc Ambinder reported. "Nunn served as the Democratic Party's coverman in foreign policy debates for two decades. He voted against the 1991 Gulf War and thereby gave many other Democrats permission to take that political risk."
Here's the full release from the campaign:
FORMER U.S. SENATORS SAM NUNN, DAVID BOREN ENDORSE BARACK OBAMA

Former Senate Armed Services and Intelligence Committee Chairmen Cite Obama's Ability to Lead on National Security Issues

Chicago, IL - Today, Former Senators Sam Nunn and David L. Boren endorsed Barack Obama for president, citing his judgment and vision to be Commander and Chief and his ability to strengthen our national security.

Nunn and Boren have accepted Senator Obama's invitation to serve as advisers to his National Security Foreign Policy Team. Senator Nunn served for 25 years (1972-1997) in the United States Senate and was Chairman of the Senate Armed Services Committee from 1987 through 1995. Senator Boren served in the United States Senate from 1979 to 1994 and is the longest-serving Chairman of the Senate Select Committee on Intelligence. Between them, the two senators bring nearly 60 years of service and experience in elective office.

Former Senator Sam Nunn said, "America remains the strongest nation in the world, but we can only be successful in tackling our toughest problems if we gain cooperation at home and abroad. Our next president - working across party and economic lines - must restore and strengthen our national purpose, our credibility, our competence and our spirit.

"We need a president who has the temperament of a leader - a sharp, incisive, strategic mind, a rare capacity for self criticism, and a willingness to hear contrary points of view.

"Based on my conversations with Senator Obama, reading his book and his speeches and seeing the kind of campaign he has run, I believe that he is our best choice to lead our nation. Senator Obama, as evidenced by his words and his deeds, recognizes that:

· We have developed a habit of avoiding the tough decisions and seemingly lost our ability to build consensus to tackle head-on our biggest challenges.

· Demonizing the opposition, oversimplifying the issues, and dumbing down the political debate prevent our country from coming together to make tough decisions and tackle our biggest challenges.

· Solving America's problems will require difficult choices and sacrifices and leaders capable of considering new ideas from both political parties.

· On foreign policy and security policy, we must recognize that we are not limited to a choice between belligerency and isolation and that we must listen to lead successfully on the key issues facing America and the world.

· Our next president must also recognize that the battle against violent terrorists, while requiring a prudent use of military power, is also a long-term contest of psychology and ideas.

"I believe that Senator Obama has a rare ability to restore America's credibility and moral authority and to get others to join us in tackling serious global problems that will determine our own well being and security. I believe that he will bring to the White House, high principles, clear vision and sound judgment. I believe that he will inspire people to put aside extreme partisanship for the common good. I believe that he will awaken the energy and idealism of people who have never been active in public affairs, particularly our young people. I believe that he will also attract skilled, experienced and energetic people to government and will have the sound judgment to put together an outstanding governing team, bringing people together across old boundaries.

"I believe that Barack Obama is the right choice for our nation. My own role in this campaign will be as an advisor - particularly in the field of national security and foreign policy."

Former Senator David L. Boren said, "I am joining Senator Barack Obama's advisory team on foreign policy and national security because I believe it is my duty as a citizen to do all I can to help our country at this critical moment. Our strength is declining. Eighty-one percent of Americans believe we are headed in the wrong direction. We must act quickly to meet and overcome the challenges we face.

"Our most urgent task is to end the divisions in our country, to stop the political bickering, and to unite our talents and efforts. Americans of all persuasions are pleading with our political leaders to bring us together. I believe Senator Obama is sincerely committed to that effort. He has made a non-partisan approach to all issues a top priority.

"Senator Obama is also a person of sound and good judgment. He had the good judgment more than five years ago to warn against our involvement in this tragic and costly war. He also understands the need to repair our partnerships with other nations and to more effectively use diplomacy to serve our national interests.

"It is my hope that in sharing what I have learned during my time in public service, I will be helping my country."

Senator Barack Obama said, "I am honored to have the support and counsel of two of our nation's leading voices on national security, and two of our most respected advocates for national unity. Few public servants have done more than Sam Nunn to keep America safe, and I look forward to drawing on his counsel as we work to combat nuclear proliferation and other threats to America's national security. David Boren is one of our nation's foremost experts on intelligence, and he has been a powerful and passionate advocate for bipartisanship in Washington. Both of these men will be important sources of advice and counsel for our campaign in the months ahead."
Support HuffPost
The Stakes Have Never Been Higher
Popular in the Community