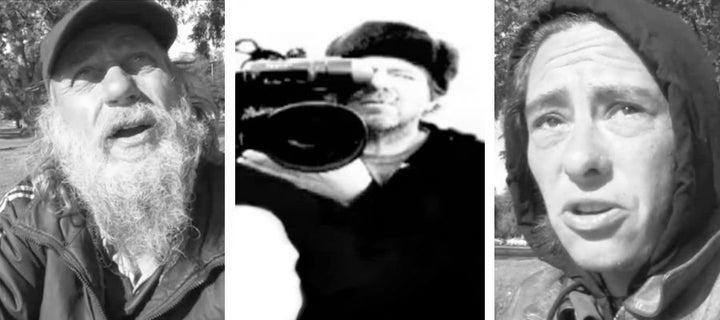 It is tough to truly understand the plight of the homeless if you've always had a place to live. For many of us, attempting to look at the world through the eyes of the homeless would be a big step outside of our comfort zone.
For Sam Slovick, a filmmaker and writer who has been chronicling the lives of Los Angeles' homeless, interacting with the down-and-out has never been difficult. As a teenage runaway he had a drug abuse problem and was once evicted from his apartment on Skid Row for not paying rent. He developed a street sensibility that now allows him to relate to the people he meets on the street.
"It's second nature to me; I'm just going in as myself," says Slovick. "My success has been because of my intentions -- I went in with an intention that was true and pure, just about giving a voice to the voiceless."
In doing so, Slovick has made a name for himself as a journalist for the homeless, writing and filming the stories of those who rarely have the opportunity to speak out for themselves. Slovick has developed a transmedia series for LA Weekly, called "Pavement", that uses text, photos and videos to bring attention to underserved communities throughout the city. He has also done a piece about homelessness in L.A. for GOOD Magazine, called "Welcome to Los Angeles," as well as a five-part documentary series called "On Skid Row."
With his background, access to ignored populations and journalism skills (he once worked as a celebrity journalist, interviewing stars like Robert Downey Jr.), Slovick realized he could bring attention to the homeless in a way that not many others could.
"I began to understand what I had to offer as a journalist," Slovick said.
He made it his career and mission to air the stories of the people he meets on the street -- to bring attention to their lives, their situations and, above all, their humanity.
"There's nothing more amazing than doing a story on someone who's been sleeping on the pavement and giving them a copy of the paper," says Slovick. "That's the most satisfying part -- when they see their story being told."
Slovick recalls the moment when he knew this is what he was meant to be doing:

"When I first started writing for the LA Weekly about homelessness, I met this little boy named Darius. He was 6 and had a cold, and a runny nose. I was talking to his mom, who had so much frustration and anger... [Darius] came over and put his arms out for me to pick him up. I did, and when his mom wasn't looking, he said 'take me with you.'"
Slovick says that in his subsequent travels around the world, he couldn't get Darius out of his head. "I was all over the world, and everywhere I went, I kept thinking, Darius is still there. That's what got me and made me commit to saying alright, I'm not going to make any money doing this, but it's what I have to do."
While many people might be uncomfortable with the idea of approaching homeless strangers and asking for their stories, Sam says he has never found it intimidating. Nor has anybody he's wanted to talk to ever turned him down.
"Connecting with these people is effortless for me. The reason they talk to me is because I'm approaching with humility and respect, not with the intention to exploit them."
That, he explains, is the key to creating a connection with the homeless, regardless of your background. Slovick says he gets a lot of calls, emails and Facebook messages from people across the country asking him how to do what he does. He advises, "the way to do it is to wrap your head around your intention. If your intention is pure and true and in line with who you are, and that's aligned with who these people are, who this community is, it unfolds effortlessly. First it's intention; then, you just show up... You hold this space for these people and they'll either step into it or they won't."
But, he cautions, you do need to exercise care. "When you show up, you have to remember that these are people who have been traumatized... There's so much grief and anger and profound sadness, you have to be very delicate with them, even if they're hostile. You have to love them."
Slovick says there's an added benefit to his job that he didn't foresee -- self-healing.
"The reason I'm doing this is that I'm working something out for myself. I identify with these people who are disenfranchised, separated from the whole. I'm healing myself," Slovick says. "When I'm doing these stories, I take them home. I'm seeing them and looking at them and feeling their pain. It can be very overwhelming... It's taken me on a journey I didn't know I was going on -- to open my heart and have compassion. Compassion not just for homelessness; across the board, I've learned that everybody's doing the best they can."
For his sixth installment of Pavement, "The Lost Tribe," Slovick did the next best thing to walking in someone else's shoes -- he sat under a tarp in the rain with a group of homeless people. His footage is, in his words, "chilling, to say the least."
WATCH:
Slovick says there are "a million things anybody can do about homelessness":
• Read a story about homelessness, and tell your friends to; afterward, discuss it.
• Blog about homelessness.
• Write a letter to your congressman, mayor or county board of supervisors telling them that you want to know what they're doing to help; ask them to do more.
• Go to wherever it is that homeless people are living in your city and and talk to them -- go with respect and humility, and know that it is their choice whether they want to share their story.
• Sit with somebody who's homeless.
• If you pass a homeless person on the street, look them in the eye and say hello; acknowledge that they're a human being.
• Cultivate your own compassion for others.
• Volunteer at a place like School on Wheels -- which tutors homeless kids -- or any of the enlightened philanthropies that are doing good work.
• Participate in an Urban Immersion Service Project with Central City Community Outreach, or find an equivalent in your area.
• Expand your consciousness to include homeless people.
Support HuffPost
The Stakes Have Never Been Higher
Related
Popular in the Community