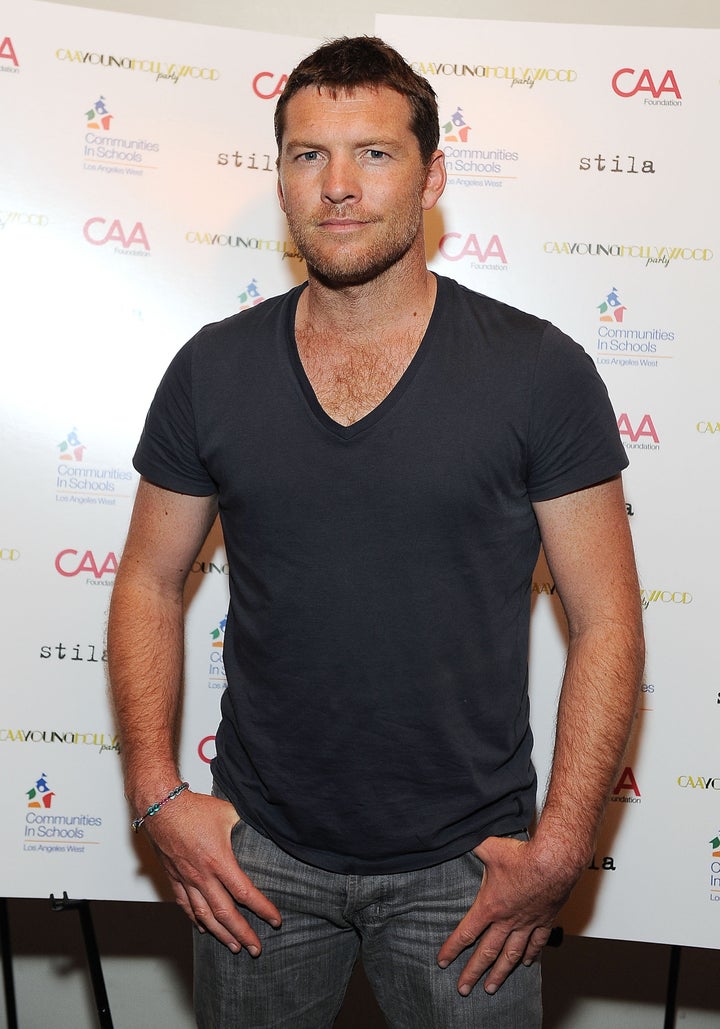 The man on the phone is not the Sam Worthington we know from "Avatar" and "The Debt" -- the strong, silent hero who wrestles with personal demons as he defies the odds to save the day. The Sam Worthington on the phone laughs, speaks candidly and dreams of starring in a film that has more punch lines than punches.
"I've always wanted to do a comedy with Christian Bale," Worthington told The Huffington Post in candid interview. "That would be my ideal dream -- a comedy with me, Christian Bale and Russell Crowe," he said, proposing the three action heroes team up for a "Three Amigos"-style flick.
Worthington spoke to The Huffington Post as he readied for the release of two new movies, "Man on a Ledge" on January 27 and March's "Wrath of the Titans." But for an actor who's done mainly action hero roles, Worthington is eager to stretch his repertoire to take in not only comedy but also more serious dramatic roles.
"I never get offered comedies," the Australian actor said with a sigh. And it's not for lack of trying, he said. "You put yourself out there, to say, 'Look, I can be in this musical or I'd like to give this comedy or dance movie a try.'" It's just a process of convincing producers "you're not having a laugh at them and you're legitimately curious and you'd like to expand your range and show a different side of yourself," he said.
Yes, Worthington wants to appear in a dance movie. But until he gets his crack at a Fred Astaire-type role, he's doing his best to bring a sense of authenticity to his serious films, be they small action dramas or blowout CGI-fueled blockbusters.
After appearing in 2011 as a Mossad agent in "The Debt" and a police officer in "Texas Killing Fields," Worthington is venturing to the other side of the law, portraying a wrongly convicted ex-cop who goes to extremes to prove his innocence in "Man on a Ledge." The film, with its long periods of stationary dialogue, much of it with co-star Elizabeth Banks, offered him a chance to explore the desperation of a man who has put it all on the line.
He applied that same attention to character, he said, in his reprisal of Perseus in "Wrath of the Titans," the sequel to 2010's critically maligned swords-and-sandals 3-D epic "Clash of the Titans." The second film offered Worthington a chance at redemption, he said, and an opportunity to replace the Sam Worthington you think you know with the brutally honest Aussie on the phone.
"The first one I didn't like," Worthington said frankly. "I'm not playing a character. I'm playing a carbon-copy friggin' conduit that just goes on an action spree," he added. "It wasn't what I wanted to bring, or I didn't try as hard as I could. I don't know what happened. I maybe freaked out," he said. "And when I looked at it, I went, 'I can do better.'"
"On this one, we got to craft and shape a better Perseus, a more rounded Perseus and actually get a bit more heart into it," he said of "Wrath of the Titans." "To get a second chance at that is quite a great opportunity."
Worthington doesn't have to be this honest. It would be easy enough to refer critics of "Clash" to its staggering worldwide gross of nearly half a billion dollars. But the way he sees it, he has a responsibility to his audience. "Essentially that's who you're making a movie for -- Joe Blow who's paying his 16 bucks and taking his whole family, his whole wages, to go [out] on a Friday night and have a good time."
After the release of "Clash," he tried to consume all the press written about the film, from feature articles to reviews and blog posts, regardless of whether they were positive. "I tried to read everything that was written about me," he said.
Worthington is now wrapping up the surfer flick "Drift" and gearing up to co-star with Matthew McConaughey and Gerard Butler in an Iraq war film, "Thunder Run." If he can bring the same level of brutal honesty to his upcoming films, perhaps he will will finally get that chance at comedy, too.
Calling all HuffPost superfans!
Sign up for membership to become a founding member and help shape HuffPost's next chapter
BEFORE YOU GO