Preserving the classics is a noble endeavor. Jazz, for example, is an original American music art form that once dominated the airwaves, dance halls, and nightclubs of an earlier generation. Today, this once popular music is relegated to small ensembles at intimate gatherings. I admire and applaud the tireless efforts of people, such as Wynton Marsalis, who are committed to keeping jazz alive through education and performances on the biggest stages. He won the French Legionnaire's Award doing so.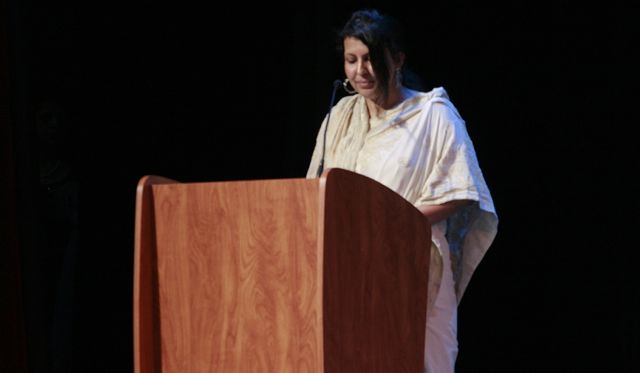 Simmi Bhatia making her welcome speech at a recent SAMAA concert.
The South Asian Music and Arts Association (SAMAA) is committed to a similar effort with classical Indian music. The goal of this nonprofit organization is to promote quality South Asian music and art through live performances, education and advocacy.
Recently, I spoke with SAMAA's executive director and founder, Simmi Bhatia, who has a passion for music and has emerged as one of the leading advocates for preserving this ancient, celebrated music that continues to find relevance in the modern world. A biostatistician by training, Simmi is also a musician. She learned sitar from Hidayat Khan, son of the legendary classical musician Ustad Vilayat Khan.
I have had the privilege to meet and write about Indian legend Ustad Amjad Ali Khan and his sons a few times (link). SAMAA's first concert in 2010, held at Carnegie Hall, was in part to honor the career and contributions of her teacher to Indian classical music.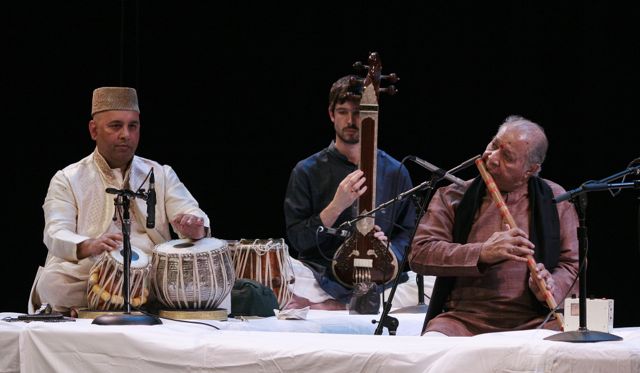 Pandit HariPrasad Chaurasia on Bansuri (solo) with Pandit Samir Chatterjee on tabla.
Photo: Peter Schaaf.
Simmi described her organization's first concert as "a small event." Still, it was a significant first step toward bringing the Indian classics to the attention of American concertgoers in the New York City area. She explained to me that most classical musicians in America perform in private homes, small restaurants - and temples on Long Island and New Jersey.
"I want to give them a platform that would expose them to the mainstream," Simmi emphasized. Her plan is to present these artists at prestigious venues, such as Lincoln Center.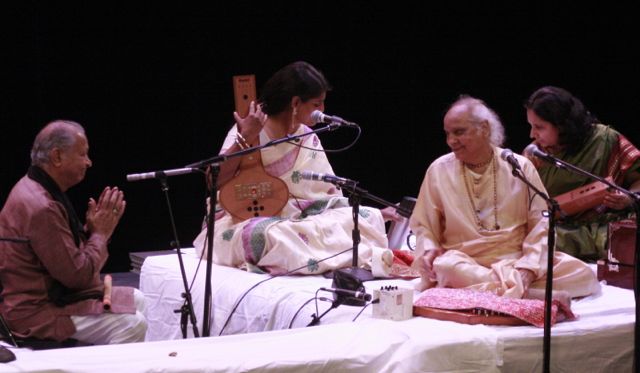 Sharing a beautiful moment during the jugalbandi: Pandit Jasraj, vocal
and Pandit Hariprasad Chaurasia, bansuri. Photo: Peter Schaaf.
SAMAA organizes two concerts each year, in the spring and fall. In June, the group brought two legendary Indian classical musicians to the Tribeca Performing Arts Center: Pandit Jasraj and Pandit Hari Prasad Chaurasia. These two world-renowned and highly honored musicians, who have known each other for more than five decades, performed together many times but never before shared a stage in the U.S.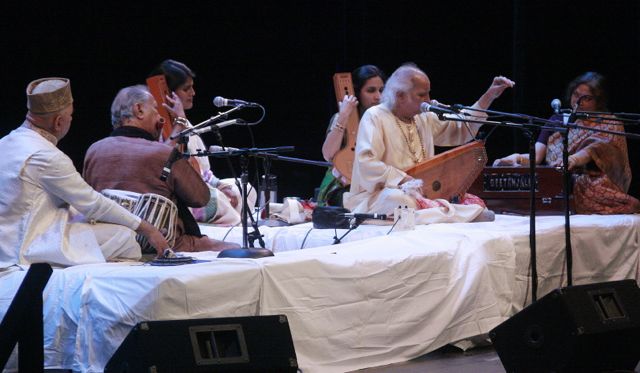 Jugalbandi by Pandit Jasraj, vocal and Pandit HariPrasad Chaurasia, bansuri.
Pandit (which translates as "maestro" in Hindi) Jasraj, 83, is an Indian classical vocalist and creator of an innovative form of blending male and female vocals, Simmi explained. Pandit Chaurasia, 75, is a celebrated flutist who has made significant contributions to popularizing the classics.
According to Simmi, an esteemed group of musicians formed the core of what became the Golden Age of Indian Classical Music. Together, they surpassed the artistic achievements of those who came before them and established a new standard.
"There are only a few of these senior musicians still alive," she added. "It was a great treat for music lovers to see two of the legends from that era perform together."
SAMMA has made tremendous strides toward achieving its goal, but there are obstacles. Manhattan, after all, is the culture and arts center of our nation. On any weekend in New York City, there is much competition among venues to attract concertgoers. What's more, it is a challenge to entice potential audiences to travel from New Jersey or other Tri-state locations to Manhattan when smaller local venues offer intimate concerts.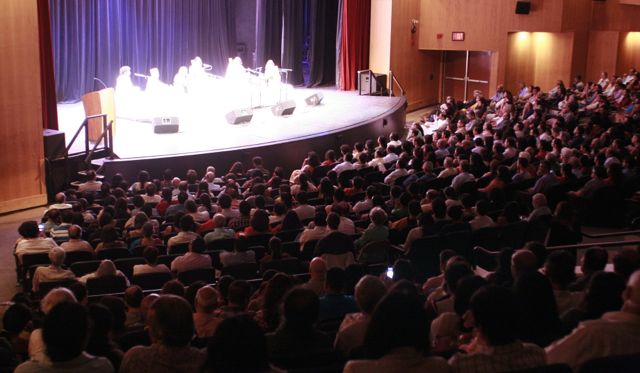 Sold out performance of Indian Classical Music at Tribeca Performance Arts Center, New York City.
Photo: Peter Schaaf.
At the same time, the rising popularity of Bollywood music often overshadows the classics. But Pandit Jasraj, a distinguished man who speaks candidly and with eloquence, told me that he's not concerned about competition from Bollywood.
"Let me explain to you," he said slowly. "Other music before Bollywood was also very popular. But none of those other popular styles of music ever harmed Indian classical music. So there is no concern." Pandit Jasraj explained further that the Indian classics are at the root of Bollywood music. "Indian classical music is the father of all modern Indian music," he underscored. "So, there is no comparison or insecurity there."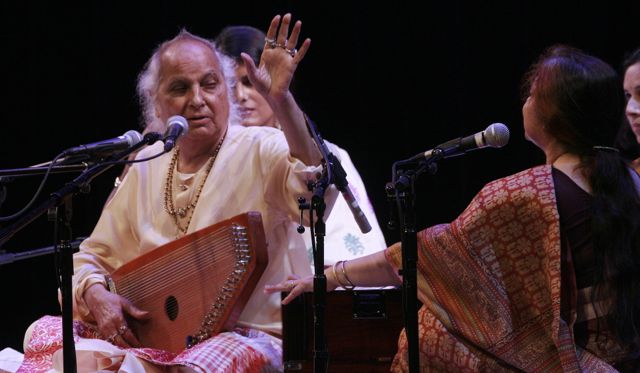 Pandit Jasraj, vocal and Tripti Mukherjee, accompanying vocalist.
Indian classical music is unique in many ways. It has a "spiritually uplifting" quality, the master musician stated. He guarantees that anyone listening to this music for the first time would immediately sense its high spiritual value.
Indeed, many Westerners first encountered the unique qualities of the Indian classics when the Beetles' guitarist George Harrison introduced the sitar master Ravi Shankar. Harrison took a crash course in the instrument, which the group incorporated into their own music. Long after the Beatles era ended, Shankar, who died at age 92, continued to draw fans in Europe and the U.S. to his concerts and continued to influence Western music.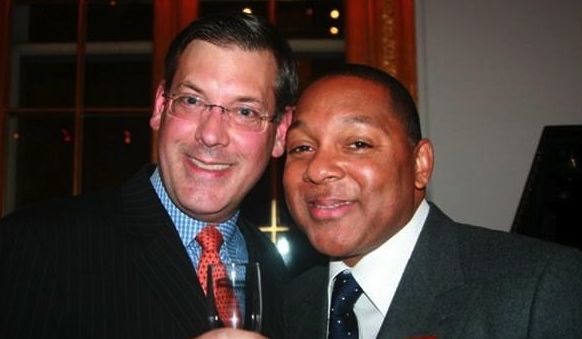 Musicians such as Wynton Marsalis are committed to keeping jazz alive.
Thought leader Simmi Bhatia works diligently to find creative ways to make Indian classical music relevant to a new generation. She experiments with finding ways to incorporate Bollywood music with the classics at some of the concerts her group organizes. This, she believes, can draw larger audiences to SAMAA concerts and give classical performers the exposure they need. She's convinced that once people hear the classics, they will want more. I agree.
Calling all HuffPost superfans!
Sign up for membership to become a founding member and help shape HuffPost's next chapter