An Australian TV host has apologized for an on-air comment she made last month about a biracial teen's fair complexion.
Twins Lucy and Maria Aylmer from Gloucester, U.K., first made headlines in March when the gorgeous sisters were photographed by World Wide Features. The teens, whose father is Caucasian and mother is "half-Jamaican," are twins, but their physical appearances are very different: Lucy has fair skin and red hair, while Maria has caramel skin and dark hair.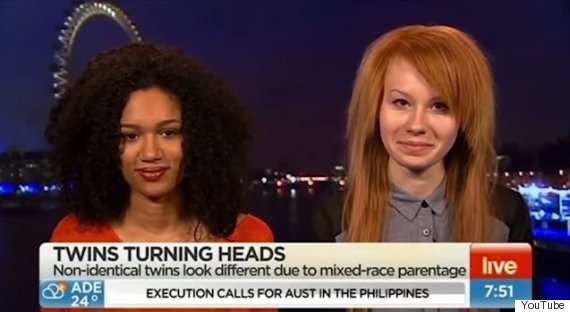 In March, the girls sat down for an interview on Australia's "Sunrise" with hosts Samantha Armytage and David Koch. Armytage's introduction struck viewers.
"The Aylmer twins come from a mixed-race family in the U.K.," she said. "Maria has taken after her half-Jamaican mum with dark skin, brown eyes and curly, dark hair, but Lucy got her dad's fair skin -- good on her! -- along with straight red hair and blue eyes."
The 'good on her' comment was inappropriate, extremely offensive and very racist. This comment segregates sisters by favoritism base on skin colour and give the impression that Lucy is better or luckier for being fair skinned or as if Samantha can relate more to her solely because she is fair skinned which is by definition, racist.
More than 4,000 people have signed the petition so far.
Armytage issued an apology this week to News Corp Australia, saying, "I would be mortified if anyone thought I would say or think anything racist. It's not in my nature. To anyone who I might have offended, I'm sorry."
"Sunrise" producer Michael Pell also released a statement, calling the whole thing a "misunderstanding" and apologizing for any offense.