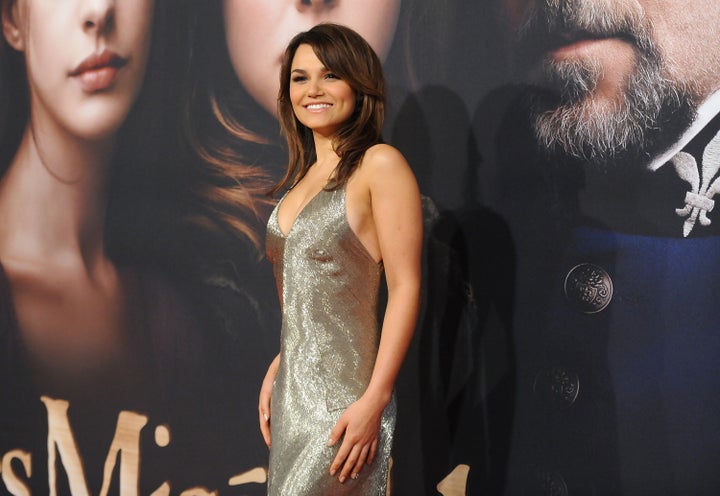 Before Samantha Barks was cast as Eponine in Tom Hooper's film adaptation of "Les Miserables," she was reportedly competing with Lea Michele, Scarlett Johansson and Taylor Swift for the role. Not that the 22-year-old actress, who makes her screen debut in "Les Miserables," was at a disadvantage against those A-listers: Barks starred as Eponine for a year in a West End production of "Les Miserables" and also played the character in the 25th anniversary production acclaimed musical. That show was produced by Cameron Mackintosh, one of the people who eventually hired her to play the lovestruck-but-duplicitous second-act scene-stealer in Hooper's new film.
Barks, who is among the possible contenders for Best Supporting Actress at the Academy Awards, spoke to HuffPost Entertainment about belting out Eponine's signature song, "On My Own," why she was sweating so much after meeting Hugh Jackman, and how starring in "Les Mis" was the best experience of her life.
Some big names were up for the role of Eponine. What was the audition process like? It was a long one. I spent months and months going in and was really put through my paces. It was a big gamble to cast me because I've never done a film role before and I wasn't an A-list star like the other stars being cast. So I really had to prove, through my audition process, that I could adapt this role on the screen. Tom said this was the hardest film he ever had to cast. He had to find the perfect cross-section between screen actors who could really play these roles and also sing every take live; to do these songs every day, have that stamina and perform these songs to a degree that honors the way they are written. For some people, they had never done musicals. Like Eddie [Redmayne], who has a huge film career, and so much experience, had never done a musical. He had to prove he could take on the musical side. Whereas I was coming from the musical side and proving that I could do it from a film sense. We fought so hard to get these roles and they mean so much to us on a personal level. On day one, we felt like holding each other and saying, "Yay! We're all here!" When I was a 7-year-old girl, in my bedroom, on my karaoke machine, I would sing "On My Own" or do a one-woman version of "Les Miserables." To be doing this role is not just a dream come true, it's bigger than my mind ever dared to dream.
How difficult was it to adapt the role from stage to screen? There are different challenges and different perks about both. There's nothing like the buzz of live theater. You put it out there and receive an instant reaction: laughing, crying, yelling, applauding. In the film world, you finish it and you're like, "Oh, no. I hope it's going to come across well. I hope it read." The thrill comes from sitting in the theater months later and hearing a cinema actually applauding a musical number. That's a thrill like I have never experienced before. In a musical theater show, you're performing to like 2,000 people. This, you're performing for nobody. You're living in the moment. Every individual flicker of the eye reads. Every detail reads. It allowed us to have that freedom to add more intricate details.
That's why it was so phenomenal to have the novel by Victor Hugo at your finger tips -- to pull stuff from that an add depth to your character. The exciting part were the differences between Eponine in the novel and Eponine in the stage show. I played Eponine in the stage show, so I knew that girl. To me, it was learning about the girl in the novel. You see more of the darker character [in the novel]. She's a criminal. Her parents are so dark, and they're hilarious with it, but she's a product of her environment. She's got this twisted morality which comes from observing her father, who is very cruel but very clever and manipulative. Marrying the two characters together and allowing myself to look into her background more to see Eponine come from a darker place [was great]. The challenge is trying to build that relationship with the audience in a short space of time. The central storyline is Jean Valjean, and there are storylines that weave in and out of that story. So, it's about creating a very real character. You want these storylines to not detract from the main story, you want them to add strength to the central storyline of redemption, hope and love.
You mentioned how often you sang "On My Own" growing up. How did it feel to do it in the film? It felt incredible. I used to sing it all night. My family despised me for it. My brother is a pilot and I remember him knocking on my door at 3 a.m. saying, "Seriously? Seriously?" At least now they can say it was worth it! [Laughs] No matter how many times I sing that song -- I sang it eight times a week for a year -- just to hear the opening bars of it invokes a reaction in me. On that set, I felt like I was performing it for the first time. Singing live allowed us to do something unique with it. You could be even softer than you ever dared you could be in a theatrical performance. It was thrilling to get to do something like that with these iconic songs.
You're a newcomer in this cast of major stars. Who were you most excited to meet? I never have celebrity crushes. But! I always used to say Hugh Jackman because he's the most beautiful man and his Wolverine is the coolest guy onscreen. When I first met Hugh Jackman, I was really nervous. I was sweating and running on a treadmill. I got a tap on the shoulder and it was Hugh Jackman. I was like, "Ohhhhhhhhh man, this isn't the way it was supposed to happen!" [Laughs] He's just an amazing, all-around guy. This world is very new to me and I'm at the beginning of my career. To see someone like that, with his level of success, maintain such a balanced lifestyle and mind is inspiring. You never hear anyone say a bad word about Hugh Jackman and if they do it's a lie!
Have you given any thought to the possibility of being nominated for an Academy Award? I think because it is a huge big change in my lifestyle, the way I kind of get through that is by trying to not freak myself out. Trying to not over-think too far and take every day that comes with gusto. The fact that there is a buzz around the film makes me burst with pride. I am honored to be involved in a project like this. To be involved in a moment of history for theater -- and for theater to be translated onto film in this way, with a cast like this and a director like this -- is the proudest moment of my life.
WATCH: Barks sings "On My Own" during the 25th anniversary performance of "Les Miserables"
PHOTO GALLERY
Les Miserables premiere
Calling all HuffPost superfans!
Sign up for membership to become a founding member and help shape HuffPost's next chapter
BEFORE YOU GO