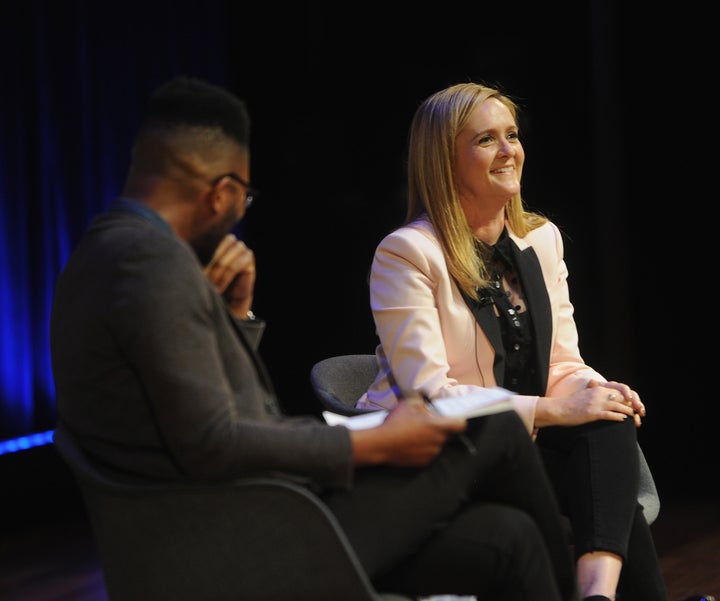 Samantha Bee is under no illusions that sexism will disappear if Hillary Clinton becomes president.  
Since "Full Frontal" premiered earlier this year, Bee's voice has stood out in a late-night landscape crowded with male hosts during an election cycle when misogyny has featured prominently. But Bee admitted non-stop election coverage takes its toll. "So nice of you to have me because it is 37 minutes with which to not check FiveThirtyEight.com constantly," she joked.
When the audience was invited to submit questions on Twitter, some hoped the comedian could alleviate some of their own election anxiety. 
Reading a question from the audience, Ifeanyi asked Bee: "Do you think a Clinton presidency will improve sexism in the U.S, or make it worse?"
 "Oh my god, no!" Bee said, as the audience joined her in pained laughter. "It's gonna get so much worse!"
"That's an adorable question... I love that anyone could even imagine that it will solve any problem of sexism. I think it will amplify misogyny to a degree that has never before been seen."
"Certainly, the problem of racism was solved under Barack Obama," the comedian joked. "So, probably we can expect the same results."
Since premiering in February, "Full Frontal" has produced critically acclaimed and widely-shared segments related to sexism, reproductive rights and women's equality. After Election Day, Bee intends to lampoon the deeper layers of American misogyny that having a woman president in office would likely expose. 
"It's going to be horrible. It's going to be a tsunami of misogyny," Bee said. "I think that will be rich territory for us to mine on the show, and that is the only upside to it for me."
When it comes to her own critics, Bee says she "doesn't worry about industry stuff."  
"I have a zen attitude, which is irritating to hear probably. I don't get up my own ass that much," she said. "I have insecurities and wrestle with decisions. I don't compare myself to other performers or watch other shows. I don't have time for it. It's so distracting."
"Full Frontal," which has outperformed Bee's former employer, "The Daily Show," throughout the election season, will air weekly through the end of 2016 while the show awaits renewal for a second season. For now, Bee is happy to think short-term.
"I'm looking forward to two weeks where I don't say the words 'Donald Trump,'" she said.
Calling all HuffPost superfans!
Sign up for membership to become a founding member and help shape HuffPost's next chapter
BEFORE YOU GO
PHOTO GALLERY
16 Things Donald Trump Has Said About Women, Round 2