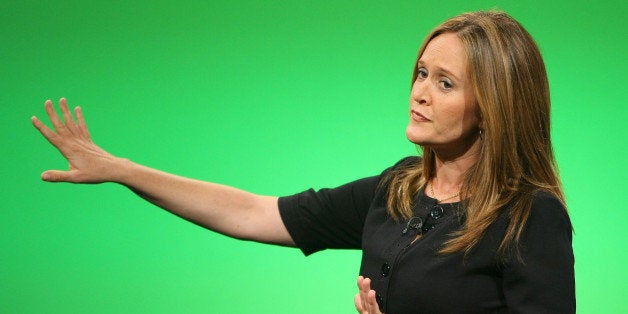 Samantha Bee is known mostly for her hilarious bits on "The Daily Show," but on Thursday TBS announced that she'll join the network to host and executive produce a new satirical news series. Her husband, former "Daily Show" correspondent Jason Jones, will also executive produce.
"We're thrilled to have Sam join Jason at TBS and really make this a family affair. We actually have their kids coming in next week to pitch us animation," Brett Weitz, executive vice president of original programming for TBS, said in a statement. "Like her fans around the country, we absolutely adore everything about Sam, from her straight-faced sarcasm and ruthless wit to her uncanny ability to mine comedy gold from just about any awkward situation. After watching Sam's work for years, we knew that her distinctive humor and talent belong at the front of her own show."
The new show is different than the 10-episode scripted series Bee already signed on to produce with Jones for TBS. The untitled scripted show will star Jones as the head of a family on a road trip to Florida. Natalie Zea, Ashley Gerasimovich and Liam Carroll also star.
News of Bee's series means that she won't replace Jon Stewart as host of "The Daily Show." As longtime correspondents, Bee and Jones were on many critics' short list to take over for Stewart when he announced his departure from the show. Luckily, fans will get their fix of the couple over at TBS.
Popular in the Community