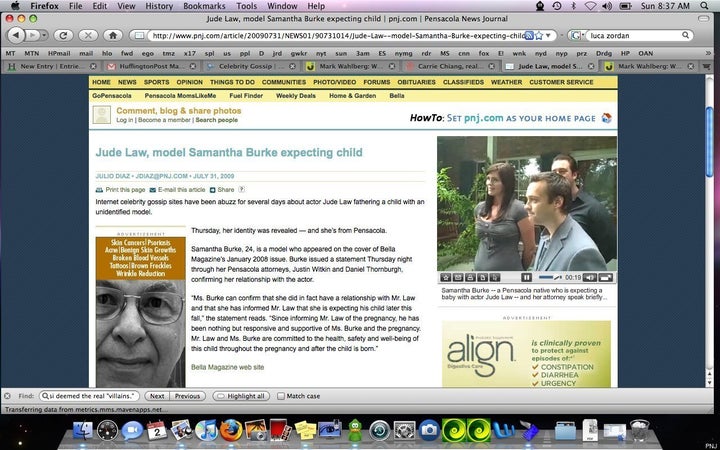 Samantha Burke, the 24-year-old actress-model from Florida expecting Jude Law's baby in October after a brief relationship, held a press conference at her mother's home, along with her lawyers, to ask for her privacy.
As reflected in her Babies R Us registry, Burke plans to name the girl Sophia.
Waving to the gathered photographers as she exited the home, she introduced herself to the world with, "Hi, I'm Samantha Burke."
After one of the lawyers spoke (scroll below the video to read his statement) Samantha said, "I would just really appreciate if everyone would respect my privacy."
Law is currently in England appearing in Hamlet on the West End.
WATCH:
Burke's statement:
"Ms. Burke can confirm that she did in fact have a relationship with Mr. Law and that she has informed Mr. Law that she is expecting his child later this fall," the statement reads. "Since informing Mr. Law of the pregnancy, he has been nothing but responsive and supportive of Ms. Burke and the pregnancy. Mr. Law and Ms. Burke are committed to the health, safety and well-being of this child throughout the pregnancy and after the child is born."
Popular in the Community