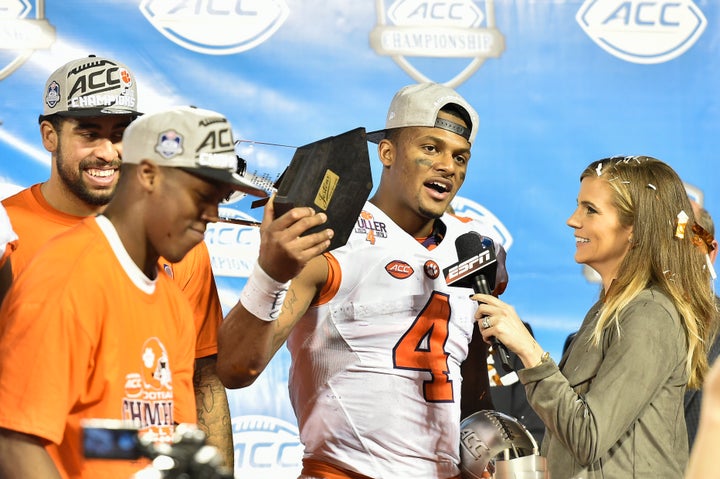 Samantha Ponder has become one of ESPN's most versatile on-air talents and a staple of its most popular college football show, "College GameDay." She even joined forces to represent XYIENCE, a zero calorie energy beverage. More recently though, the 30-year-old Phoenix native has cut back her basketball responsibilities to focus more on her daughter ― Ponder is married to San Francisco 49ers quarterback Christian Ponder ― and create a better work-life balance. 
Ponder caught up with The Huffington Post to discuss how her career in sports began, why she embraces both the positive and negative aspects of social media and the most challenging part about being a woman in her industry.
This interview has been edited and condensed for clarity.
What is it about your job that you appreciate the most?
Most of my life I played with kids that looked nothing like me, had completely different backgrounds and yet we all got along and had this one thing in common. And that's still what happens when you work in sports broadcasting. And then you get to do some really fun stuff every now and then. Like Kirk Herbstreit and I got to present at the CMAs a couple weeks ago. So we're sitting there next to Garth Brooks and Dolly Parton and all those people and I'm thinking to myself, like "what in the world how did all of this happen?" That side of it, just the relationship side, blows everything else out of the water.
Why did you want to pursue a career in sports?
It was important to me to stay around sports because that was such a big part of my identity growing up. My dad is a coach. All four of us kids played three sports a year. So it was a way for me to kind of stay connected to my family and my youth and the way I grew up.
What has presented the most significant challenge for you?
The hardest part for me is I just had no clue how many voices I would hear. Like when you're in high school or even in college there are certain people who you know either like you or don't like you, but it's such a small group. I can move on or you confront that person and handle whatever the conflict is and move on from there.
I don't think I was technically prepared to work in an industry where just thousands of people, they don't like you because you just rub them the wrong way or they don't like your eyebrows, random things ― especially as a female ―become so important to complete strangers. As the years go by, I mean I'm in year 12 now so honestly it makes you kind of sad for the people who have such negative opinions because it's just such a waste. But I think that's probably the biggest surprise.
Social media has become such a negative forum. How do you handle the onslaught of negativity that never seems to end?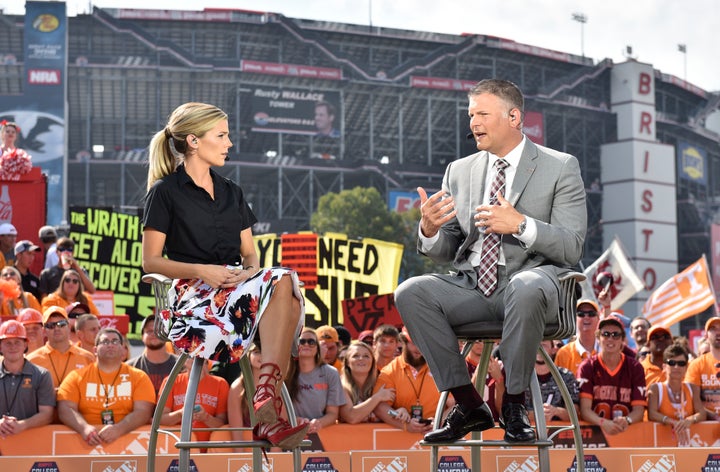 It takes time for sure and I haven't mastered it by any means, but I think over time the best thing that helped me was advice that I got from my dad: You can't give the positive comments credence if you're not gonna give the negative ones. Because we're all just people, right? And everybody has their opinion and everyone is of equal value. Except if you take that back to its premise, it doesn't make much sense because you can't pick and choose which people matter.
To me the most powerful thing has been to not let any of that stick. I think that's hard, especially when you're building your career because you're still kind of wondering how do people perceive me. I know that for me in high school and college I was the sporty outgoing girl and that was kind of my reputation, but when I got into TV I had no idea how I was perceived on national television. Everybody wants to put you in a certain box.
You mentioned being a woman in this world. Just how difficult can it be?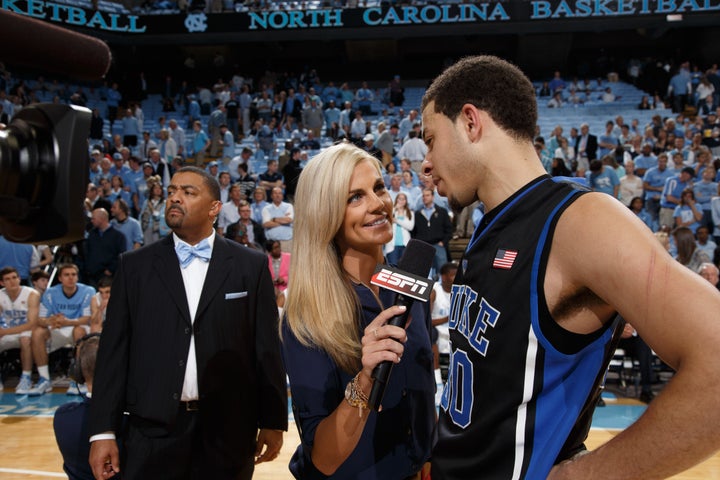 I think I decided really early on, and this is not an absolute truth by any means, but this is what I decided for myself: I wanted to do what I could to look my best (whatever my most beautiful self is) without projecting a sexual self. And that was a huge distinction for me. But for me, I wasn't going to be posting pictures on the beach or in situations where I would even give someone who was looking for a way to discredit me any extra ammo. I think a lot of that was growing up with brothers and with a dad that was a coach. I just kind of thought from the perspective of, what do people already assume I am ― I'm this 21-year-old blonde girl who showed up on TV out of nowhere.
I still get people all the time ― I had an interaction at "GameDay" this week with a college student just yelling the most absurd, vulgar things. I turn around and I'm like, 'What do I have to do?' I am a married mother, there's no way you have a picture of me in your room. For some people that's just not possible. I still wanted to do the best I could to avoid as much of it as I could.
How did you navigate your way into television, and how your internship at ESPN helped shape your career.
ABC and ESPN were merging ― I was 18 living in New York City by myself, and I ended up getting an internship doing the college football studio show. At the time it was Craig James, Doug Flutie and John Saunders and so I was kind of their research assistant/intern, and I stayed on for three years. Craig James basically told me like, "Hey, you want to work in this industry, just stick around as long as you can and stay with us, soak it all up." And so I did.
I basically spent those first three years of college just hanging out with those guys and learning what I could. From there, they helped me make a demo tape on the ABC desk so everything looked super official even though I had no clue what I was doing. Then I sent that out and I got a job, covering sideline for basketball and football at Liberty because all their games were broadcast on (a local) sports network so it was this crazy opportunity to still be in school and have your games air on cable.
And then after doing that for that last year of college, I got a call from an agent who reached out to the dean of communications at Liberty and wanted me to come out to LA and interview at Fox and then I started at Fox before I was even done at school. Now when I say Fox, it was Fox College Sports ― my parents didn't even have the channel. I think my grandma was the only watching but it was awesome for me.
You have dialed back a bit and are strictly working college football now. How hectic is your daily schedule during the season and why did you make that decision?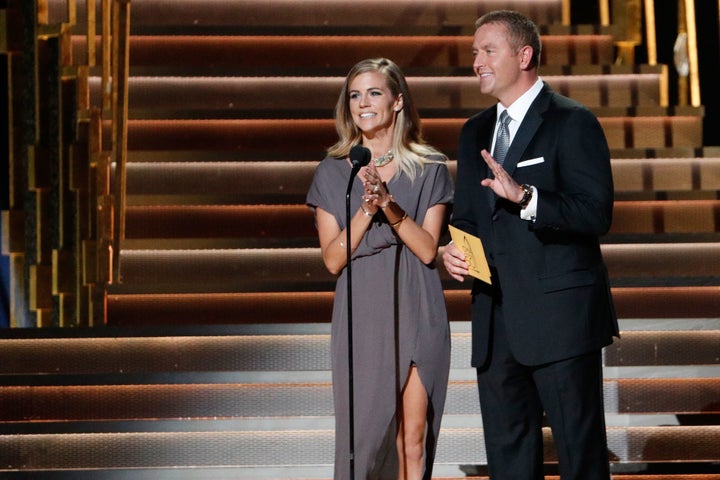 I mean the season is insane. I used to go straight from football into basketball. I would do the national championship on Monday night and then I was doing the Tuesday night basketball games. I would fly out first thing on Tuesday, do that until the college season was over and then go straight into the NBA Playoffs.
Once I had my daughter, after that first year I just decided alright, we're gonna stick to football for now because it's crazy enough during the fall. I try and take the first flight out Sunday from wherever the game is ― get home Sunday mid-day and then I'm home Monday, Tuesday, Wednesday and I actually host "College Football Live" from Phoenix on Thursday. Then I take the red eye every Thursday night to wherever "GameDay" is. 
I think that's the thing ― it sounds stupid ― but that's the thing that is the most difficult for me in this job, especially as a mom, is when you're going four months out of the year with only five days a week where you're sleeping it gets to be a little much. Because it's not like when I get home this is off time. I'm a full-time mom, my husband is in San Francisco and I'm in Phoenix with her. Obviously it's not anything worth complaining about.
REAL LIFE. REAL NEWS. REAL VOICES.
Help us tell more of the stories that matter from voices that too often remain unheard.