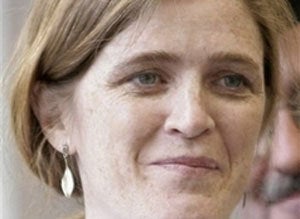 In early 2005, Samantha Power was working on a follow up to her Pulitzer Prize winning book ""A Problem from Hell: America and the Age of Genocide," when she got a call from the office of Sen. Barack Obama.
She had never heard of the freshman Democrat who had taken office just months earlier. So Power researched him, downloading the famous address Obama gave to the Democratic convention the summer prior. The two met shortly after -- it was only supposed to last an hour but they ended up talking for four.
"Why don't I quit my job at Harvard and come and intern in your office and answer the phones or do whatever you want?' It was literally that spontaneous," she recalled saying. To which, the senator responded: "Great."
And so it was that Obama scored what was hailed as a staffing coup only months into his time in Washington. Power, who was working at the time for Harvard's John F. Kennedy School of Government, was widely considered to be one of the most forward-thinking, gifted foreign policy minds of her generation. In 2004, she was named by Time Magazine as one of the 100 top thinkers of the year.
That Obama could bring her on board -- he was, Power said, the first government official to have ever called her -- was emblematic of the different style of politics that the Illinois senator was promising to represent. Far from a down-the-line liberal on international affairs, Power was known for her innovative (if not self-reflectively painful) analysis. On the Rwanda genocide, she concluded that U.S. officials had worked to ignore the problem, not failed to address it. On the Israeli-Palestinian crisis, she once advocated (though later recanted) spending billions of dollars and sending a military force to help create a Palestinian state next to Israel.
The relationship ended on Friday after Power resigned from Obama's presidential campaign. Her comments, made to the Scottsman, that Sen. Hillary Clinton was a "monster" devoted to political opportunism, were responsible for her departure.
"With deep regret, I am resigning from my role as an advisor the Obama campaign effective today," Power wrote. "Last Monday, I made inexcusable remarks that are at marked variance from my oft-stated admiration for Senator Clinton and from the spirit, tenor, and purpose of the Obama campaign. And I extend my deepest apologies to Senator Clinton, Senator Obama, and the remarkable team I have worked with over these long 14 months."
Power's fall from campaign grace was as abrupt as it was newsworthy. Only an hour before her resignation was made public, surrogates to Clinton convened a conference call demanding her firing. An hour later, Terry McAuliffe, a chief Clinton aide, sent out an email using Power's remarks to help solicit campaign donations.
And yet, while there is an acknowledgment that Power likely had to resign because of what she said, there is also a deep regret that the Democratic Party, for the time being, is losing one of its brightest thinkers. Indeed, even as she worked for Obama's senate office, Power found the time to write another book: "Chasing the Flame: Sergio Vieira de Mello and the Fight to Save the World." Her friend and political rival, Richard Holbrooke, proclaimed Obama "very fortunate to have her."
"Samantha is one of the most creative and dynamic thinkers on the political horizon," said John Prendergast, co-chair of The ENOUGH Project, an initiative to end genocide and crimes against humanity. "She is driven by deep compassion and conviction, something our foreign policy establishment badly needs at this moment in history. Removing her voice from deliberations over monumental security challenges is unfortunate, and hopefully only temporary."
There have been similar instances in which presidential campaign aides have taken the ax for their actions or remarks. In 1988, John Sasso, who was serving as Michael Dukakis' chief of staff, resigned from the campaign after it was revealed that he had leaked documents showing that Sen. Joseph Biden, a presidential candidate at the time, had plagiarized portions of his speech. That same election another Dukakis aide, Donna Brazile, was fired after she urged reporters to investigate then-Vice President George Bush's alleged marital infidelity. This election cycle, former Sen. John Edwards was released two bloggers after they were criticized for anti-religious postings.
But Power's resignation, political observers say, may have been the product of a prolonged and increasingly heated campaign season -- one that has been based, in large part, on denouncing negative campaigning -- as mush as her own words.
Indeed, when Billy Shaeheen, a surrogate to Clinton hinted at Obama's past drug use, he too was let go by the campaign.
"The whole Democratic race has ratcheted up in intensity. It is just incredibly meaningful right now," said Stu Rothenberg, editor of The Rothenberg Political Report. "And so there is a tendency for people to kind of snap or say things that are more caustic and negative than they would. There is also a fatigue factor; this has been a long race. Staff has as much invested, maybe more, than the candidate, it sometimes seems... This is not breaking the law to call your opponent a monster. That's just politics."
Support HuffPost
The Stakes Have Never Been Higher
Popular in the Community