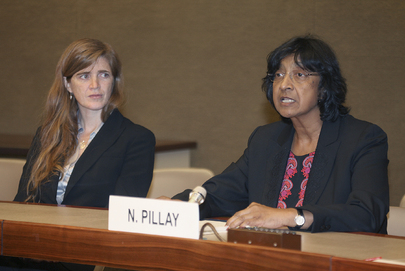 The U.S. Ambassador to the UN first has to represent their government, and then perhaps their own personal views and ideals may come into play. Samantha Power, the new U.S. designee as Permanent Representative (Ambassador) to the United Nations, is credited with a broad range of award-winning articles and books, particularly addressing human rights including Bosnia and Herzegovina. Over the last decade, Samantha Power has also evolved into a policy/political adviser, and not always so behind-the-scenes, including during President Obama's campaign. Now that she is taking on the role as one of the most critically placed U.S. government representatives, the question that I have been asked is: Will Samantha Power be more inclined toward her idealist roots or the vast policy/political apparatus?
Doing by Right as Much as by Might:
I first met Samantha as a young researcher in Ambassador Morton Abramowitz's office when he was president of the Carnegie Endowment for International Peace. Ambassador Abramowitz has also served in a broad range of other posts in the U.S. State Department, including the sensitive role of Director of Bureau of Intelligence and Research. He has been U.S. Ambassador to Turkey and negotiator in force reduction talks under President Reagan. Morton has also served as a board director of the International Crisis Group as well as critical adviser for the U.S. and European Action Councils for Peace in the Balkans (during the conflict in BiH.) Morton has been a mentor/adviser to a diverse range of U.S. foreign policy actors spanning generations and ideology including Madeleine Albright to Richard Holbrooke. (I have also considered Morton both a friend and valued adviser.) While serving under Democratic and Republican administrations, I have considered Ambassador Abramowitz a crucial voice for the U.S. doing by right as much as by might. (Abramowitz was critical of Holbrooke's role and outcome during the Dayton Accords.) Ambassador Morton Abramowitz has been, in my opinion, a worthy model of how to serve on behalf of a government policy regime while maintaining personal integrity of views, something that his proteges Albright and Holbrooke had mastered to varying degrees and which now will be the increasing challenge for Ambassador Samantha Power.
Facing Obstructions at UN & in Washington?
Ambassador Albright arrived at the UN in 1993 with a similar reputation for idealism. We enjoyed a positive and frequently close working relationship in overcoming the various obstacles and obstructionists standing in the way at the UN, particularly among permanent members of the Security Council. However, Ambassador Albright also had to represent an increasingly entrenched policy of inaction in Washington which made it more difficult to reconcile policy and private perspectives and inclinations.
Idealism to Disarm Critics of Policy?
Ambassador Holbrooke also came to the scene in BiH as a self-avowed champion of BiH. On several occasions he contacted me regarding BiH and the region during the early part of the conflict when he served as U.S. Ambassador to Germany and yearned to become a greater foreign policy force within the Clinton administration. When he came to such standing back in Washington at the State Department, Holbrooke, though, adopted a more expedient approach. Further, with his force of personality he helped define U.S. policy and not just execute in a manner consistent with personal ambitions but also not much different from that already in place. His presumably idealist roots were more employed to disarm critics of a policy that in turn made concessions with values inconsistent with U.S. values, the rule of law, as well as longer term US strategic interests in the region.
The differences in perspective and policy that were frequently debated within the confines of the Clinton administration between Holbrooke, Albright, General Wes Clark, Anthony Lake, VP Al Gore, and others though have over time become lost to history. Perhaps even more than President Bill Clinton, it is now Richard Holbrooke's design that represents even the current U.S. policy/diplomatic legacy in BiH. (Holbrooke was especially protective of his legacy and made change difficult unless he was at its center.) While such consequences are at best mixed and probably transitional for BiH, the Clinton team is blanketed by history with such legacy and thus obliged to defend and promote the good, bad and ugly of it as a team.
The challenge that will face Samantha Power will be to remain true to her reputation as idealist and distinguish her contributions within as well as beyond the Obama administration. Expediency is the easiest choice, and unfortunately that has also evidenced itself with the current U.S. administration. It has also recently seeped into domestic as well as national security policy -- see massive NSA internal surveillance/spying programs, to intimidation of journalists accused of revealing alleged national security secrets. However, it is also a false choice, ambassador or idealist?
Samantha Power is currently a member of something labeled as the "Atrocity Prevention Board"; however, even in her critiques of past U.S. policy she has exhibited the deft of an insider to avoid offending (with one notable slip of the tongue regarding candidate Clinton). It would be easier for Ambassador Power to rest on her laurels as idealist in order to offset less popular U.S. policy which she may be obliged to represent at the UN. However, the success of Ambassador Power will be ultimately revealed by how much of the right defines might is adopted as broader U.S .foreign policy when the compass within the current administration is in need of a fresh perspective and thoughtful champion.
UN PHOTO - June 2010 / Patrick Bertschmann Navi Pillay, UN High Commissioner for Human Rights, (Right) at special screening of the film "Sergio". The film, based on Samantha Power's book "Chasing the Flame", depicts the life of the late Sergio Vieira de Mello, former Special Representative of the Secretary-General for Iraq. (Samantha Power at left)
Calling all HuffPost superfans!
Sign up for membership to become a founding member and help shape HuffPost's next chapter