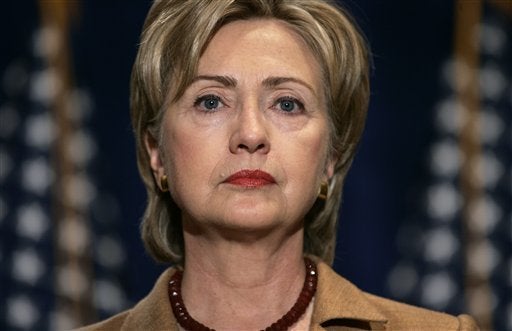 UPDATE: Samantha Power speaks out to Irish news outlet RTE:
Of course I regret them, I can't even believe they came out of my mouth. The campaign was getting very tense, and I -- in every public appearance I've ever made talking about Senator Clinton, I have sung her praises as the leader she's been, the intellect. She's also incredibly warm, funny. I've spent time with her. I think that I just had a very weak moment in seeing some of the tactics, it seems, that were getting employed. I was just afraid really that the campaign would not stay at the level it had been on and I let out in a wave of frustration.
UPDATE: Obama supporter and former National Security Adviser Zbigniew Brzezinski disagrees with Power's decision to resign: "I think an expression of regret for using an inappropriate description of Senator Clinton should have sufficed. And I don't think she should have resigned."
UPDATE: Here's a discussion with Gerri Peev, the interviewer who reported on Power's comments about Sen. Clinton:
UPDATE: Sam Stein has written about the story of Power's rise --and subsequent fall -- in the political arena:
That Obama could bring her on board -- he was, Power said, the first government official to have ever called her -- was emblematic of the different style of politics that the Illinois senator was promising to represent. Far from a down-the-line liberal on international affairs, Power was known for her innovative (if not self-reflectively painful) analysis. On the Rwanda genocide, she concluded that U.S. officials had worked to ignore the problem, not failed to address it. On the Israeli-Palestinian crisis, she once advocated (though later recanted) spending billions of dollars and sending a military force to help create a Palestinian state next to Israel.
UPDATE: Obama aide and Pulitzer Prize winner Samantha Power has resigned.
"With deep regret, I am resigning from my role as an advisor the Obama campaign effective today. Last Monday, I made inexcusable remarks that are at marked variance from my oft-stated admiration for Senator Clinton and from the spirit, tenor, and purpose of the Obama campaign. And I extend my deepest apologies to Senator Clinton, Senator Obama, and the remarkable team I have worked with over these long 14 months," Power said in a statement.
Before the announcement was made, several reporters on a Clinton campaign conference call noted that there had been personal attacks from the Clinton campaign as well, including references to Obama's youthful drug use and the argument, made on Thursday, that the Illinois Senator's tactics were similar to Ken Starr's.
In response, Clinton's spokesperson Howard Wolfson denied that he had directly compared Obama to Starr, a despised figure in Democratic circles. He also argued that those Clinton surrogates who had "crossed the line" had been asked to leave the campaign.
"Had I or anyone on this campaign referred to Senator Obama using the word that Samantha Power used, we would not be on the campaign this morning," he said.
Non-News Flash: Aides to presidential candidates routinely refer to the competition in harsh terms, particularly when they talk to reporters off the record. More than once, a top Clinton person has told me that s/he believes Obama is a self-righteous fraud--or worse. It was, of course, always off the record. But if I had reported any of these remarks, I could have gotten the pop The Scotsman has received for disclosing Power's comment.

The Clinton people do deserve chutzpah points for trying to turn this nothing-burger into a full-course feast. During a conference call with reporters yesterday, Clinton's top spinner, Howard Wolfson, compared Obama and his aides to Kenneth Starr because they dared to question Clinton's refusal to release her income taxes. (In The Washington Post, Dana Milbank credited me with asking the question that prompted the Ken Starr remark --a quip obviously locked and loaded before the call.) The comparison was ridiculous. But in Democratic circles, there's not much of a bigger slur than, Hey, you're Ken Starr! For Democrats, Starr is the functional equivalent of a monster.

So the Clinton crowd does not have the moral high ground in this round. Yet what was the net result? Power, a talented journalist and thinker who gives a damn about genocides (certainly more so than Bill Clinton did during the Rwanda nightmare), was forced off Obama's campaign.
On a conference call with reporters this morning, congressional supporters of Hillary Clinton demanded that Obama force adviser Samantha Power out of his camapign.

"We're here today to ask Senator Obama to ask Samantha Power not to be part of his campaign," said Rep. Nita Lowey of New York, responding to the remark by Power -- a foreign policy adviser to Obama and expert on international human rights. "It's really a test for Obama, a test of character," she said.

Rep. Debbie Wasserman-Schultz of Florida called the comment and other Power remarks "a torrent of negative personal attacks."

And Rep. Greg Meeks of New York called Power's words "personal character assassination."

"Senator Obama needs to stand up and to publicly say that this person will no longer participate in his campaign," Meeks said.

Power, a policy advisor, isn't on staff.
"It is wrong for anyone to pursue this campaign in such negative and personal terms," she said. "I apologize to Senator Clinton and to Senator Obama, who has made very clear that these kinds of expressions should have no place in American politics."

Obama's campaign also issued a statement from Bill Burton's the campaign's spokesman, who said: "Sen. Obama decries such characterizations which have no place in this campaign."
In an unguarded moment during an interview with The Scotsmen, Obama aide Samantha Power shared some harsh words about Hillary Clinton:
"We f***** up in Ohio," she admitted. "In Ohio, they are obsessed and Hillary is going to town on it, because she knows Ohio's the only place they can win.

"She is a monster, too - that is off the record - she is stooping to anything," Ms Power said, hastily trying to withdraw her remark.

Ms Power said of the Clinton campaign: "Here, it looks like desperation. I hope it looks like desperation there, too.

"You just look at her and think, 'Ergh'. But if you are poor and she is telling you some story about how Obama is going to take your job away, maybe it will be more effective. The amount of deceit she has put forward is really unattractive."
Popular in the Community