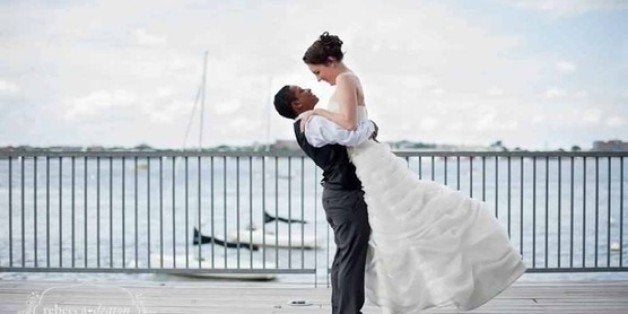 When Danielle McCollum and Shakira Tucker decided to get married in Boston this summer, the women had low expectations of how their home state of Georgia would treat the union.
Georgia's constitution defines marriage as between a man and a woman, so McCollum and Tucker knew that the state wouldn't recognize their marriage. But they hoped that at least their local Georgia Department of Driver Services office would agree to change the last names on their driver's licenses to McCollum-Tucker.
"It just seemed like the logical next step -- a way to become one -- and really start your family and your life together," McCollum said.
But when she arrived at the DDS armed with her marriage license, the clerks on duty wouldn't help her. "They said they couldn't change the name of married same-sex couples," McCollum continued. "It was a slap in the face and it was shocking."
Gay-rights advocates have heard similar stories in Southern states since the U.S. Supreme Court overturned the Defense of Marriage Act. In June, the court ruled that the federal government could recognize same-sex marriages performed in states where they are legal.
Chris Sanders, the head of the Tennessee Equality Project, has heard from at least 15 couples in his state reporting that they were similarly turned down for a name change, and he expects the issue to persist. "I think it's the tip of the iceberg," Sanders said in an interview with The Huffington Post. "The federal government is going to make it bearable for same-sex couples to live anywhere, but the state governments are going to cause a lot of complications."
Although the issue is solvable -- changing a name through the court system is possible and can cost up to $400 -- McCollum and most of the couples Sanders has spoken with don't want to pay a few hundred dollars for something straight couples get for free. Some couples also are frustrated by the apparent randomness of the decisions; McCollum's wife was successfully granted a name-change on her license in August at the same DDS office that turned McCollum down. (Tucker was later ordered by letter to turn the license back in.)
Last week, McCollum and Tucker went back to the DDS to deliver a petition, which is posted on change.org and has more than 10,000 signatures, urging the Georgia DDS to let same-sex married couples legally change their names on their licenses.
"I'm not asking for Georgia to legalize same-sex marriage, but this would be a great first step in the right direction," McCollum told The Huffington Post. "It's something so small."
Susan Sports, a spokeswoman for the Georgia DDS, declined to comment on any specific customer's experiences, but added that, "Georgia law does not allow state agencies to accept a same-sex marriage document or divorce decree granted in another state."
However, Beth Littrell, a Georgia-based staff attorney with the gay rights advocacy group Lambda Legal, thinks the DDS could legally authorize these name changes, but instead chooses to discriminate.
"Our position would be that the state agencies have the authority to interpret their policies to recognize a legal name change," even in states where the constitution bans same-sex marriage, Littrell said. "These state agencies are taking advantage of that language, and that's the basis on which they're discriminating. But they have the authority to interpret the policies differently."
Lambda Legal is not handling any lawsuits involving legal name changes -- "yet," Littrell added.
"This issue implicates national security concerns and federal laws that require or expect that citizens will have uniform identity documents," Littrell said. "It creates problems for citizens who will continue to struggle to untangle this mess that the state government is creating unnecessarily, for no reason other than stubbornness and a position that pretends something isn't happening that has actually happened -- that people are now married."
Calling all HuffPost superfans!
Sign up for membership to become a founding member and help shape HuffPost's next chapter