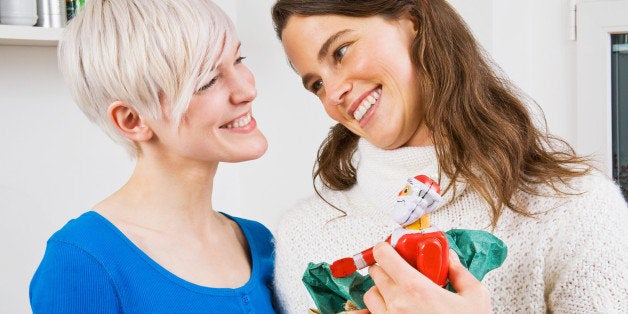 It's the most wonderful time of the year! But if you won't have your kids with you for that magical combination of Christmas Eve and Christmas Day, maybe you aren't feeling so wonderful. Instead, the season can be a special brand of torture. What to do? As always, focus on what's important: It is a holiday, not a holidate. Celebrate anything you want, any time you want, and free yourself from the primary parent calendar!
I know this sounds too simple and maybe flippant. I get it: no kid is going to believe that Santa comes to your house on December 31 on the years you have the New Year's week instead of Christmas, or that 2014 starts on a different date at your house than it does everywhere else. And even you may feel married to the calendar long after you're no longer married to your ex. But another truth is that, as adults, we remember feelings and experiences more than calendar dates. With creativity and commitment, you can celebrate your own new traditions that don't depend on a number on the wall.
So from me -- a Jewish-but-Buddhist-leaning, other-mother married to a Christian woman with kids who identify as one or the other (and sometimes both) -- to you, whatever your same-sex, blended family dynamics this holiday season, here's how you might go about it:
Santa delivers to houses, not people. So on the years we don't have the kids for the big dates of the 24th or 25th, we celebrate Christmas on December 28 -- the day the kids come home to my wife and me. Kids know that just like Christmas morning, walking into the house at noon on December 28 means stockings, trees, presents, Christmas dinner, etc. Once you shut out the initial internal or external messages that "this is not the right date" and get on with the party, you can see benefits: less expensive decorations if you wait until the 27th to decorate! We even got a free tree one time.
Rarely do my wife and I have the kids for all eight nights of this holiday. No worries! Holiday foods, messages, candle lighting, decorations -- none are date-dependent. And the messages of this holiday -- all are timeless. Spin those dreidels, unwrap that gelt, and have some fun with your kids. If the dates remain important for family or traditional reasons, consider what my ex and I did and work out a way to legally split Jewish holidays.
You're right, this isn't necessarily a holiday challenge, but the song remains the same: a date-dependent celebration during which you may or may not have your child. And because every kid savors the arrival of his or her very special date on the calendar, birthdays can be especially challenging. First, remember that most kids have birthday parties on dates other than their specific birthday. My wife and I typically throw birthday parties as close to the date as we can, with full acceptance and even promotion of our exes throwing different parties. There are just not enough parties in life, I say! Worried about guest lists? Split the class in two and throw 2 parties, or pick 3 special friends to do something else while your ex throws the "class party." Worried about the sheer volume of double gifts? (This is clearly an adult worry -- go ahead, try it, ask a kid if they want double birthday presents... ) Get creative! Consider teaching your child the value of celebrating by having a canned food drive rather than gifts at the party. I dare you: walk on the wild side and pick a day -- any day -- to celebrate that child!
4. It Is Not All About the Kids
Honestly, it hurts not to have your child on special days. Please remember you are not alone -- thousands of parents are celebrating, or marking time, without their kids this season. If you're among this group, consider some adult activities on the big dates: spas, movies rated higher than PG, dinner out with cloth napkins... come on, you remember times before kids, you can do it! You are more than a parent even though it is "the most important job in the world." For example, for years, my wife and I left town during the holidays to avoid the melancholy of our home without kids. Now we leave because it is one of the few times in the year we have enough "kid free" days to properly decompress on a warm beach somewhere or visit family/friends in other parts of the country. And, even more recently, we discovered the fun of staying at home and having our own, romantic holiday filled with all of the things we just can't fit in when the kids are home. Make the most of your "me" time. Try it: push through the discomfort of being without your kids and take care of yourself for once. It's okay.
Please visit my Facebook page to let me know your plans for this holiday season. I'd love to hear how you are parenting as the other mother, or other parent, during this season!
Popular in the Community