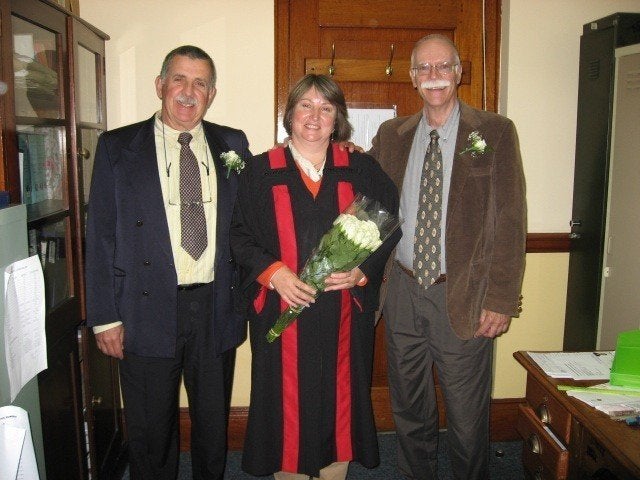 WASHINGTON -- The Defense of Marriage Act is intact, but at least two same-sex married couples have been granted a reprieve, at least temporarily, from policies that could separate them based on immigration status.
Tim Smulian, a 65-year-old South African citizen, found out on Wednesday that he will be allowed to stay in the United States for at least one year under "deferred action" on his immigration documents. Smulian is married legally to Edwin Blesch, a 71-year-old U.S. citizen, but for years has spent six months in the country, and then six months away because he could only obtain a tourist visa.
"We do see it as the beginning of the light at the end of the tunnel," Blesch said. "We were getting pretty hopeless for a while there. This is a wonderful development for us, and it takes away the day-to-day worry every morning when we get up, 'What's going to happen now?'"
Under the Defense of Marriage Act, there is little relief for binational same-sex couples who want to remain together in the U.S. While straight men and women may sponsor their foreign-born spouses to receive a green cards -- a difficult task, but not an impossible one -- federal law denies the same rights to gay couples, even if they are legally married in their state.
Smulian and Blesch were among the first gay couples to be granted relief by the Obama administration from deportation. Bradford Wells and Anthony John Makk received similar news in January that they could remain in the U.S. For Smulian and Blesch, the effort took two years, during which the couple received pro bono legal support from Immigration Equality, an organization that pushes for fairness for gays and lesbians in immigration law. New York Democrats Rep. Tim Bishop and Sens. Kirsten Gillibrand and Chuck Schumer also took up the cause, pushing immigration authorities to allow Smulian more time in the country.
Bishop made the call to Smulian and Blesch on Wednesday, the first word that their efforts had succeeded.
"He was so wonderful, you can't believe," Blesch said Thursday of the phone call with Bishop. "He was elated himself, like we were elated."
Three months ago, the men said they were afraid they would be apart when one had an emergency -- they both have some health problems -- because Smulian needed to spend time outside the U.S. between each tourist visa. They also were given little information about whether their attempts to extend Smulian's visa would be successful.
"We're living on a tightwire wondering whether they are going to accept the extension or say, 'No, get out right away,'" Blesch said in November. "They keep you guessing, and it's very upsetting."
The deferred action is not permanent; it will expire in a year. But they hope that it can be extended and that the Defense of Marriage Act will end so that gay couples can remain together under immigration law.
"We feel that this is a wonderful personal victory, but we're saddened that it can't be translated nationally," Blesch said.
Although the Obama administration announced last year that it will no longer defend the Defense of Marriage Act in court, the law remains in place. For now, though, some hope the Obama administration will take similar steps as they did with Smulian and Blesch, based on a prosecutorial discretion policy that should allow some immigrants to stay in the U.S.
Gillibrand and Immigration Equality Executive Director Rachel B. Tiven said in statements on Thursday that they will continue to push for equal rights for LGBT immigrant families.
"I am relieved to hear that Tim and Edwin are no longer living in fear of separation at a time when they need each other the most," Gillibrand said. "Loving, committed couples deserve access to all the same immigration rights and protections as straight couples."
Popular in the Community