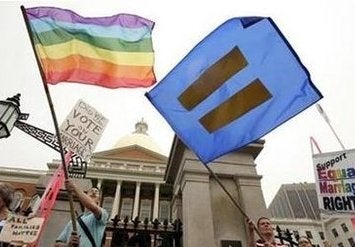 "Any person ... may marry any other eligible person regardless of gender," is the wording of the House and Senate passed bill now on the Governor's desk in New Hampshire.
The ball is in 3rd term Governor Lynch's court now on gay marriage to determine whether NH will be the sixth state in New England to allow marriage by homosexuals. It has been an interesting evolution, with the State House passing the bill, the Senate modifying the bill yesterday then sending it to the Governor, who can vote for the bill, veto it, or do neither, in which case it will become law.
Thousands of calls have been reported flooding the phone lines in the Governor's office, and activists have lobbied every branch of the state government for over a year in preparation for this phase.
Conservative Cornerstone Policy Research Council has been running an ad highlighting video of Governor Lynch saying he opposes gay marriage, as he signed the civil union bill into law, with a clip of Gov. Lynch saying marriage is defined as being "between a man and a woman."
With an approval rating above 70%, one could wonder if it matters whether Lynch disappoints conservatives on this one. But the House vote for the measure after Senate reconciliation was close: 178-167. And Democrats in the 2010 Senate race are waiting to see if Lynch runs for U.S. Senate, (a seat currently held by Sen. Judd Gregg, who has said he will not run for re-election) or run for a fourth term as Governor. With only two year terms, Lynch would be the first NH Governor to win a fourth term if he were to seek and win that election in 2010.
With the NH House having passed a handful of legislation this year favored by the Majority, which is strongly Democratic, this bill is the true tipping point for social conservatives in the state. The House passed controversial bills this session that have been postponed or tabled by the Senate, including a bill to make adult seat belt use mandatory that drew ire from libertarians and others, a bill to allow transgender individuals to use the public bathroom of their choosing, and a bill that would eliminate capital punishment. Last week, the Senate approved the legal use of marijuana for critically and terminally ill patients.
Observers in other states are watching closely to see what the outcome of this bill is. If the bill passes in NH, it will become the sixth state in the country to legalize gay marriage: Iowa, Massachusetts, Connecticut., Vermont. Maine passed similar legislation into law this week.
Gov. Lynch's latest comment on the bill is to "make the best decision" on gay marriage.
Popular in the Community