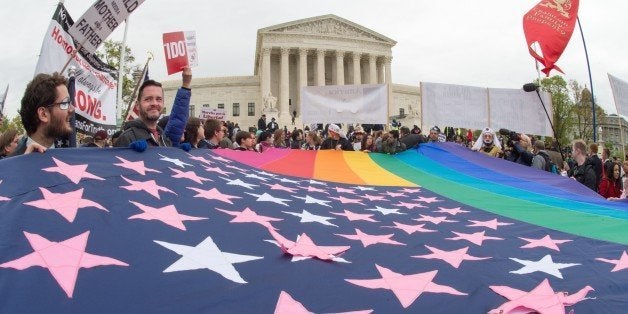 When Massachusetts became the first state to legalize same-sex marriage in 2003, America's major religious denominations didn't offer much support.
Now, more than a decade later, religious attitudes toward LGBT rights have shifted dramatically. Not only are people of faith more vocal about their support for marriage equality, but they are, at times, willing to contradict official church doctrine to express those views.
On Tuesday, the Supreme Court is scheduled to hear oral arguments from a group of cases that challenge same-sex marriage bans in Kentucky, Michigan, Ohio and Tennessee. The Public Religion Research Institute recently used data from its American Values Atlas to determine where America's major religious groups now stand on the issue.
The major religious groups that showed the strongest support were Buddhists (84 percent) and Jews (77 percent). Religiously unaffiliated Americans were 77 percent in favor, while Americans who identified as being from an "other religion" were 75 percent in favor.
Sixty-two percent of white mainline Protestants were also supportive of allowing same-sex partners to tie the knot.
Jay Michaelson, a gay Buddhist writer and activist, believes American Buddhists came out at the top of the list because of the community's demographics. He said that over half of American Buddhists are converts who tend to be liberal, highly educated and white.
But he thinks it's another demographic characteristic that is key to how LGBT couples will be treated in the future.
"I think demographics will be more powerful than doctrine," Michaelson told HuffPost in an email. "Yes, a national right to marry confirms that gay people are people; 'gay marriage' is not some separate thing from marriage -- it's marriage. But if you look at the data, it tilts on a generational axis. Younger people do not understand what the big deal is here. That's true for white evangelicals, Catholics, and even those in the Black Protestant world."
Despite the Catholic Church's prohibitive stance, the Public Religion Research Institute did find that the majority of both white and Hispanic Catholics were in favor of legalizing same-sex marriage.
Francis DeBernardo, executive director of the Catholic LGBT advocacy group New Ways Ministry, said that American Catholics see marriage equality as a social justice issue. Since Catholics have come to know more LGBT people in their workplaces, neighborhoods and churches, it's becoming increasingly difficult for them to justify why LGBT couples should be treated differently.
"[American Catholics] want to protect the rights, dignity, and equality of lesbian and gay couples, and they want to protect their families," DeBernardo told HuffPost in an email. "American Catholics support same-sex marriage because they are Catholic, not in spite of being Catholic."
Gay marriage still hasn't found much support among more conservative religious traditions -- Jehovah's Witnesses (75 percent), Mormons (68 percent) and white evangelical Protestants (66 percent) were all against the idea.
Meanwhile, faith-based advocacy groups have helped churches embrace same-sex couples. Within the Presbyterian Church (U.S.A.) for example, groups like More Light Presbyterians and the Covenant Network of Presbyterians worked for years to push for change within their congregations. Earlier this year, the PC (USA) announced a change to its constitution that describes marriage as being "between two people."
James Rowe, the director of Believe Out Loud, an online network that maps churches that welcome LGBT Christians and their allies, said he's certain that the Catholic Church will be one of the last Christian denominations to affirm LGBT couples. A Catholic himself, Rowe added that he refuses to give up hope.
"A ruling by the Supreme Court in favor of same-sex marriage will continually challenge our more conservative denominations to define what it means to be followers of Christ," Rowe told HuffPost in an email.
This story has been updated with comment from gay Buddhist writer and activist Jay Michaelson.
Before You Go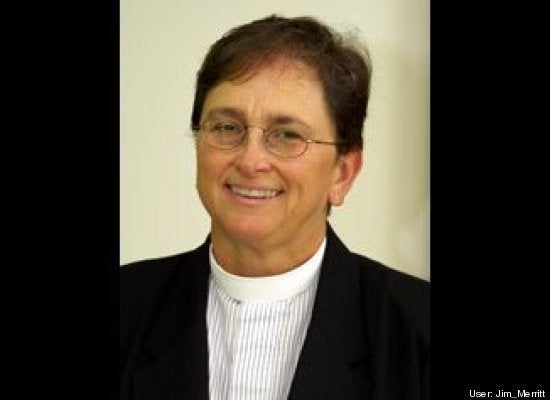 Most Inspiring LGBT Religious Leaders
Popular in the Community