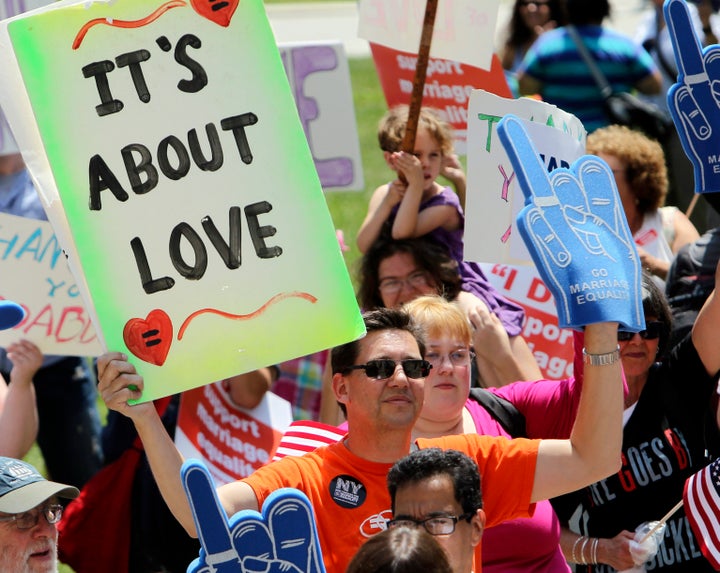 As the Obama campaign attempts to thread the needle on same-sex marriage, a poll released by Gallup on Tuesday reports that 50 percent of Americans support extending full marriage rights to gay couples.
Although it's only one data point, it could show that endorsing same-sex marriage is becoming less politically risky for the president, who has been "evolving" on the issue for about a year and a half. He still publicly opposes full recognition of same-sex marriages, although he announced in February 2011 that his administration would no longer defend the Defense of Marriage Act, the federal law that bans same-sex marriage.
The issue became even more prominent this week because of statements by Vice President Joe Biden and Department of Education Secretary Arne Duncan. Biden said on NBC's "Meet the Press" Sunday that he is "absolutely comfortable" with same-sex marriage, falling short of a full endorsement. Duncan went a step further, saying on MSNBC's "Morning Joe" Monday that he believes same-sex couples should have the legal right to marry in the United States.
The Gallup poll showed a slight dip in support for same-sex marriage from 2011, when the polling organization found that 53 percent of Americans -- an all-time high -- believe same-sex marriages should receive equal recognition under the law as those between a man and a woman.
The Tuesday poll found that 65 percent of Democrats support same-sex marriage, as do 57 percent of Independents. Only 22 percent of Republicans agree, seeming to show that GOP presidential candidate Mitt Romney was making the right call by reiterating his opposition to same-sex marriage on Monday.
Americans who said they have no religious identity overwhelmingly support extending full recognition to same-sex couples, at 88 percent, while Catholics came in at 51 percent. Thirty-eight percent of Protestants support same-sex marriage, according to the poll.
The Gallup poll fits within other research on the issue. A Pew Research Center for the People & the Press poll released in April found that 47 percent of Americans support marriage equality. That poll also found that opposition to same-sex marriage had dropped by nearly 15 percentage points over a decade.
Popular in the Community