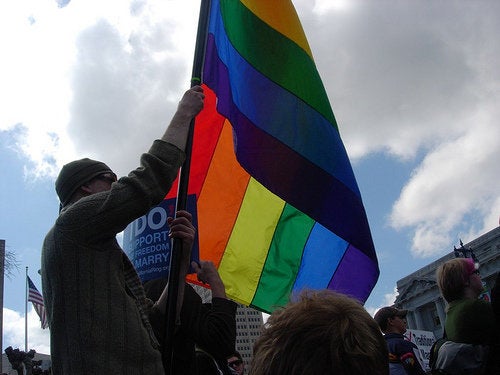 First and foremost, church and state are supposed to be completely separated when it comes to the rule of law in the United States. So the religious argument that God meant for only man and woman to be together has no bearing here! America is not Christian, Muslim, Jewish, Mormon, Catholic, or any other religion that is out there. And the pantheon of gods can attest that there are hundreds of them. We are a secular capitalistic democracy. That's it.
It seems that Obama felt the need to embrace Christianity more to fit in. During his presidential campaign he never really sided for or against same-sex marriages. I know the cards were stacked against him with his name and ethnicity but any candidate still has to fit a schoolboy criteria in order to be considered a legitimate candidate. I am at least glad being black is finally off the list as a negative characteristic!
If Britney Spears can party it up in Vegas with one of her boys and go get married on a whim and annul her marriage the next day, why can't a loving same sex couple tie the knot? How could our society grant more rights to a heterosexual one night stand wedding in Vegas than a gay couple that has been together for 3, 5, 10 years of true love? The divorce rate in America is currently 50%. I am willing to bet that same sex marriages have a higher success rate than heterosexual marriages.
Maybe I am a man ahead of my time. However, looking at the former restrictions on human rights in our country starting with slavery, women not being able to vote, blacks being counted as two thirds of a human, segregation, no gays in the military (to list a few) all have gone by the wayside. But now here in 2009 same sex marriages are prohibited. I think we will look back in 10, 20, 30 years and be amazed that gays and lesbians did not have the same rights as every one else. How did this ever happen in the land of the free and the home of the brave? Are we really free?
Popular in the Community