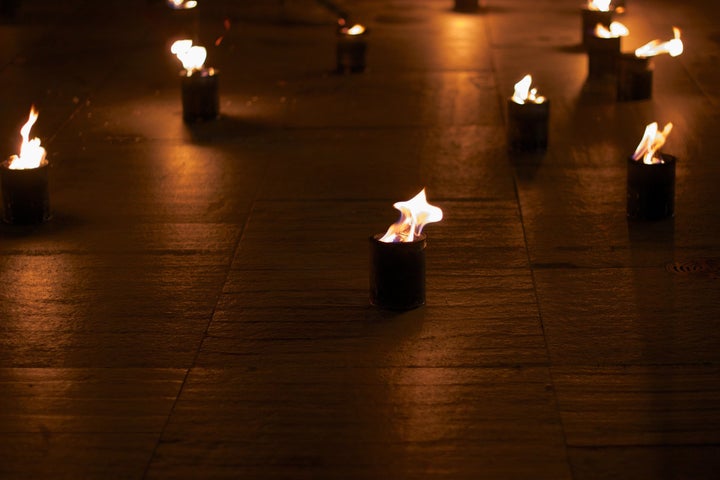 It is Samhain, the end of summer, the third and final Pagan harvest festival, and the beginning of a period known to many as "The Waiting Time."
Now is a time to lay down your tools, the symbols of your productivity, and light a fire to honor not only what has been done throughout the past year, but also all that has preceded you -- in this life, and in all the lives lived before.
Now is a time to make space, in your heart and in your mind, for the stillness and silence of death.
Similarly, one need not assemble a complicated ritual, one filled with archaic language and esoteric acrobatics, or be an expert on living and dying in order to attune one's self to the essence of Samhain. All one needs is to shut the computer, to set aside a period of time when there are no distractions, and to give one's self over to silence.
This season, a season of waiting, a season that grows in darkness by the second, becomes a time for us to grow in our practice of stillness, of silence, and of listening. Observe Samhain in silence, willfully and consciously for at least a few moments, and discover that when you remove the noise of your own ambition and determination, you are provided with the space to listen more closely to the deeper, more lasting truths.
The Old Ways, we might say.
We listen for the wisdom of our ancestors, presented to us in the form of dreams, messages read from and into our surroundings, or insights gained from meditating on our past and present. In our practice of silence and stillness, we come to better understand the origins or our beliefs, our practices and our own collective consciousness.
We listen to our gods, those Gods of our own heart, whose stories we tell to sooth us, whose legends we learn to teach us how to engage ever more deeply with our humanity. We listen for them in the silence, and the silence becomes the staging ground for a deeper engagement with mystery in its myriad of presentations.
We can even engage in the silence with one another. Sharing a meal in silence, a valuable practice for Samhain, provides friends or family members with the chance to feel the presence of the living without the burden of language, and to become sensitive to subtle shifts and changes in emotion and perception. Shared silence can allow a group to reflect together on what has been lost, and on what is still well within their grasp.
Before we take on the task of reflecting on the meaning of our mortality, the meaning of the inevitable end to all of this, we would do well to reconcile ourselves to silence; to develop a more intimate relationship with it. Observing silence as a part of a regular practice during the season of Samhain can be used as a way of honoring the dead and the living. Still your mind, still your body, and still your voice, and let the silence be a reminder that one need not always be doing, making, building or defending. There is a time to wait, to slow down, to reserve one's words.
In the silence of Samhain, the silence we choose for ourselves and that we incorporate into our observance of the High Day, we enter into deeper relationship with all that is and has been.
So may you rest gently into the silence of this season. May you become still, and in that stillness may you know peace. And may the silence of Samhain open your heart.
Popular in the Community