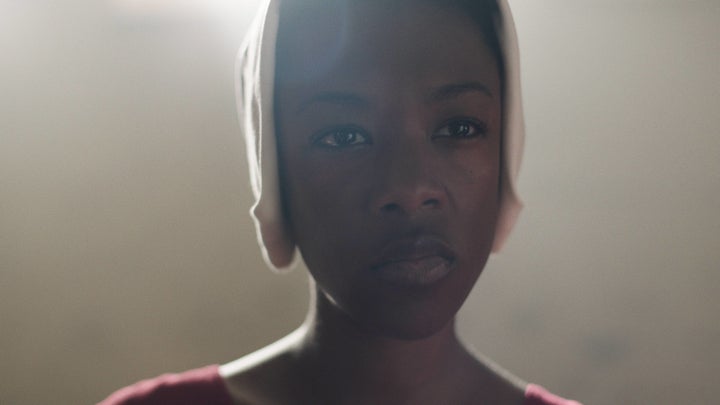 That loss, she said, has only heightened the stakes for her "Handmaid's" return. "Every single day we're in here cracking at Season 2 and trying to make sure it's as amazing if not more amazing than last season," the actress told HuffPost.
Wiley is set to return to our screens in April. Following a newsworthy first season, she said everyone from the writers to the cast and crew feel the pressure to deliver better-than-ever work, especially as the show's plotlines move past those in Margaret Atwood's original dystopian books. They'll be new twists, new turns, new places to explore in and around Gilead ― particularly for Moira.
In the Season 1 finale, Moira escaped Gilead and crossed the border into Canada, where she was greeted by Luke (O.T. Fagbenle), June's husband. Audiences were left to wonder whether the two would combine forces in an effort to save June, who'd recently discovered she's pregnant with a child that's not Luke's. But just as the season was about to end, our protagonist was escorted out of a home she'd been imprisoned in and into a black van, leaving everyone's fate open-ended.
Below, Wiley shares some details on the plots that we might expect from Season 2 and what the show means in the Me Too era. She also clarifies some of her previous comments on the series' handling of race ― though it seems like we'll have to wait for an interview with showrunner Bruce Miller to hear exactly how the show is or isn't adjusting to past criticism.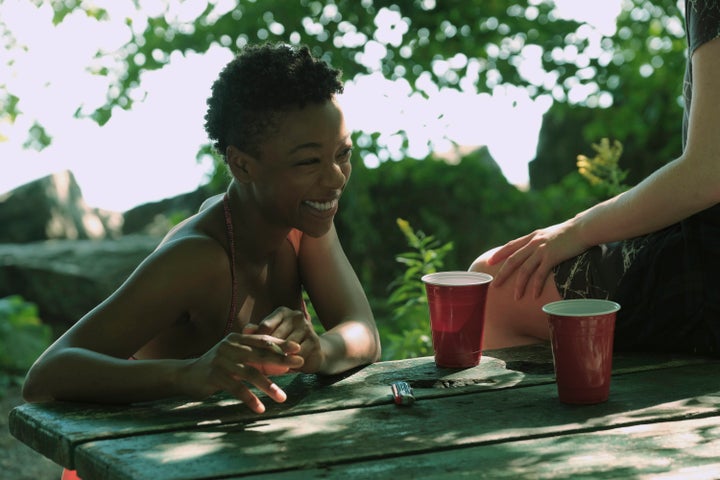 You were just in Australia for the LGBTI Awards and Mardi Gras, I heard. 
I was. I just landed in Toronto last night. Back in America! 
I'm sure that time difference is playing with your mind…
I said back in America, I'm not even in America! I'm in Canada! [Laughs] 
Same thing, right? [Laughs] So you're heading to PaleyFest with your "Handmaid's Tale" cast. Are you looking forward to discussing Season 2 and releasing it into the world after all the Season 1 hype? 
Oh, absolutely. Especially when it's something we've been immersed in since September. It's been our whole lives. Every single day we're in here cracking at Season 2 and trying to make sure it's as amazing if not more amazing than last season; and not being able to talk about it is a little … I can't wait to be able to open up to people about it because I think it's going to be great. 
How much pressure did the cast and creators feel ahead of Season 2, following the success — awards, praise — of the first season?
Of course, we have collective feelings about wanting to make sure Season 2 is amazing, but I think that we all have our own personal goals. I'm sure for Elisabeth [Moss] — I mean, I don't know how she could top last season but she is amazing, so we'll see. For my own journey, I had an individual Emmy nomination as well and that was the most amazing thing that has happened to me in my career, so [I feel the need] to keep my eye on the quality of the work. There is added pressure for myself in terms of wanting to get it right, whatever that means. 
Coming from your role as Poussey in "Orange Is the New Black," finding a part like Moira must mean a lot to you. Playing these strong female characters and then to get recognized for it ― is it nice?
It's really a dream. I feel super lucky especially when it comes to me getting much more comfortable in terms of who I am in the LGBT community. I think visibility is of the utmost importance and to know I've somehow been "picked" to be a voice, I feel like it's a real responsibility that I have and I want to be able to portray these characters in a way that is inspiring to young women. I don't know how I've sort of fallen into these two characters that have been so impactful; but I feel humbled by it, and I just want to continue to inspire people with our craft.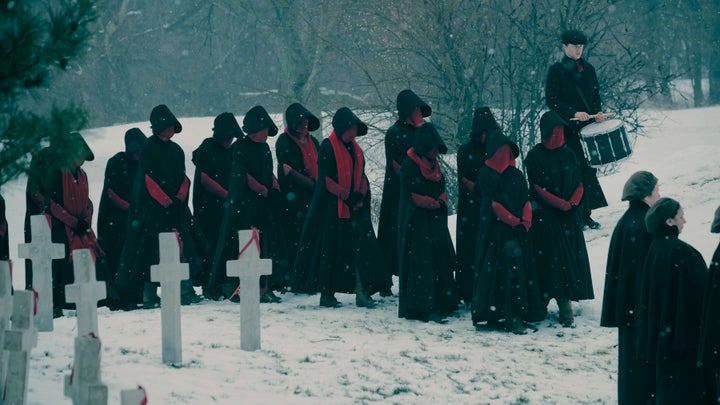 You mentioned responsibility. Playing someone like Moira in the second season, whose story arc is changing, can you talk about getting into the mindset of bringing this character to life again? 
Moira is having a different journey this season. She's escaped to Canada and her life is completely different now. But I think that there are so many different sides to us as women, we're so complex, and to be able to show this strong woman's journey now that her life has changed — we see her as a fighter; someone who is determined beyond all end to escape Gilead. And now, where do we go once she has? In Toronto, Canada, where she's escaped, we'll see not only the strong Moira that we've become so used to but also a person who is trying to acclimate to this new world. She goes through different struggles in Canada, and I think it's very important and interesting to explore all of those sides of this woman. 
It can't be easy for her to make it to safety, but look back on what she's been through in Gilead and what she knows her friend, June, is facing. Is that a mental game for her moving forward? 
Yeah, it is. In theory, it sounds great — you escape Gilead; you're super free; you're at the refugee center; you get money and heath insurance and a car and everything is great. But, you know, she's there with no one. She ends up finding Luke, but that's the only person she has. June is the best friend in her life, and she's not around; her partner is not around. And it's sounds great, but it can also be very depressing and very hard on a person. She's just trying to figure that out. 
June is pregnant, but things are not looking great for her after Season 1. What will Moira and Luke do, if anything, to rescue her? 
I wonder how many things I can say about June … it's a real mystery where she's going, where she's going to end up. But I can talk about Luke and Moira — of course their minds are on June. She's their third — the three of them are really a family, and they really love Hannah. They think about her every single day and how to get her out of there, how to get to her. She's their family, it's all-consuming for their time together in Canada. 
Now that the story has moved beyond the book, are we going to see more of the world outside of Gilead? Not only in Toronto but around the borders of the Republic? 
Yes, this story does become a little more [about] outside of Gilead. We'll see and hear different things and perspectives from different parts of the world. But even also within Gilead, we'll see places we've never seen before. One thing that I can think of is what we talked about so much in Season 1, which is the Colonies where people who have been classified as "un-woman" are sent. These are women who are called gender traitors who are lesbians — of course you're safe if you could have babies; even if you're gay you could be a Handmaid — but this place is where women are sent to waste away and die. We've heard about the horrors of this place, but this is another place within Gilead that we're actually going to be able to see this season, and it's not pretty. Let's just say that. 
Will we meet new characters in these Colonies that will spark a new storyline? 
Yes, we'll be meeting characters that we have not met before this season.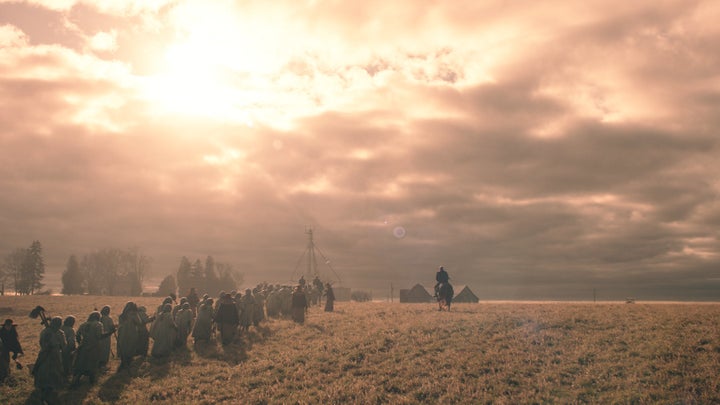 Do you feel the show will be received or read any differently now that the Me Too movement has happened?
Well, just like Season 1, where people talked about how relevant our show was and how timely it was in regards to the social climate and our presidential election and where we were at exactly that moment, my hope is that people will say the same thing with the second season when it comes to the Me Too movement; the Time's Up movement; and women in general being victimized in a way that all of us as women know, and we've known for every day of our lives. [The show] is spreading awareness to the other half of our population. It's important that the work I want to be involved in is relevant to the time that we're living in. It makes me feel like the work I'm doing every day is important. This is exactly what I want to be involved in, and I would love that to be the same response for Season 2. 
It must feel powerful to be on a TV show that is now constantly referenced in regards to politics and current social issues. But again, you think about the pressure that comes along with it. 
Absolutely. I think it's something that is not necessarily helpful to have at the forefront of your mind, the pressure of it, because it's not the way we worked the first season. I think the way we worked was diligently trying to just get the story right, make Margaret [Atwood] and the many fans of the book happy. We just tried to be true to what the heart of the story was, and now with Season 2, we need to be able to veer away from the book and make our own story. There's a little added pressure there, you know? Because people are wondering, "So what comes next?" But I do think that, for me, it's important to try and not think about that pressure.
Having Margaret's viewpoint and using these movements to inspire the script, did you find that the writers were referencing Me Too and the social politics of today for Season 2? 
I think with everything, I'm so surprised and in awe of the writers on our show. It just seems that they are so in tune with exactly what is happening right now in our country, in our world. Every time I read a script, it feels like I'm watching a new episode for the audience: I feel it in my gut. It feels so close and so relevant to what we're living every day, what we're seeing on the news, the stories we're hearing from our colleagues and people we meet. I really am in awe of how they can do that, and it feels so good to be able to portray that and work collaboratively with them to make something cohesive. 
You previously said you are proud of the way the show addresses race because it focuses more so on women in general, no matter the color of their skin, ethnicity or sexual orientation. Can you talk about that a little leading into Season 2 ― since new potential storylines could magnify that. 
Thank you so much for bringing up what I said last year, because after our first season, I'm definitely not blind and deaf to everything that people have been saying about race as it pertains to our show. You hear people say things like, "It feels post-racial," or "It's ignoring the fact that black people are in this world." But, thats important for conversation. Sometimes, for me, being in something, it's hard to step completely outside of it and look at it objectively. I'm Moira in this moment. I'm trying to make sense of this character and make every moment work. But I do definitely think those things are worth talking about and worth acknowledging.  
With the addition of the Colonies and new storylines within and around Gilead, will the show use the opportunity to expand on this discussion? 
I'm not really equipped to answer this question. The part that I have in the show is very … yeah, I don't think I'm equipped to answer this, sorry. [Hulu clarified that Wiley was eager to answer, but that she felt it best to let creator Bruce Miller be the first to address the topic.]
Do you see the show moving even past a Season 2? 
I definitely think so. Like I said, I'm always in awe of the writers and thinking, "How can they follow this up?" Then, it's right in front of me and I'm like, "Oh my God, how did they do this?" I think that, in having conversations with them as well, they definitely have plans to have more seasons. 
"The Handmaid's Tale" Season 2 debuts April 25 on Hulu. The show's PaleyFest panel is March 18.  
REAL LIFE. REAL NEWS. REAL VOICES.
Help us tell more of the stories that matter from voices that too often remain unheard.