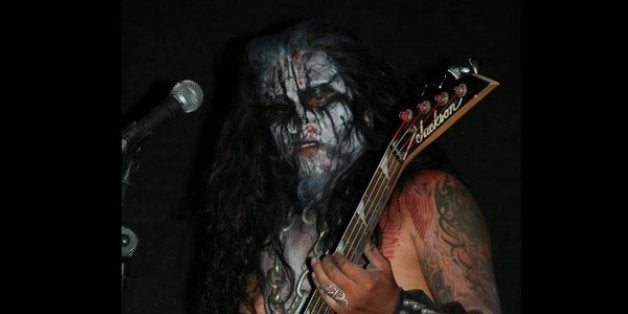 A person taking credit for the grisly murder on Facebook claims it was because the performer was tarnishing the good name of Satan.
Samong "Avajee" Traisattha, 36, the lead singer and bassist of Surrender of Divinity, was found dead on Jan. 8 in his living room, lying in a pool of blood.
His wife, Jaruvan Surapol, 34, told police that she believed the killer was Prakarn Harnphanbusakorn, a fan of her husband's band.
He had allegedly come to the house that evening to do silk screen some t-shirts with her husband, according to the Bangkok Post.
She says she left for an hour to put the children to bed and came back to find her husband's corpse. Police investigating the crime scene found a one-foot knife and a mobile phone belonging to the suspected killer.
A few days after the killing, a Facebook user who goes by the name of Maleficent Meditation took responsibility for the murder and posted photos of the bloodied crime scene on the page. That page is no longer working but the photos can be seen here: (WARNING: GRAPHIC IMAGERY).
"I have intended to end my life since I was 25. Because I'll die eventually, I want to drag down those who tarnish Satanism with me. But I refrained from killing women and children…In my view, I have more respect for devoted Buddhists, Christians and Muslims than those who call themselves Satanists without knowing anything about it… If I did not kill him, I'm sure he would be murdered by someone else later… above all else, Satan is not a toy. Do not call yourself a Satanist if you do not believe in Satan!!!"
The writer went on to say that he is not a fan of Surrender of Divinity and that he did not want people to associate Samong's murder with those of other famous people, UPI.com reported.
Police are still looking for Prakarn.
The group posted this statement on Facebook:
According to Metal-Archives.com, Surrender Of Divinity has been around since 1996 and their latest release was 2013's "Angelslaying Christbeheading Black Fucking Metal."
WATCH: Surrender Of Divinity sing "Immolating the Son of the Whore"
CORRECTION: An earlier version of this story incorrectly referred to Surrender Of Divinity as a death metal band. The band's musical genre of choice is black metal.
Related
Popular in the Community