Community service is a key component of our lives, and it helps us appreciate what we have. Tuhina Mishra, a senior at the American School in Japan, has started a hugely successful initiative called the Samosa Project. She sells samosas and uses the funds to pay for the education of schoolchildren in the impoverished Indian state of Bihar. I had the chance to talk with her about her project.
Tell me a little about yourself.
That's hard. I'm someone who's enthusiastic about everything. I'm interested in science and entrepreneurship, and consider myself really energetic and positive.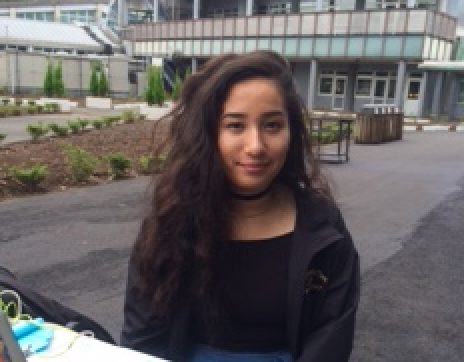 What is the Samosa Project?
The Samosa Project is a social enterprise that I started sophomore year, and I sell Indian snacks called samosas in Tokyo. The profits go to support education for children in India.
How did your project come into being?
It all started when I was eleven years old. My father's Indian and my mom's Japanese, so I visit India every winter. One time when I visited, I mistakenly entered the slums even though my grandma had told me not to. That was the first time I discovered the reality of the kids who struggle there, and I was shocked at how close they were, because it was just outside my house. For a while, I didn't do anything—I just thought about it. Then I decided to start this project.
In Japan, many people don't know what samosas are, and I wanted to bring out my Japanese-Indian background. I didn't want to cook butter chicken, for example. It's really popular and people know what it is, but it just wasn't unique enough for me. Symbolically, I thought it would be better if I made samosas, and easier if I sold something small and cute.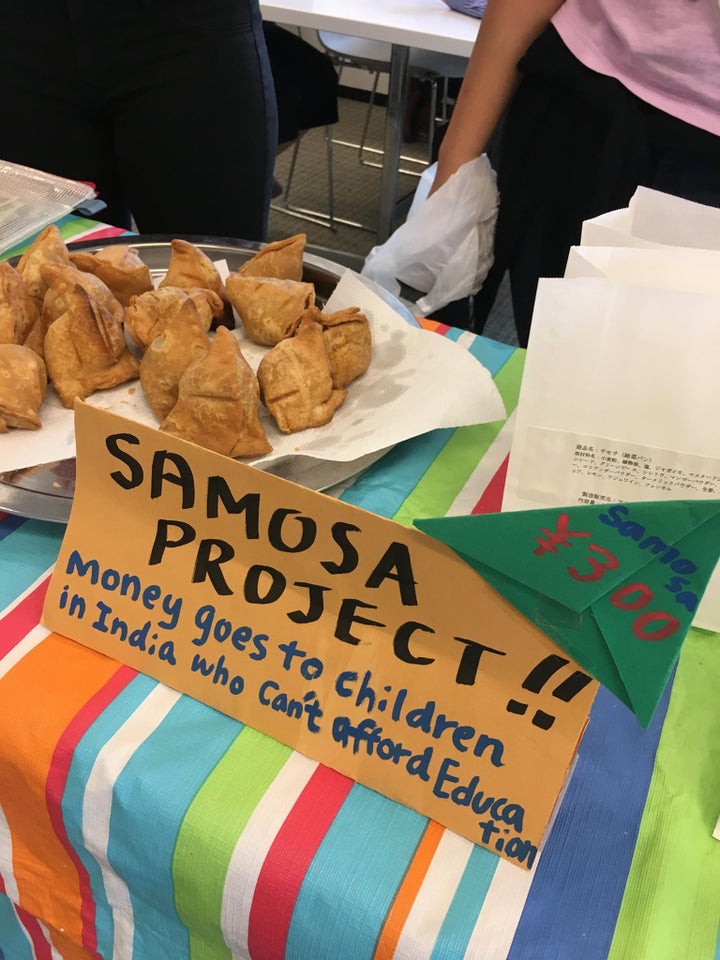 Could you talk about the Samosa Project's tremendous success, as well as the challenges you've had to overcome?
One of the biggest challenges was starting the project. When I was fifteen, I decided to start it, and realized that I'd need to go to the government health ward to get a certification for food production. In Japan, with its strict regulations and laws, it's really hard for an underage person to start a business. This is especially true when it's food-related, because food goes inside your body and affects your health. It took me two months and I went to the health office five to six times, but I only got the license to sell on my bicycle, which meant going to restaurant owners and asking them if I could use their kitchens to make the samosas.
In addition, once I started to sell samosas, there were days when I wouldn't sell any, and I'd come home and eat all the leftover ones (20 or 30). I had to come up with solutions to that. One problem was that people would walk by and be like, "Oh, samosas? I bet it's some kind of curry." That's when I realized that many Japanese people don't know what samosas are, so I made a flyer describing what a samosa was, and that helped people understand what I was selling. And I targeted Indian people and Indian communities, because they knew what samosas were, and knew about the kids in India I wanted to sponsor.
Where is the Samosa Project now?
These past two years, I've supported eight girls with the money I've earned from my Samosa Project. This past summer, I wanted to expand it and support 167 kids from the same school in India. I had to think of a new plan, and I thought of one during summer vacation. The first month I spent on crowdfunding, and I raised my investment money of 1.2 million yen [about US$10,500] in under 30 days. I ultimately went over my target money, collecting around 1.38 million yen [about US$12,000]. I restarted my Samosa Project during the second month of the summer, using the investment money for ingredients, posters, and so on.
I've also done a lot of events. I came in contact with the CSR [Corporate Social Responsibility] section of the main office of IBM Japan, which has over 7,000 people, and I had the chance to sell my samosas at their cafeteria, which was a huge accomplishment. While I was selling at IBM, I was invited to give a lecture at Osaka University, and in December, I went there and gave an interactive two-hour presentation on social entrepreneurship in Japan to foreign graduate and undergraduate students. Later, one of the students sent me a long email about how inspired she was, and how she's always wanted to start something entrepreneurial in France (where she's from). She asked about specific steps I took in Japan so she could do something similar in France. I was also recently awarded the Ashoka Youth Venture Award, which consists of 100,000 yen [roughly US$900], and more guidance with expanding my network.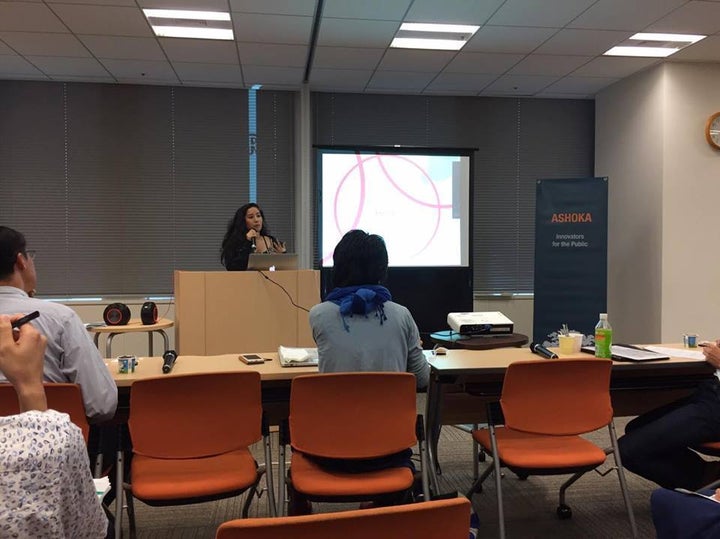 What are your goals for this project? What do you hope to accomplish before graduating in June?
I want to gather all the money I've earned and send it to the school in India. If possible, I want to visit the school again because it's a lot of money I'm giving them and I want to know exactly what's happening with it.
You've already had a chance to visit some of the students, right?
Yes! There's the main school and there are two satellite schools. The main school's the school where I've been sponsoring eight girls, but that school's actually becoming bigger and better with more students. The two satellite schools are still not as developed, so I'm thinking about supporting those.
What do you think the shape of things to come will be for the Samosa Project after you graduate? How will it live on, if at all?
I've come to the point where I've spent so much time on it. I feel like giving up, or just stopping, would be a waste of my work, and I don't want to hand it off to someone yet because I can still do a lot with it. If I go to university abroad, I'd like to take it with me. It would almost be like starting from zero because nobody would know what I've been doing or what the Samosa Project is, but it's going to be a new target audience, and it'll be interesting to make it global.
What would you say to high schoolers and other students all over the world who hope to initiate a service project like yours?
The Samosa Project, which I randomly came up with one day, has changed my life, and I would be a completely different person if I hadn't started it. I'm really grateful that I did start it, and had that a-ha moment. I feel like there are many people who have ideas but just don't have enough time, enough energy, to put them into action, and they don't have enough guidance, either. That's a waste because those ideas might have so much potential. You don't know what something could do for your life. If you have an idea and you know it has potential, then try to make something of it. It's really important because you might regret it otherwise.
To learn more about what Tuhina is doing, like her Samosa Project page on Facebook!