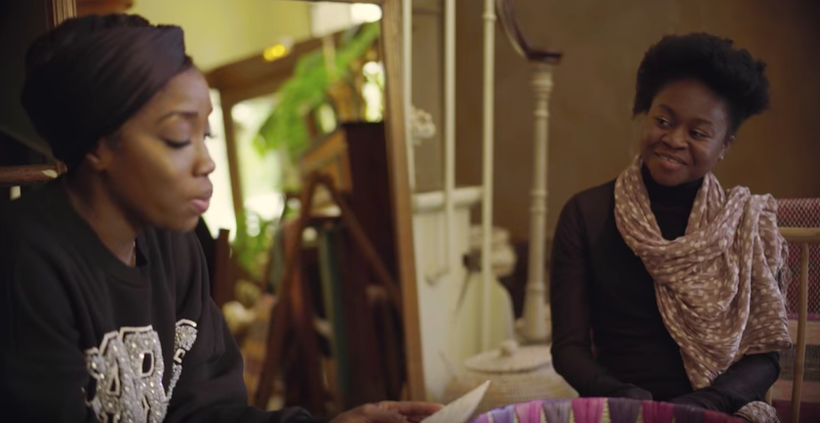 Video Premier: Estelle and Sampa The Great Discussing Music and Identity in Paris Interview
Below is my Q & A with Sampa The Great where she describes her musical influences, advice to other young artists, and upcoming tour.
Rasheena Fountain: How does identity shape the content of your music?
Sampa The Great: Where I'm from and how I grew up are part of my identity and both have very much shaped the way I listen to music, sound, beats and how I respond to them.
R.F: How has living in Australia and the hip hop scene there influenced your sound?
Sampa The Great: I'm really young to the hip hop scene in Australia. My sound is still influenced by the music I grew up listening to, but more and more everyday my surroundings and the things I experience on a day-to-day basis are finding their way into poems and songs.
R.F:What is on rotation in your music playlists at the moment?
Sampa The Great: Smino - blkswn. Although I can't get the time to listen to the full album, but I'm bumping a couple of songs that are amazing!
R.F: What does evolution look like for you as an artist?
Sampa The Great: My evolution as an artist is to grow to be the best Sampa Tembo I can be; to be able to fully express myself in all avenues and to master my musical weaknesses as well as my strengths.
R.F: What is the most challenging part of being in the music industry?
Sampa The Great: Navigating through boxes and succumbing to pressure around you.
R.F: What is the most rewarding part of being in the music industry?
Sampa The Great: Paving a way for yourself and your peers. Being inspired by and inspiring everyday people
R.F: What inspires your artistry?
Sampa The Great: My life. What I have lived, experienced. The beautiful moments of humanity I've experienced and the dreadful ones too. Strength of a people and love.
R.F: If you could offer any young girls advice on life, music, or pursuing their dreams, what would it be?
Sampa The Great: Know who you are and then love that. Both are different. Know who you are - your strengths and weaknesses to work on - and love who you are. Easier said than done! It's becoming less and less convincing to tell a young woman she is enough. Trust me, you are!
R.F: What are some highlights of this year or upcoming in this year?
Sampa The Great: Highlights of this year would be releasing HERoes Act 2 and reminiscing on the making of that project. Playing in the UK for the first time and the co-tour I'm having with my family back in Australia, The Fire Sign Tour with Remi and Sensible J.
Calling all HuffPost superfans!
Sign up for membership to become a founding member and help shape HuffPost's next chapter
This post was published on the now-closed HuffPost Contributor platform. Contributors control their own work and posted freely to our site. If you need to flag this entry as abusive,
send us an email
.