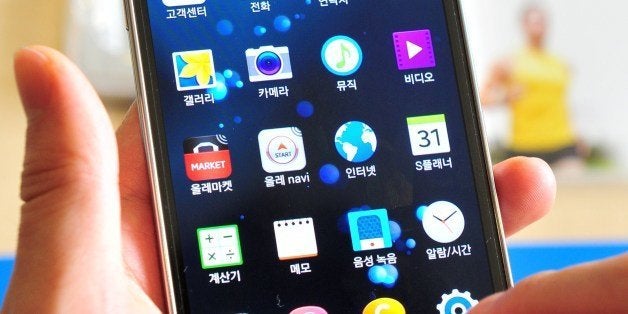 Samsung announced Friday that its latest smartphone, the Galaxy S5, will include new anti-theft technology, but the feature fell short of what law enforcement officials have demanded in their effort to reduce the growing number of smartphone thefts.
Samsung's new feature, known as Reactivation Lock, will disable the phone if a thief tries to turn off a program that locates missing devices. The technology is similar to a feature that Apple introduced last year. Samsung's feature will be free but only available to Verizon and U.S. Cellular customers.
"Samsung takes the issue of smartphone theft very seriously, and we are continuing to enhance our security and anti-theft solutions," a Samsung spokeswoman said.
In a joint statement, San Francisco District Attorney George Gascon and New York Attorney General Eric Schneiderman, who have pressed the industry to find ways to reduce thefts, called Samsung's new feature "a step forward."
But they said they were "concerned that consumers will need to opt-in to the system, thereby limiting the ubiquity and effectiveness of the solution."
Introducing a "kill switch" feature that allows victims to disable their stolen devices could virtually eliminate phone thefts because criminals would no longer have an incentive to steal them, Gascon and Schneiderman have said.
"More work needs to be done to ensure these solutions come standard on every device, but these companies have done the right thing by responding to our call for action," they said Friday.
AT&T, Sprint and T-Mobile did not immediately return requests for comment about why Samsung's new anti-theft feature won't be available to their customers.
In June, Samsung promised law enforcement officials it would add a new feature to its smartphones allowing owners to entirely deactivate their devices if they are stolen. But the top four wireless carriers -- AT&T, Verizon, Sprint and T-Mobile -- rejected the technology from being included in carrier-approved smartphones, Gascon said.
Schneiderman and Gascon suggested that wireless carriers blocked the feature because it could undercut their profits from selling phone insurance to cover thefts.
Samsung's announcement comes as the industry faces growing pressure to reduce smartphone thefts. Legislation requiring every smartphone sold in the United States include a kill switch has been introduced in both houses of Congress, but no votes have yet taken place.
In recent days, the smartphone industry has pushed back against a California bill requiring every smartphone sold in that state to include new anti-theft technology.
The industry argues that anti-theft features already exist on smartphones and wireless companies have taken steps to address the problem by educating consumers and sharing information in a stolen phone database.
In a letter sent last week to leaders of a California senate committee, TechNet, a trade group with members including AT&T, T-Mobile, Google and Apple, argued the bill, sponsored by Sen. Mark Leno, is "redundant and not the right solution."
"When any type of technological solution is cemented in legislation, it impedes innovation," the trade group's letter said. "By the time this bill would be signed into law, the technology can far exceed that which would be mandated."
In an interview, Leno said the industry's arguments against his bill were "bogus" and its efforts to reduce phone theft so far have done little good.
"The number of crimes involving these devices only continues to rise," he said.
Leno's bill passed a state committee vote this week and is scheduled for a vote before the California Senate in the next few weeks.
Calling all HuffPost superfans!
Sign up for membership to become a founding member and help shape HuffPost's next chapter