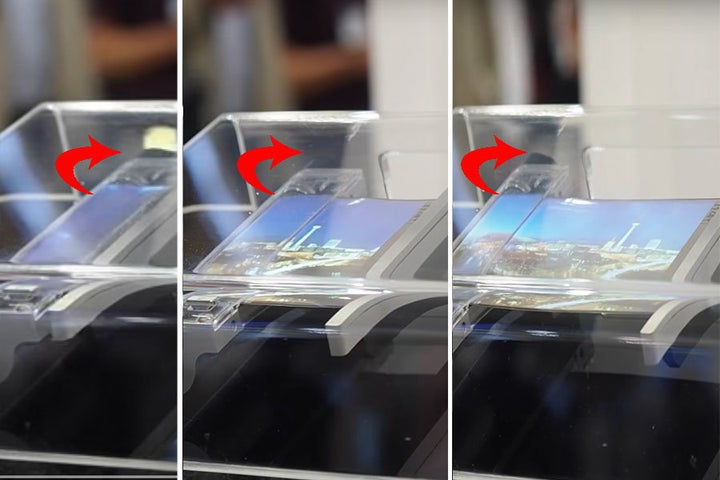 Smartphones are about to get a lot more flexible.
Handsets with bendable and foldable screens could hit shelves as early as February 2017, according to a report from Bloomberg. Smartphone maker Samsung is preparing to release two such devices next year, hoping to get out in front of an emerging trend in smartphone tech, per the report.
One of Samsung's bendy phones would fold in half, sort of like an old-school flip phone. The other would have a 5-inch screen that could unspool into an 8-inch display. Both devices would use organic light-emitting diodes to create a thin, plastic screen that can bend without breaking.  
To get a sense of what the rollable device might look like, check out this video of a Samsung prototype featured at a tech conference in San Francisco back in May:
The company also gave the public a peek at some of its foldable phone concepts in this (painfully cheesy) video from 2014 (below). If you can ignore the dialogue and plot, you'll get a pretty good sense of a Samsung-made foldable phone:
Samsung has been working on flexible displays since at least 2013. Other mobile phone companies have been tinkering with bendy screens for years, too.
Electronics giant LG earlier this year unveiled an 18-inch flexible screen prototype. Apple has a patent for a bendable mobile device. Chinese phone manufacturer Oppo reportedly whipped up a prototype of a foldable phone this year.
In addition, Moxi Group, a China-based tech startup, plans to put a bendable phone on sale this year, in an effort to beat Samsung to the punch, according to Bloomberg.
While Moxi's devices aren't likely to be as sophisticated as Samsung's (they'll have a black-and-white display), they do have one pretty neat feature: They can roll up into a bracelet that's worn on the wrist. People can also unroll the device and use it like a regular smartphone.
Experts don't expect Moxi's device, which will likely be pretty pricey, to take off. But given the growing popularity of wearable devices, a phone that rolls up into a digital bracelet seems like a logical next step.
Calling all HuffPost superfans!
Sign up for membership to become a founding member and help shape HuffPost's next chapter