 SEOUL (Reuters) - Samsung Electronics, which has vaulted the value chain on the strength of its hardware, will go out and buy mobile content providers, a senior executive told Reuters, to compete with Apple, Google and Amazon.com in a global digital music market worth nearly $9 billion.
The South Korean electronics giant has muscled its way to global leadership in TVs, smartphones, chips and display screens - packing internally sourced state-of-the-art components into consumer gadgets - but software remains a weak link.
"The message we're getting from the top is to raise software capability, and buy rather than build, if needed," Kang Tae-jin, senior vice president of Samsung's Media Solution Center, said in an interview. "Our focus on software is primarily aimed at driving hardware sales, rather than making money. We have a full range of handsets in so many countries, and, to better market our products, we thought it's better to start our own software business."
Apple's potential launch of an online streaming music service is prompting rivals to counter the iPod maker, which pioneered and still leads the digital music market. Success in today's mobile market means integrating products to seamlessly connect hardware and software.
In May, Samsung bought online music service mSpot and has built its own Music Hub service to compete against Android's Music Player, Apple's iTunes and Amazon's Cloud Player. Kang says Samsung is ready to do more deals.
The boardroom push, and Samsung's aim to grow Music Hub to among the world's top-four digital music services, has fuelled speculation that online streaming services such as Pandora Media and privately-held Spotify could become takeover fodder. Big content firms and broadcasters are jostling in a digital music market set to grow nearly a fifth this year, led mainly by streaming services.
Kang declined to comment on potential targets. "We want to grow the Music Hub to rank in the world's top four services within three years in both revenue and subscriber numbers. And to shorten the time, we're ready to do more acquisitions, if needed," he said.
"Mobile business is what Samsung is doing really well, and as a result we have deep pockets. We are very serious about content business, as we showed with the acquisition of mSpot."
Samsung has yet to prove itself in content, and remains some way behind Apple, which revolutionized the smartphone market in 2007 with an iPhone boasting seamless integration of software and hardware. Samsung's proprietary bada mobile platform has little traction in the smartphone market, and its ChatOn messenger service has yet to grip users.
The Koreans - who have tended to stick with alliances with content partners rather than go in-house - may be late to a crowded music market, but Samsung sees scope in leveraging its scale in hardware and some stand-out features of Music Hub.
"One of the great advantages we have over our rivals is that Music Hub is pre-installed in our flagship product and will be available later in a bunch of other Samsung devices," said Kang, who developed the Hangul 2000 software, a Korean equivalent of Microsoft's Word processor, and was poached from mobile operator KT Corp in 2010.
Music Hub, available on Samsung's Galaxy S III smartphones in the United States and several European markets, combines all the key available music service options on a single platform - offering paid digital downloads like iTunes, a personalized radio service like Pandora, music upload to cloud like iTunes Match and Cloud Player. Users can access a catalogue of over 19 million songs - including the Korean hit 'Gangnam Style' that has taken the pop world by storm and topped iTune's download charts - and stream seamlessly to mobile devices. Apple says its iTunes Store has more than 28 million songs.
"Amazon, Google and Apple should really take note of Music Hub's radio service," Billboard said recently. "Whether or not the service is good, great or equal to something like Pandora really isn't the point. What's important is that Samsung has put the most mainstream of music products (radio) with less mainstream music products (downloads, cloud storage)," it said.
The toughest challenge is to turn around consumer perception that Samsung is only good at hardware, and to add killer apps to bind consumers to their Samsung devices.
"Pre-installing Music Hub on the Galaxy is powerful, but not enough," said Kang, adding there be more aggressive promotions, including month-long free trials and give-away albums.
That will put the squeeze more firmly on Pandora, Spotify and other online music firms that lose money as they depend on paid subscriptions and advertising but have no hardware to sell.
"We have an internal target to break even in software. But, in general, selling content won't make much of a contribution to the bottom line. We see other new business opportunities associated with content," Kang said.
Samsung plans to have Music Hub working on a range of consumer devices - from smartphones to Internet-enabled TVs and fridges - and is likely to ultimately want to monetize it by hooking up with an ad platform.
"We're preparing new services for launch early next year. With these offerings, people will start to think Samsung is good in software, too," said Kang, declining to elaborate on those launches.
(Reporting by Miyoung Kim; Editing by Ian Geoghegan)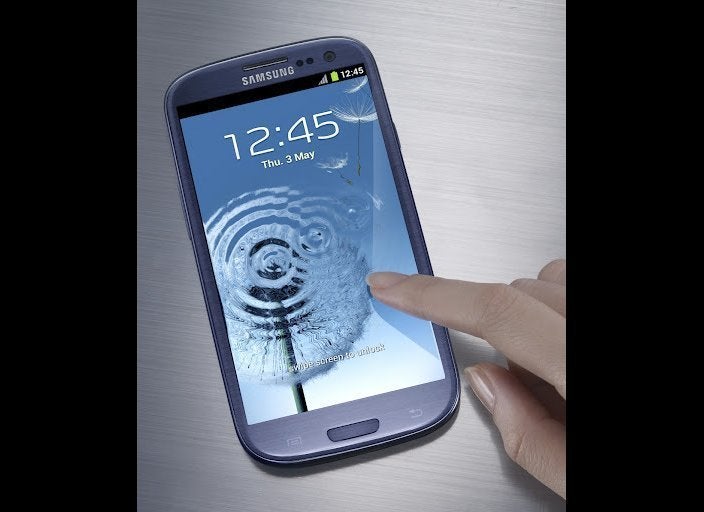 The Samsung Galaxy S III
Popular in the Community