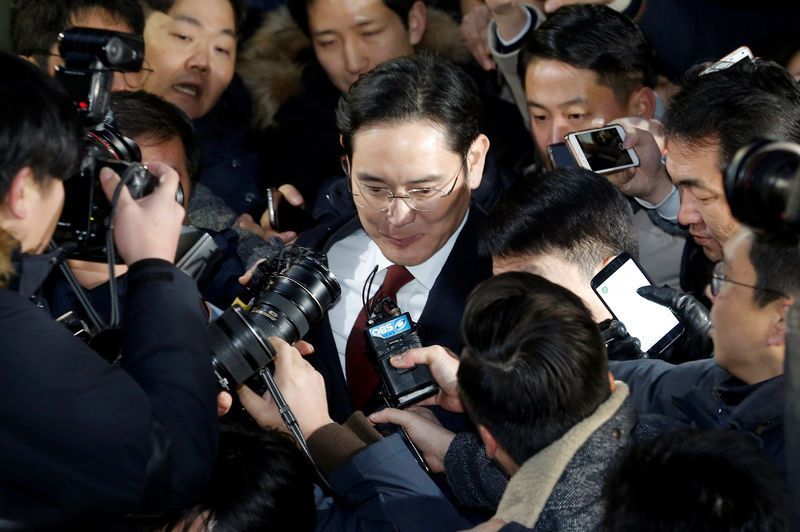 The good news is that Samsung's stock hit a new high, a sign that it is finally shedding off the negative publicity of the battery explosions. Earnings guidance was raised for 4Q16 to $7.2 billion, a 50% year-to-year increase. Losses from discontinuation of Galaxy Note 7 were padded by strong display and chip sales. A diversified product portfolio has made them one of the most profitable consumer electronics manufacturers.
Q1 2017 is expected to be slow, yet in 2Q17 the new powerhouse Galaxy S8, no pun intended, is on its way with fast charging, curved AMOLED screen, high-end 4k, edge-to-edge display, dual-camera lens, and no buttons.
The future exciting yet well diversified product lineup of Samsung, often referred as "Apple's rivalry', has led to the superior global market share over Apple (22% vs. 12%) in the smartphone space. However, the dominance is sharply reversed in the US market share, 36% vs. 47% which has been further widening to 26% vs. 56%, due to the recent product recall from battery explosions.
There is more icing on the cake. Just last week, Samsung announced that at the North American International Auto Show its energy storage subsidiary SDI is readying a next-gen electric vehicle battery that crams enough oomph to cover distances of up to 372 miles on a single cycle. It also packs a mighty quick charge feature, in addition to the ability to regain 310 miles of driving in about 20 minutes of charging.
Based on these numbers, Samsung's battery stands to offer a significant improvement to existing energy storage technologies which will keep Elon Musk awake at night. To give you some context, Tesla promises an estimated range of up to 265 miles for the Model S and up to 250 miles for the Model X. Though, Tesla currently has the capacity to regain 170 miles of range in half an hour.
By now, Samsung is a "jack of all trades." Samsung Group encompasses Samsung Electronics, Samsung C&T, Samsung Life, Samsung Card, Samsung Securities, Samsung SDI, and Samsung SDS.
Anyone knows Korean? And, you would need a map to read Samsung's organization map.
With such an awesome power of diversification, the market has been puzzled by the prolonged low share prices of their stock. As a result, the activist investor, U.S. Hedge Fund Elliot Associates (owns 0.6%) has demanded Samsung to "increase shareholder value" by increasing $26 billion dividend payout, returning at least 75% of free cash flow to investors, and initiating a $9.8 billion buy-back program.
This recommendation is consistent with the street assessment on the fair valuation of Samsung's stock (XETRA: SSU.DE). Before Elliot's open letter, the stock has been undervalued close to 20% per earnings-based or revenue-based models, yet overvalued by 5 to 6% using either dividend-based or cash flow-based models. This would suggest that while the Samsung's underlying fundamental is strong, their public shareholders were not happy with the current dividend or cash flow payout from the improving outlook.
Even with all the forthcoming good news, the softening share price is widely considered a result of Samsung's poor corporate governance historically.
Samsung is set to split into a holding company and operating company. Lee Jay Y. and the family own 16% of the company's stock while the company has 13.7% of outstanding shares in its treasury. The split, if successful, will de facto give Lee's family close to 30% control of operating company for only 16% capital. By the way, the "dual-company share structure" is just a typical corporate control maneuver for the ailing Samsung Chairman Lee Kun-hee placing a succession plan for his son's Lee Jay Y.
That said, it is no different from the "dual-class share structure" often found in the western world, such as News Corp., The New York Times, and The Washington Post with the founding families like the Murdochs, Sulzbergers, and Grahams. The same goes for Google's Page and Brin, Facebook's Zuckerberg, and Starbucks' Bowker, Siegl, and Baldwin.
Of course, who can forget Viacom's Redstone family?
A dual-class share structure, or in this case, a dual-company share structure is often designed "to ensure the long-term company growth based on the vision of the founder not to be affected by the market's short-term earnings driven pressure." The intended purposes of the dual-class shares is to separate the control from the ownership of the company. Do you know that Ford's family owning 6% equity has 60% of the voting rights? Under Armour CEO Kevin Plank paid 6.5% equity stake for 65% of the voting rights. In both cases, the difference is a result of the fact that the family class share has 10 voting rights per share, compared to public class share has one voting right per share.
Though, this is not the same as Kim Jong-il passing his control to Kim Jong-un.
Samsung has been trying to rush the restructure plan through before the Minjoo Party passes their anti-trust corporate reform bill which does not favor any concentrated corporate control. As a result, Lee's family is being investigated by special prosecutor for payments of 30 billion won ($25 mil) to a foundation backed by President Park Geun-hye's friend to consolidate and merge Samsung affiliate (Samsung C&T) with Cheil Industries Inc., a "quid pro quo."
On January 13, 2017, Jay Y. Lee was investigated by the independent counsel in Seoul, South Korea,
Monday January 15, 2017, shares of Samsung Electronics Co Ltd and Samsung C&T Corp were steady in early trade, ahead of a South Korean special prosecutor's decision on whether to seek an arrest warrant for Samsung Group's leader.
Calling all HuffPost superfans!
Sign up for membership to become a founding member and help shape HuffPost's next chapter
This post was published on the now-closed HuffPost Contributor platform. Contributors control their own work and posted freely to our site. If you need to flag this entry as abusive,
send us an email
.