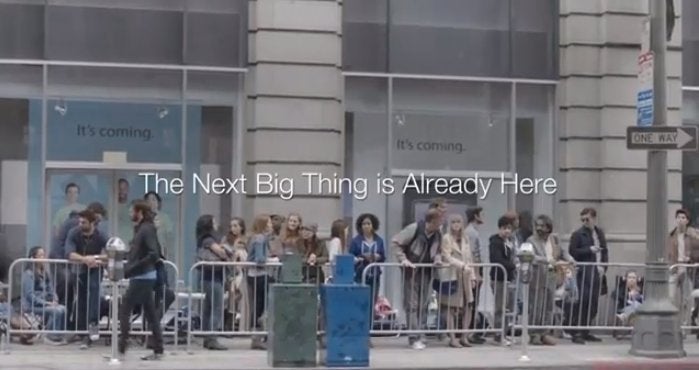 The fans waiting for a new iPhone outside the Apple store are back, and so are Samsung's ads mocking them.
Samsung has released another television advertisement mocking Apple and its sidewalk campers, reigniting its "Next Big Thing" campaign, which launched around the time of the 2011 Phone 4S release. In this ad, as in last year's ads, a bunch of Apple fans waiting in line discuss the features of the forthcoming iPhone, only to be impressed by a passerby and his Samsung device. (Last year, it was the Galaxy S II; this year it's the Galaxy S III).
Among Samsung's criticisms of the iPhone 5 vis-a-vis the Galaxy S3: The iPhone's screen may be bigger, but it's not as big the S3's; you need an adapter to use the new iPhone with your old accessories; your mom and dad use an iPhone now.
You can watch the video below:
Samsung, it seems, will be attacking Apple head-on: It has already released a controversial print ad comparing the GS3 to the iPhone 5 (ad title: "It Doesn't Take A Genius"), and this and subsequent television advertisements will continue to hammer home the unfavorable comparison. Last year's fanboy-mocking, line-waiting series culminated in Samsung's first-ever Super Bowl commercial, a 90-second advertisement for the Galaxy Note that featured tounge-in-cheek glam rockers The Darkness; it was met with mixed reviews.
Whatever Samsung is doing, it seems to be working: The Galaxy Note sold strongly, while the recently released Galaxy S III briefly overtook the iPhone 4S as the best-selling smartphone in America last month. Analysts expect the iPhone 5 to retake the lead this month, however.
Popular in the Community