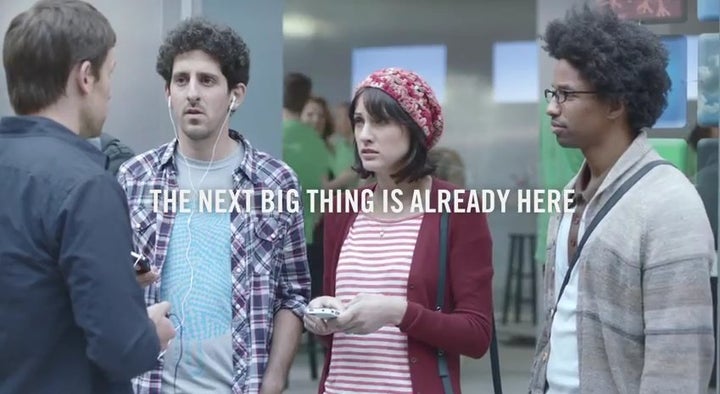 Samsung's anti-Apple "Fanboy" ads are about to get Super.
The ongoing battle between Samsung and Apple will continue on America's biggest night of television, as Samsung plans to air a new "Fanboy" ad during the Super Bowl on Feb. 5, a source has told The Huffington Post. The ad will mark the next phase of Samsung's "Next Big Thing" series of commercials, which have depicted disgruntled Apple fanboys waiting in line for the iPhone 4S, only to be upstaged by passersby carrying a superior Samsung Galaxy S II.
The spot will be Samsung's first-ever Super Bowl commercial, and it looks like the Korean electronics giant will use it to once again to poke at Apple, its chief rival in smartphone sales -- and courtroom patent disputes.
Our tipster also sent along this teaser video, described as a "lead-in" to the Super Bowl ad, which features what might be a new catchphrase -- "We just got Samsung-ed!":
It's hard to say what the next phase of "Next Big Thing" ads will look like, as this ad follows a similar script as previous spots: Apple fanboys and fangirls wait outside an Apple store for the release of the iPhone 4S, looking up Apple rumors, disappointed in the specs they're seeing, when someone with a Galaxy S II walks by and everyone becomes curious and jealous. Now, in one noticeable change from the first batch of "Next Big Thing" commercials: Night has indeed descended on the hipsters.
Apple has never responded to these "Next Big Thing" spots, and there's no word on whether the Cupertino firm will have a Super Bowl ad of its own, though Apple does know a thing or two about how to make a splash during the Super Bowl. With the smartphone sales war between Samsung and Apple heating up, we'll have to wait until the 49ers/Giants play the Patriots/Ravens on Feb. 5 to see what kind of trickery Samsung has up its sleeve for its big Super Bowl debut.
Popular in the Community