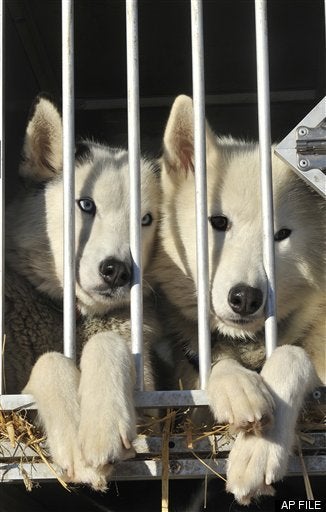 A Colorado man was sentenced to 90 days in Jail on Monday for starving over 100 huskies at a sled dog operation.
Samuel Walker of Florissant, Colorado pleaded guilty in December, 2010 to aggravated cruelty to animals. The charges stemmed from a year-long investigation that began in December, 2009 when a tip led authorities to Pawsatrack Racing Sled Dogs. There, they found 6 dead husky dogs, and seized about 100 that were dangerously underfed.
Walker and his wife, Diane Elaine Walker, were charged with aggravated animal cruelty and 30 misdemeanor counts of animal cruelty later that month.
As part of a deal with prosecutors, Diane Walker entered a guilty plea to one misdemeanor count of animal cruelty in September. She was sentenced to two years supervised probation.
Samuel Walker was also sentenced to two years of supervised probation, during which time he cannot purchase any animals. He will also have to pay $6,224 in restitution.
The 90 day sentence was the maximum that he could have received under the terms of his plea deal.