Samuel Willenberg, the last survivor of Treblinka, the Nazi death camp where 875,000 people were murdered during World War II, has died in Israel. Cause of death was not released. He was 93.
Willenberg was one of only 67 people known to have survived Treblinka, a camp designed with the sole intention of killing Jews.
Shot in the leg, he had to climb "over bodies piled at the barbed wire fence" before catapulting himself over it. "He kept running," AP reported, "ignoring dead friends in his path."
Willenberg said his survival at Treblinka was "chance, sheer chance."
Born in Częstochowa, Poland, Willenberg was 19 when he first arrived at Treblinka in October 1942. On the advice of an acquaintance, he told Nazi guards that he was a bricklayer. It was a fib that ultimately saved his life. Willenberg, the son of a painter, was the only person who was spared the gas chambers that day.
The transports had been told that they were at a transit camp, and had to undress and shower before moving onward. The "shower rooms" were gas chambers.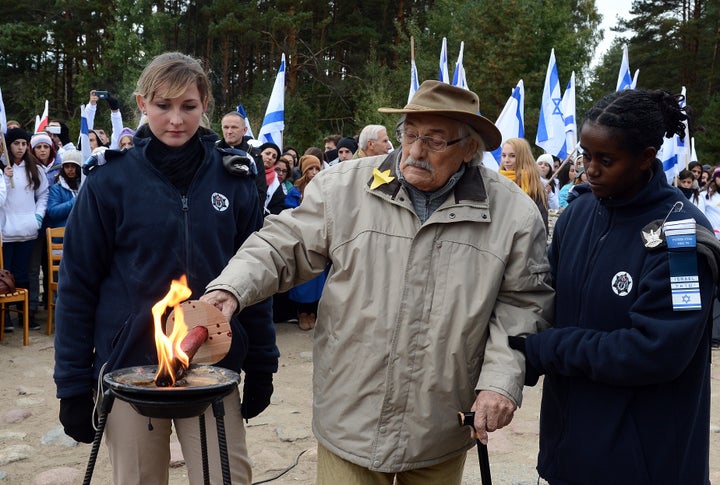 At Treblinka, Willenberg's job was to sort through the belongings of the people who were slain in the gas chambers. One day, he recognized a garment among the possessions: his sister's coat.
"My little sister had a coat she grew out of. My mother had extended the sleeves with green velvet. This is how I recognized it. I can still see it today," he told the BBC. "It was then I knew my [two] sisters had come to Treblinka. I understood that I no longer had sisters. I looked, but I didn't cry. I had no tears left, just hatred."
Till the end of his life, Willenberg urged the world to never forget Treblinka.
"It never leaves me. It stays in my head. It goes with me always," he told AP.
Willenberg lived in Tel Aviv with his late wife, Ada, a Holocaust survivor from Warsaw. He is survived by his daughter, Orit Willenberg-Giladi, an Israeli architect, Haaretz reported.
Popular in the Community