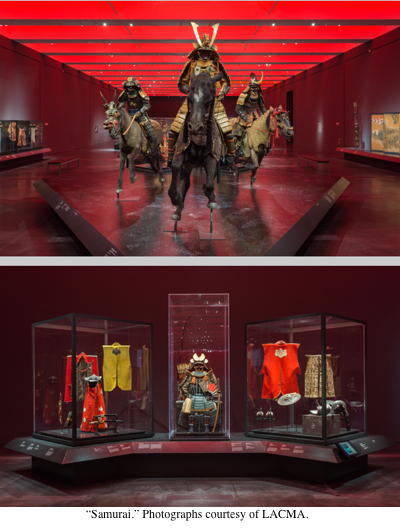 Attention, my friends, I have breaking news. Last week, Los Angeles County Museum of Art got invaded by a small but vicious army of soldiers --some on foot, others on horseback. All of them looking extremely intimidating. And all of them dressed to kill.
The new exhibition at Resnick Pavilion gives a splendid presentation of the Japanese armor worn by Samurai for close to 700 years --from the 12th to the 19th century. The gallery is flooded with dramatic red light, and the first thing you are confronted with upon entering are Samurai horsemen, charging right at you. Staring at their elaborate suits of armor, including helmets and faceguards, it's difficult not to think about an over-the-top opera production or Hollywood blockbuster movie.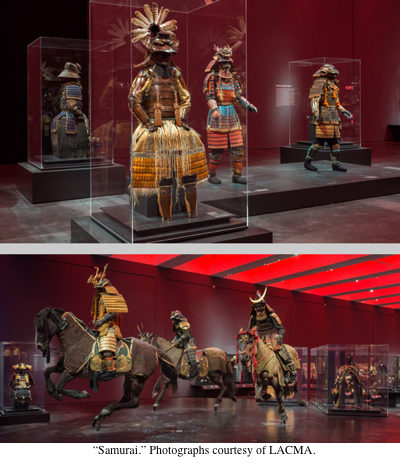 A suit of Japanese armor might weigh up to 45 lbs, and is made with iron and leather, as well as precious and semiprecious metals. The level of splendor of these suits reflected the income, rank and prestige of a samurai family, which was determined by the battlefield valor of their ancestors. All the objects in the exhibition come from the private collection of Ann & Gabriel Barbier-Mueller, and their namesake museum in Dallas.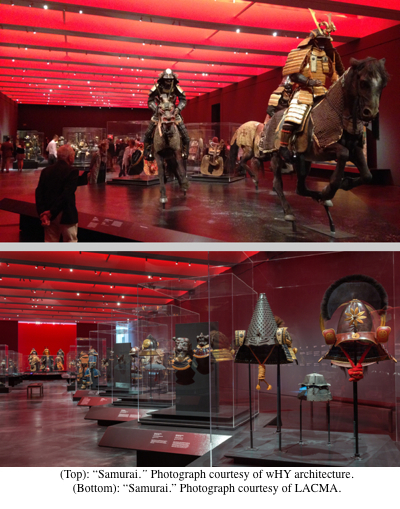 Upon entering the top floor of the Broad Pavilion, you hear the smooth, seductive sounds of jazz. And then, you see nightclub scenes that capture the irresistible spirit and high energy of the Harlem Renaissance in the '20s and '30s. The new exhibition, "Archibald Motley: Jazz Age Modernist," is a full scale survey of the artist's career, and of his contribution to African American culture during the Jazz Age.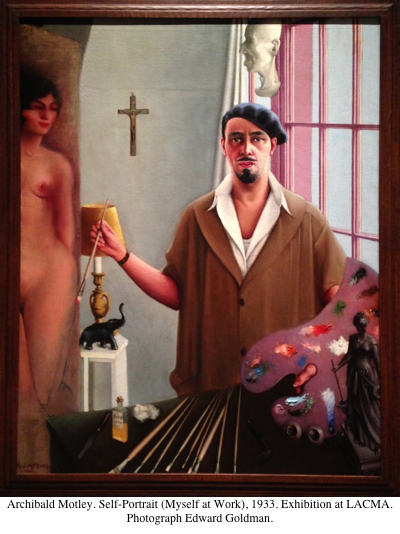 Many of the 45 paintings on display in this traveling exhibition have never been seen before in LA. The exhibition follows the long and restless life of Archibald Motley (1891 - 1981), who lived in numerous cities, including Chicago, Paris and Mexico City. In Self-Portrait (Myself at Work) 1933, the artist proudly presents himself in full artistic armor, with tilted French beret, splayed paintbrushes, full palette and nude model on the side. The studio looks like it could be in Paris during the era when Josephine Baker, with her song-and-dance act, ruled the Parisian nightlife.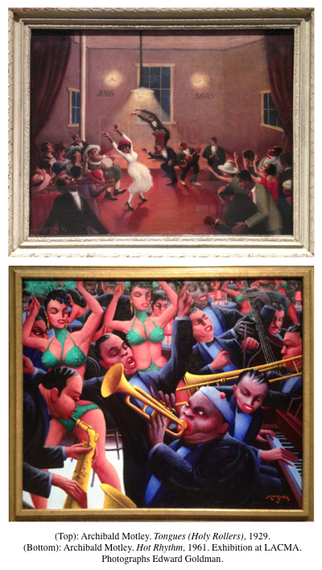 The artistic reputation of Archibald Motley was undeniably connected with his paintings depicting joyful, crowded, explosive scenes, where everyone and everything is possessed by velvety sounds and syncopated jazz rhythms. These are small paintings with big personalities. And there is no surprise that they are the most well-known and reproduced works of his career.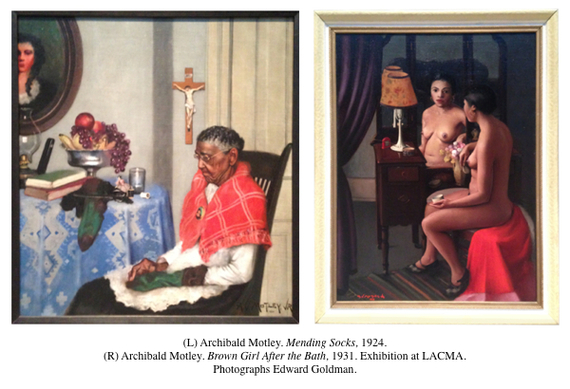 The exhibition also includes less familiar works by the artist, showing his interest in capturing people in quiet and introspective moments of their lives. One of the most moving is an elegant portrait of the artist's aging but still formidable grandmother. The family matriarch, she sits in a chair in a well-appointed room, while humbly mending green socks. In another portrait, Brown Girl After the Bath 1931, we see a nude model studying herself in a vanity mirror. The portrait is both sensual and very melancholic. And somehow, this is a feeling, which for me, permeates the whole exhibition and lingers with me still.
To learn about Edward's Fine Art of Art Collecting Classes, please visit his website. You can also read The New York Times article about his classes here.
Edward Goldman is an art critic and the host of Art Talk, a program on art and culture for NPR affiliate KCRW 89.9 FM. To listen to the complete show and hear Edward's charming Russian accent, click here.
REAL LIFE. REAL NEWS. REAL VOICES.
Help us tell more of the stories that matter from voices that too often remain unheard.