Calling on San Antonio to "be bold and invest in the city's future," Mayor Julián Castro announced plans today to appoint renowned author Carmen Tafolla as the inaugural poet laureate for a major Texas city.
One of the most innovative poets and authors over the last 25 years, Tafolla's genre-bending bilingual verse from San Antonio's West Side barrio has given voice to several cherished volumes of poetry and stories, including the acclaimed "Curandera," a collection of poetry that marked her as a "pioneer in Chicana literature."
Tafolla's appointment could not be more timely. Swept up in Tucson Unified School District's unprecedented censorship and massive removal of Latino and Mexican American literature and texts from its classroom -- as part of the outlawing of Mexican American Studies and literature curricula -- Tafolla's work has found a new generation of readers beyond Texas, the Southwest and across the nation. In a special 30th anniversary "Banned in Arizona!" edition, Wings Press just reissued "Curandera" to coincide with the legendary "librotraficante" book caravan last month, that brought thousands of books banished from former Mexican American Studies classrooms in Tucson to students across that troubled sister city in the Southwest.
"I can think of no one more worthy of this honor than Carmen Tafolla. She's not only an accomplished poet and educator; she is a homegrown talent who embodies the power and poignancy of art in our community. I am proud to call her San Antonio's first Poet Laureate," Mayor Julián Castro responded to the determination by the Poet Laureate selection committee.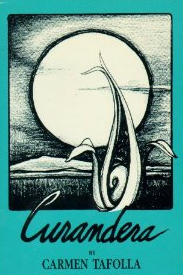 "The power of the words in 'Curandera' transcends the page and reaches into the heart," Norma Cantu wrote in a new introduction of the classic book. "On several levels it is part of a long legacy of poetic form in Chicana/Chicano community, the oral tradition, the oral recitation of poetry, declamacion, and serves as a precursor of many poets who would come much later."
According to the Mayor's office, Tafolla's goal as Poet Laureate, "is to bring the joy of literature into the daily lives of the people of this great pueblo, and to empower the expression of their own poetic voices in our young and old alike. She believes strongly that a multicultural dual-language education is one of the greatest gifts we can provide our children, and that effective family literacy is heavily dependent on the availability of stories and literature to which people can relate culturally and realistically."
"Literacy and literature cannot be realistically separated if we hope to have an impact on all of our residents," said Tafolla, who has won numerous honors, including the Americas Award, the Art of Peace Award, a UCI National Poetry Prize, and two American Library Association (ALA) Notable Children's Books awards. "Powerful stories that reflect our reality reverberate inside us, and give us meaning. Literature cannot afford to be elitist or disconnected from the community."
In a special look at Tafolla and Tucson's censorship and dismantling of its Mexican American Studies program, Texas scholar Julie Hempel singled out the themes and timeless voices in San Antonio's new poet laureate's work:
One such text, by Austin College alumna Carmen Tafolla, is especially poignant in evoking the relationship between a curriculum which does not foster free speech and consideration of one's heritage, and the dreams of many which are left behind. In her poem "and when i dream dreams..." Tafolla begins by proclaiming:

when I dream dreams
I dream of YOU,
Rhodes Jr. School
and the lockers of our minds
that were always jammed stuck
or that always hung open
and would never close.
Along with "Sonnets and Salsa," now in its fourth printing, "Baby Coyote and the Old Woman/El coyotito y la viejita," "That's Not Fair! / ¡No es justo!," "The Holy Tortilla and a Pot of Beans: A Feast of Short Fiction," Wings Press will also publish "Rebozos," a new collection of poetry, with paintings by Catalina Gárate later this fall.
In a far cry from Arizona's relentless crackdown on Mexican American/Native American literature, Texas State Senator Leticia Van de Putte noted. "I congratulate San Antonio for having a responsible government that supports the arts because it promotes our great city as a great place to live and raise families."