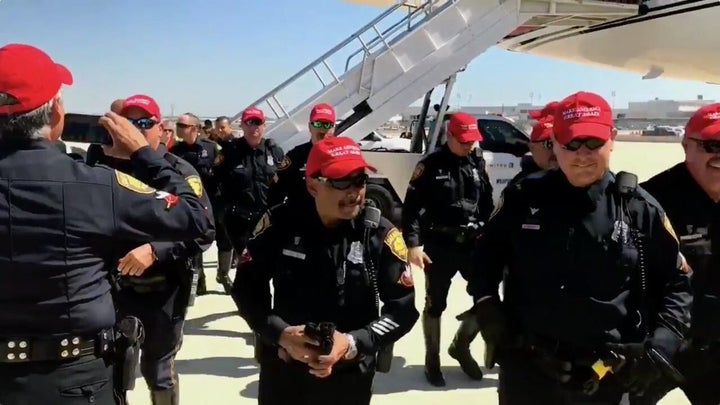 A group of San Antonio police officers violated city policies when they donned "Make America Great Again" hats and posed for photos with Donald Trump on Tuesday.
The Republican presidential nominee recently tweeted a video of the officers in hats bearing his campaign slogan. The footage shows Trump thanking them and some officers responding with a thumbs-up. Text at the bottom of the video reads, "We will make America safe and great again, together."
San Antonio city employees are prohibited from participating in political activity while on the job. Tess House, a civil rights lawyer in San Antonio, said the display was inappropriate.
"They were acting within the scope of their employment. We're talking about taxpayer money. They are on duty and abusing their position in order to take a stance and support a political candidate," House told The Huffington Post.
House is requesting a Justice Department investigation into the law enforcement agencies operating within the city ― specifically, the San Antonio Police Department and the Bexar County Sheriff's Office.
The officers' display of support for Trump also worries Maria Garcia, a former deputy in the Bexar County Sheriff's Department, since her grandchildren are black.
"My granddaughter's going to be driving because she's 16 and it makes me afraid for her," Garcia said.
Garcia was on the force for five years before leaving to become a school counselor, and she says it worries her to think the officers support Trump's policies and uphold his beliefs.
"It's showing that they're not gonna give [my grandchildren] a fair chance because anyone that follows him ― the stuff that comes out of his mouth ― it's just upsetting," she said. "As a police officer, you should be a role model. That's not being a role model."
"The stuff that comes out of [Trump's] mouth ― it's just upsetting. As a police officer, you should be a role model. That's not being a role model."
Community relations with police officers were already strained in San Antonio before the Trump hat incident. Sixty-three percent of the city's population is Latino and 6 percent is black.
The San Antonio police union recently fought a new contract that would have given the police chief more power to punish officers for repeated misconduct. Union leaders wanted additional compensation for agreeing to new standards.
In the end, officers got a raise but the contract passed without reforms ― meaning that all misconduct marks over two years old still cannot be used to justify discipline for new incidents, and that short suspensions still get reduced to simple reprimands after two years if officers do not appeal them.
Black Lives Matter protesters rallied against the reform-free contract that ended up passing, prompting San Antonio Mayor Ivy Taylor to create the Council on Police-Community Relations.
"These officers exercised poor judgment at a time when we're trying to build bridges between community and police. These officers decided it was a good idea to pull a stunt," said Rey Saldaña, a San Antonio city councilman who has worked to reform policing in the city.
The Trump hat incident will only make resentment over the lack of police reform worse, Saldaña added. "That message, on top of this stunt, gives the community the sense that there is a loss of ... the ability of the city, or the ability of the community, to hold a police department accountable," he said.
Indeed, some community members were outraged that uniformed police officers would wear pro-Trump hats.
"The actions of the SAPD officers while in uniform show the audacity to which they believe they can behave without repercussions," said Mike Lowe, a San Antonio-based activist. "As easy as it was to don a hat representing a presidential candidate who has proven himself to be everything but presidential speaks to the heart of how police continue to carry out systemic oppression with impunity."
Police Chief William McManus said the officers who were involved in the photo will be disciplined.
"I expect them to know better than to give the appearance of endorsing a candidate while on duty and in uniform, regardless of the political campaign or the candidate," he said in a statement.
Saldaña said officers should be "politics-blind to the people that they serve."
"It doesn't matter if these folks were wearing a Hillary T-shirt or a Bernie Sanders hat. The fact that it was a Donald Trump hat does not change city policy," he said. "You cannot take that position while in uniform."
UPDATE: Oct. 15: ― A second statement the police department released on Friday explains how the officers will be disciplined. Six supervisors who were present will receive a written reprimand, 17 officers will receive written counseling and all officers involved will undergo impartiality training.
"As Chief of Police, I understand the concerns over this incident. Beyond violating Departmental and City policy, the officers used poor judgment," McManus said. "San Antonio Police Officers have always and will always remain dedicated to professionally serving all citizens. We will continue to work tirelessly to remain a national model for police agencies across the country."
This story has been updated with more complete data from the Guardian.
Before You Go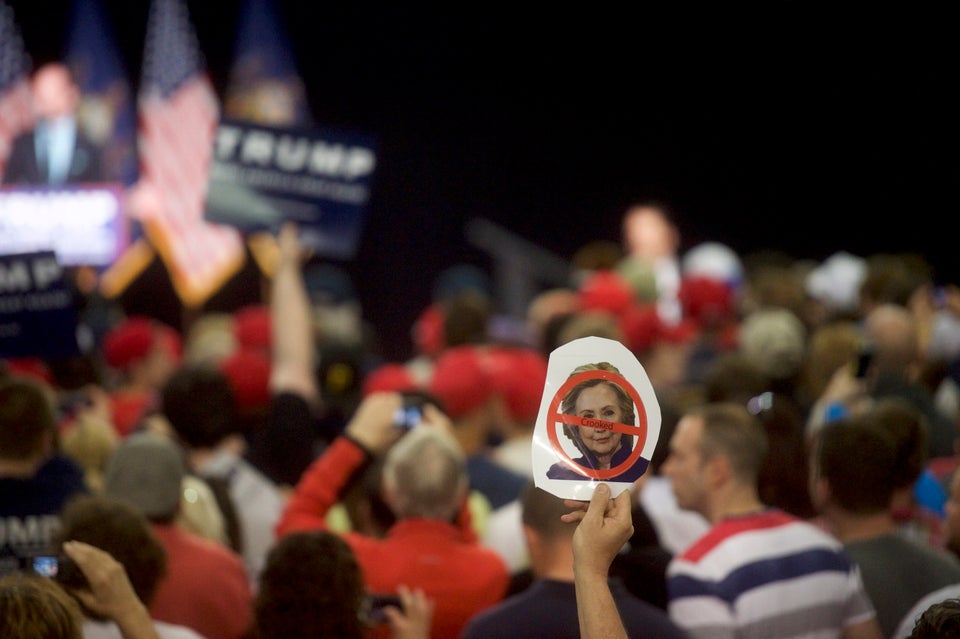 Donald Trump Is Name-Caller In Chief
Popular in the Community