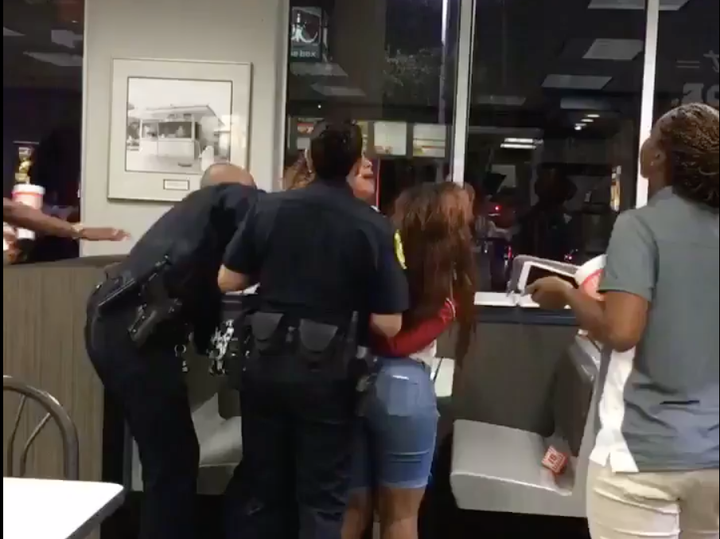 WASHINGTON ― Seventeen-year-old Vanae Wright and her friend Leilani Green were eating at a San Antonio Whataburger last week when sheriff's deputies racially profiled and arrested them on trumped-up charges, the lawyer for one of the teens alleged Tuesday as video of the incident began to circulate online.
Wright and her friends had just bought food Friday evening and were about to sit down and eat when deputies arrived, responding to reports of a fight in the restaurant parking lot, according to Vaughn Wright, Vanae's father.
Officers found "close to 100 people" in the Whataburger parking lot when they arrived, James Keith, a spokesman for the Bexar County Sheriff's Office, told The Huffington Post. When some of the people in the parking lot ran into the restaurant, deputies followed.
"When the kids ran in ― I guess the police didn't know who was who, and instead of them finding out, they just automatically attempted to clear the whole restaurant," Vaughn Wright said.
A video shows Vanae sitting by herself in an empty corner of the restaurant, with BCSO Deputy Cynthia Hernandez standing next to her. Hernandez throws Vanae's food on the floor and places her in handcuffs. The video also shows Green walking over with Vanae's hat and trying to put it on her head before being apprehended by a second officer.
The sheriff's department says the Whataburger manager asked everyone to leave the restaurant, and that Vanae Wright was ordered to leave but refused. She remained seated and was arrested for criminal trespassing, Keith said. Green was arrested after interfering with the arrest, Keith said.
But Daryl Washington, who is representing the Wright family, said the manager never asked everyone to leave the restaurant. Washington alleges that the officers singled out Wright and Green and unlawfully arrested them because they are black. (The general manager of the restaurant, Randy Torres, declined to comment.)
"They were clearly treated that way ― it's pretty obvious ― because of their race," Washington told HuffPost. "There was no reason to treat two paying customers in that manner. They were not violating any law."
Keith, the spokesman for the sheriff's office, says there is no evidence that an unlawful arrest or racial profiling took place.
"The majority of people at the restaurant were the same ethnicity as the arrested people," he said.
A second video from that evening, taken in the parking lot outside the Whataburger, shows a large crowd of people. Many of them are black, though by no means all. (This video contains profanity.)
"Naturally, we're concerned anytime an allegation of unprofessionalism is presented against one of our employees," Keith said. "We are working with Whataburger to obtain surveillance footage to help better understand what happened."
A teenager at the scene called Wright's mother and informed her of the arrest. When Vanae's parents got to the Whataburger, Vaughn Wright asked Hernandez what had happened and whether the officers could release the girls to their parents, he said. According to Vaughn, Hernandez replied that she didn't like Vanae's attitude and that the teen was being disrespectful. Vaughn also says Hernandez told the Wrights they must have raised their daughter to be disrespectful.
"The bottom line is I don't think my daughter moved fast enough [when Hernandez said to move]," Wright said. "My daughter's story is, she was putting all her fries and her chicken strips in the box and getting her drink so that she could get out."
Vaughn Wright also alleges that Hernandez did not read his daughter her rights.
SATX4, a grassroots organization working toward ending systemic racism, has held several protests in the San Antonio area to support the two teens. The group has also created an online petition calling for Hernandez's immediate termination from the sheriff's department. It already has more than 2,800 signatures.
Washington, the Wright family's attorney, said he is not sure what actions the family will pursue, but they will consider all legal remedies available.
Popular in the Community