But as the details of the shooting emerged, it became clear that what took place inside that classroom was driven by domestic violence, not ideology. The story police told was as American as apple pie: A rage-filled man taking his wife's life.
The incident, however sad, would not inspire President Donald Trump to address the nation. It would not create pressure for politicians to act. It would not even start a conversation about the role of domestic abuse as a major driver of gun violence in the U.S. As HuffPost's Michael Calderone documented, the story was already receding from the headlines by Tuesday morning. The country had moved on.
On Monday, Karen Elaine Smith was doing what she loved best ― teaching students with intellectual disabilities ― when her estranged husband walked into her classroom armed with a .357 handgun, police say.
Cedric Anderson didn't say a word. He "just shot everywhere" before reloading and killing himself, a child who witnessed the scene told the Los Angeles Times. Smith died. Two of her students were hit by errant bullets. One, 8-year-old Jonathan Martinez, died later that day.
An 8-year-old and his teacher were dead. But the public breathed a sigh of relief: At least the shooting was not an act of terrorism.
That reaction ― or lack of one ― is misguided. The latest San Bernardino shooting was also an act of terror ― a much more common kind, with a much higher death toll: The kind women face when trapped in abusive relationships.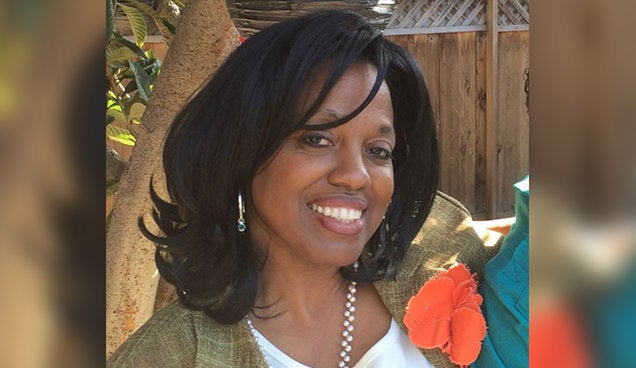 "Multiple murders by a stranger stay in the news for weeks, often carrying demands for change. But for victims of domestic violence like Karen Elaine Smith, their stories make headlines for a day or two, and then vanish," said Kim Gandy, CEO of the National Network To End Domestic Violence. "Despite the lives taken every single day, mainstream media treat each domestic violence case as an isolated incident, rather than a widespread national tragedy."
According to an Everytown for Gun Safety analysis released on Tuesday, more than half of all shootings in the U.S. between 2009 and 2016 with at least 4 fatalities involved domestic or family violence. In those shootings, children made up more than 40 percent of those killed.
"Our society still does not understand that domestic violence is terrorism."
Smith was planning to divorce Anderson after a brief marriage, her mother told the Los Angeles Times.
"She thought she had a wonderful husband, but she found out he was not wonderful at all," Irma Sykes said. "She left him and that's where the trouble began. She broke up with him and he came out with a different personality."
Women are in the most danger when trying to leave relationships, experts say. And black women have historically experienced disproportionately high rates of fatal domestic violence. In 2013, black women were murdered at a rate two and a half times that of white women, according to a study that examined incidents in which men killed women. Smith was black.
It's unclear if Anderson legally owned his firearm. San Bernardino Police Chief Jarrod Burguan said he had been accused of domestic violence in the past, and had weapons charges.
"Cedric called and said he wanted me to pay for the divorce. I told him no, he said we would all die, me the kids and himself," she wrote in a January 1997 restraining order petition filed in Los Angeles County Superior Court. In a follow-up filing in August of that year, she wrote that Anderson "told other minister and bishops, my mother, his sister and our friends that he is going to kill me."
Another woman, Jennifer Lindsey, filed a restraining order against Anderson in 2013.
Ruth Glenn, executive director of the National Coalition Against Domestic Violence, said that the shooting was yet another example of how critical it is to keep guns out of the hands of domestic abusers.
"Our society still does not understand that domestic violence is terrorism, that women and children remain at risk, and that firearms are increasingly becoming the weapon of choice for those who commit these acts," she said. "This is a type of terrorism that should be recognized as such."
This story has been updated with information about domestic violence accusations against Cedric Anderson.
Melissa Jeltsen covers domestic violence and issues related to women's health, safety and security. Tips? Feedback? Send an email or follow her on Twitter.
Sign up for the HuffPost Must Reads newsletter. Each Sunday, we will bring you the best original reporting, long form writing and breaking news from The Huffington Post and around the web, plus behind-the-scenes looks at how it's all made. Click here to sign up!
Popular in the Community