LOS ANGELES ― Two adults and one 8-year-old student were killed and another child wounded Monday in a shooting in an elementary school classroom in San Bernardino, California, in what is believed to be a murder-suicide, law enforcement officials said.
San Bernardino police confirmed that a male gunman, identified as 53-year-old Cedric Anderson, entered a North Park Elementary School special education classroom Monday morning and opened fire on a female teacher, identified as 53-year-old Karen Elaine Smith, his wife. Smith died from injuries sustained during the shooting and Anderson died from a self-inflicted gunshot wound, authorities said.
The two students hit during the shooting were not targeted, police say, but were standing behind Smith when Anderson opened fire in the classroom. Police said Tuesday during a press conference that Anderson fired 10 rounds from a .357 caliber handgun, reloading once.
San Bernardino police announced late Monday that the 8-year-old boy wounded during the shooting had died. Authorities said Tuesday that the second child wounded, a 9-year-old boy, is recovering and in stable condition.
"He is, all things considered, in relatively good spirits," San Bernardino Police Chief Jarrod Burguan said.
Investigators have not determined a motive in the killing.
Anderson gained access to the classroom by saying he was there to drop off something for his wife, authorities said. School staff checked his identification and had him sign in, explained Dale Marsden, superintendent of the San Bernardino City Unified School District.
"He earned access as other family members would," Marsden said, noting that Anderson did not appear agitated. Guests known to staff typically aren't escorted on school grounds, so no one walked with Anderson to the classroom.
According to police, surveillance video indicates that Anderson initially tried to gain access to the school through a locked door.
Police said Smith and Anderson had a relationship that spanned about four years. They got married in January, but separated last month.
Burguan said it appeared Anderson had been making efforts to contact Smith to "have her come back home," which she resisted doing. He also said it is not clear why Anderson chose to open fire on Smith at the school.
Some of Smith's close family members said she had mentioned being concerned about Anderson's "odd" behavior, Burguan said. He also said Anderson had apparently threatened Smith, but that he had not threatened to shoot her.
"She kept her private life private," Burguan said, noting that Smith may have only told close family members about those threats.
The school knew of "this newlywed couple," Marsden said, but "nothing of the crisis they were in."
A suicide note had not been found as of Tuesday. However, Burguan said a note apparently written by Anderson was found at his home and that it referenced his relationship with Smith and "fixing things."
"I don't think the language of the letter would have caused any alarms" had it not been found in the context of a shooting, Burguan said.
San Bernardino police said Anderson had a history of domestic violence and weapons charges. Most recently, Anderson was arrested for assault and a weapons offense in 2013. It remains unknown if that incident involved Smith.
It appears someone inside North Park Elementary School made the initial 911 call at 10:28 a.m. to report shots being fired, said Maria Garcia, communications officer for the San Bernardino Unified School District. Inside the classroom, officers found the two adults dead along with two wounded children.
Parents of students at the elementary school were told to report to Cajon High School to verify their identities, the school district said. They were then directed to California State University San Bernardino, about a mile from the elementary school, to reunite with their children.
Joe Gutierrez, a spokesman for the university, confirmed to The Huffington Post that all students were being transported to the university's physical education building after initially being routed to its soccer field.
Students at California State University San Bernardino were also asked to shelter in place on Monday morning. By midday, the shelter in place request had been lifted and campus was open.
The tragedy at North Park Elementary School is the latest example of a mass shooting involving domestic violence. According to an analysis by The New York Times, almost one-third of mass shooting deaths in 2015 were related to domestic abuse.
North Park Elementary School will be closed this whole week, according to Marsden.
"I would like our community and our nation to keep our families and students in prayer," Marsden said. "Our hearts are broken. ... This is truly tragic."
This was a developing story and has been updated throughout.
Hayley Miller and Melissa Jeltsen contributed reporting from New York.
Before You Go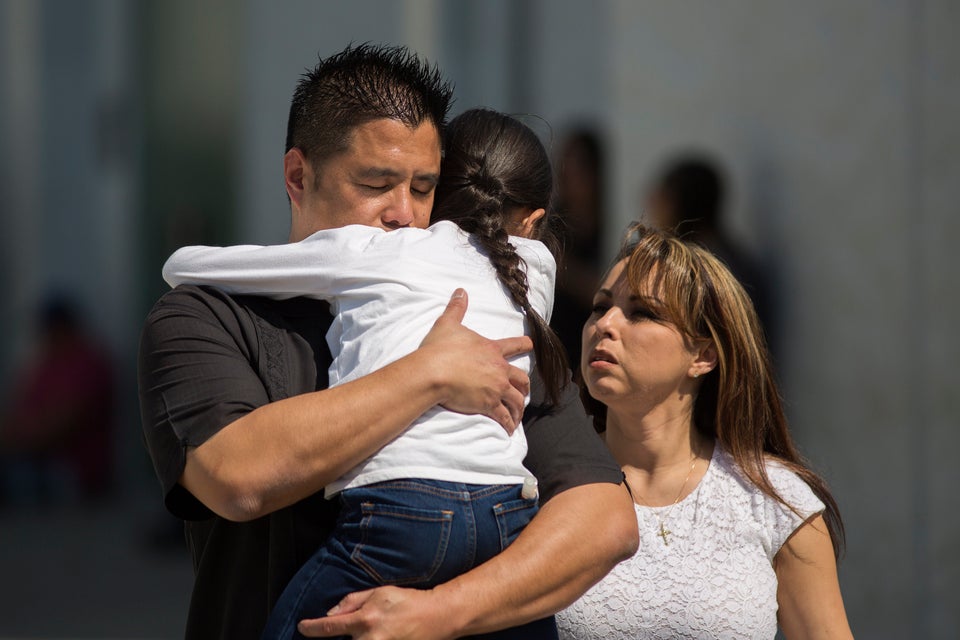 Shooting At San Bernardino Elementary School
Popular in the Community