Police confirm at least 14 fatalities; 17 others injured.
Shooting occurred at center for people with developmental disabilities.
Two suspects -- Syed Rizwan Farook, 28, and Tashfeen Malik, 27 -- are dead.
Despite earlier reports, only two shooters were involved.

Motive was unknown.
SAN BERNARDINO, Calif. -- A man and woman dressed in tactical gear and carrying assault-style weapons shot and killed 14 people and injured 17 at a holiday party at a social services center on Wednesday before being fatally shot by police hours later while on the run.
Police identified the killers as Syed Rizwan Farook, 28, a county health department employee whose coworkers were among those slain, and Tashfeen Malik, 27, who authorities said was either his wife or girlfriend.
Farook, who was born in the U.S. and had worked for the health department for about five years, left the party "angry," according to San Bernardino Police Chief Jarrod Burguan.
A tip following the mass shooting led police to a home in the nearby city of Redlands, where officers saw the suspects leave in a dark SUV, police said. Officers pursued the vehicle and opened fire, killing Farook and Malik.
In describing the final encounter with the armed suspects, the police chief said the officers involved responded with great courage.
"That was flat-out heroic, what they did," Burguan said.
One officer sustained non-life threatening injuries in the confrontation, and is recuperating at an area hospital.
Although earlier reports from police indicated that a third person may have been involved in the shooting, Burguan announced at a news conference late Wednesday that Farook and Malik were the only shooters. A third person was taken into custody, but it isn't yet clear whether that person was involved in the plot.
"It is a possibility, but we don't know that," David Bowdich, an assistant regional FBI director, told reporters. "It's possible it goes down that road. It's possible it does not."
At the time of this writing, the names of the victims have not been released.
Farzan Kahn, whose wife was Farook's sister, said he was stunned by today's events.
"I have no idea why he would do something like this. I am in shock myself," Kahn said.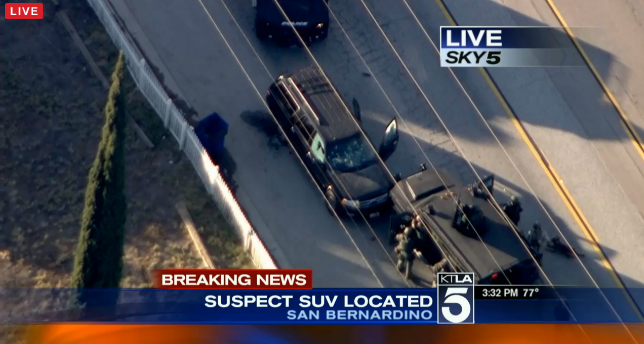 The violence erupted Wednesday morning at the Inland Regional Center, which serves individuals with developmental disabilities. According to the center's Facebook page, it has nearly 670 staff members and provides services to more than 30,200 people.
The masked killers stormed a conference room at the center, where an awards ceremony for county employees was taking place, according to KTLA. Burguan said both were armed with .223-caliber assault-style rifles and semi-automatic pistols.
The killers "came prepared to do what they did as if they were on a mission," Burguan said Wednesday afternoon. He later said that there was a device left at the center that may have been an explosive.
The FBI and the Bureau of Alcohol, Tobacco, Firearms and Explosives sent agents to help the San Bernardino police.
Authorities later discovered three suspected explosive devices at the facility where the shooting took place. The devices were "disposed of," Burguan said.
"These people had planned out and prepared for a battle," ATF agent Meredith Davis told CBS.
At about 1 p.m., more than two dozen staff members, some of whom were in wheelchairs, were being escorted out of the building and onto school buses.
Five victims were being treated at Arrowhead Regional Medical Center, and one was treated and discharged, according to officials. A spokeswoman at Loma Linda University hospital said they received five patients, all adults. Two are in critical condition, two are fair, and one is being assessed, she said. St. Bernadine Medical Center and Community Hospital of San Bernardino each received two victims. A spokeswoman for Dignity Health, which owns both hospitals, declined to comment on their conditions.
All San Bernardino City Unified School District schools were on a precautionary lockdown until the school day ended, and all after-school activities were canceled, a spokesman for the district told The Huffington Post.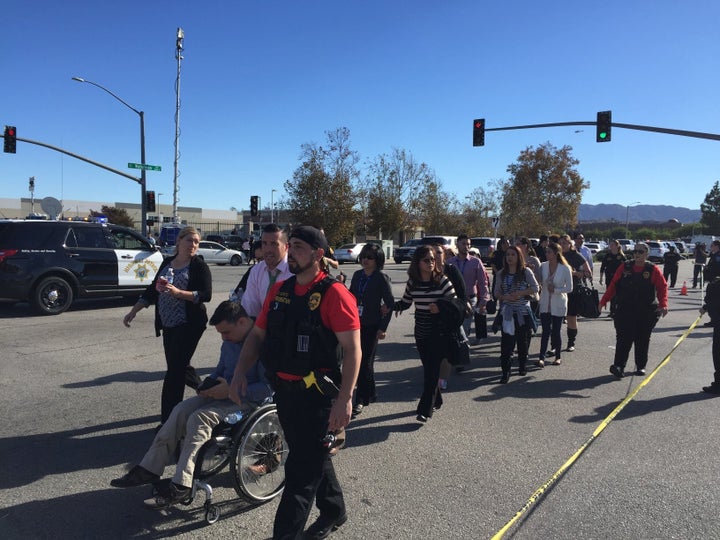 Staffers of the Inland Regional Center being evacuated told HuffPost that the shooters hid their faces.
"The shooters were wearing masks and the shooting kept going on and on," one worker said. Another employee said through tears, "We're as OK as we can be."
Frank Montes said his 27-year-old niece, an employee of the facility, had been outside during her break when she heard gunfire. "She said there were three shooters wearing body armor and machine guns," he told HuffPost.
Marybeth Feild, who works at the center, said the incident took place "in the conference area" that an outside group was renting on Wednesday, according to the Associated Press.
She said people served by the center also would have been in the building.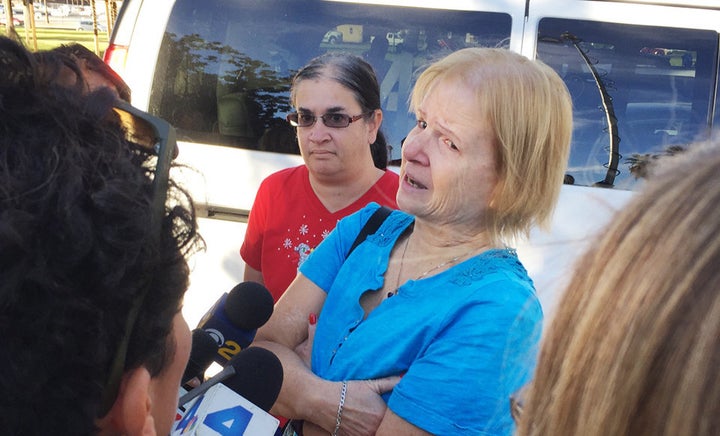 Outside a community center set up to reunite families with victims, Sherry Esquerra stood in tears with her daughter, Angel. She said she's still trying to find her other daughter and her son-in-law, both of whom work at the facility.
"We left messages, texts, everything. Haven't heard from her," Esquerra told HuffPost. "I'm petrified. I'm worried and scared. I just want them to find out something. I know if she could text me or call me she would, and that makes me so much more worried."
"Why would gunmen come in there and shoot them?" she added. "It doesn't make sense. These were all very disabled kids in there, I don't understand why someone would start shooting in there. Sherry was just at my house for four days over Thanksgiving, she helped me decorate the tree. When I call her now it just goes to voicemail."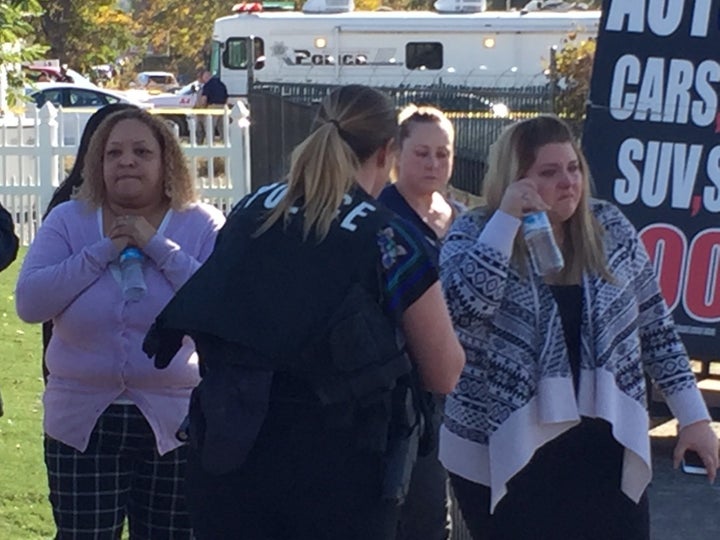 Witness Jose Serrano told The Huffington Post he had stopped by Sepulveda Building Materials to drop off supplies when police swarmed the nearby Inland Regional Center. He and approximately 20 others were seeking safety inside the former building, he said.
"Oh my God, there's gotta be at least 100 cop cars," Serrano, 44, told HuffPost. "Police, SWAT team, even probation officers."
Serrano said he wasn't scared because "there's tons of police all around," but said through police barricades he could see victims leaving Inland.
"I've seen people on gurneys getting into the ambulances," he said.
Terry Pettit said his daughter Holly was trapped inside the building during the shooting. He told KABC-TV that he received the following text messages from her: "Shooting at my work. People shot. In the office waiting for cops. Pray for us. I am locked in an office."
"She was barricaded in her office under her desk and got evacuated," her sister-in-law Ashley Pettit told HuffPost. She added that Holly was not injured during the shooting but was shaken up.
"When I first heard about the shooting I ran. I really didn't believe it was real at first, even when there were cops everywhere," David Johnson, who lives near the scene of the shooting, said. "The city of San Bernardino has a terrible crime rate and murder rate already. I'm from here, from the ghetto and it's hard. The people here are saddened by this and they are afraid. I don't know why these fools would use this place to do that."
Although the religious backgrounds of the suspected shooters have not been released, CAIR's Ayloush condemned the attack during a press conference late Wednesday.
"We unequivocally condemn the horrific act that happened today and we stand in solidarity with fellow Americans as we offer our heartfelt prayers and condolences," Ayloush said.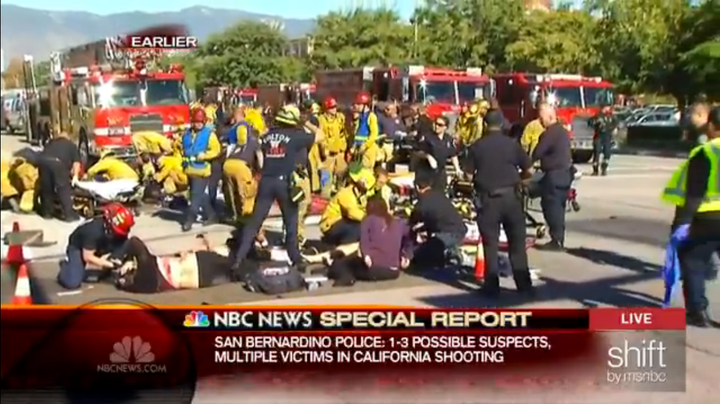 President Barack Obama was briefed on the situation by Homeland Security Advisor Lisa Monaco and asked to receive updates as the situation develops, according to a White House official.
California Gov. Jerry Brown was briefed and is closely monitoring the situation as it unfolds, his office said.
In a press conference, San Bernardino Mayor Carey Davis urged residents to remain calm while police conduct their investigation into the attack.
(Story continues below map.)
The location of the Inland Regional Center in San Bernardino.
The shooting was two blocks from a Planned Parenthood facility, but Eric Ferrero, vice president of communications for the company, said it "appears totally unrelated."
"Like all buildings in the area, our staff is on alert and waiting for more information," he said. "We have no reason to believe this has any connection to Planned Parenthood."
Anyone who suspects a relative was killed or wounded can call the family assistance hotline at (800) 637-6653.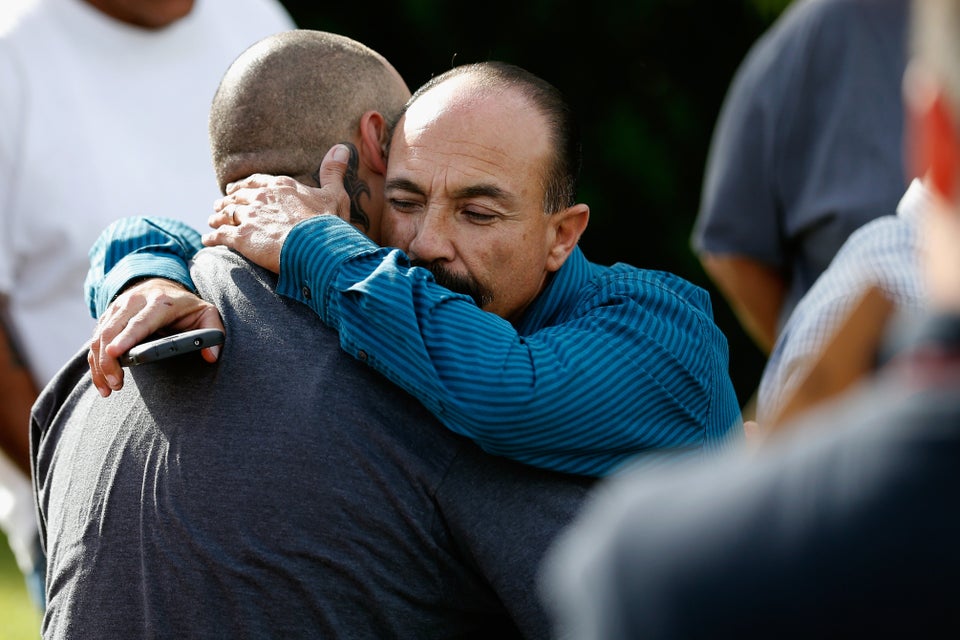 San Bernardino Shooting
Related
Popular in the Community